Road to Rio: Olympic hopeful Hardeep Singh gets Greco-Roman wrestling to India's akharas
Will Hardeep Singh be the catalyst that the Greco-Roman wrestling discipline needs right now?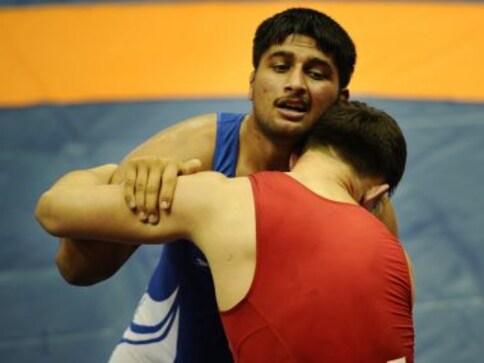 Name: Hardeep Singh
Age: 25
Discipline (sport): Wrestling
Category: Men's Greco-Roman 98 kg
Qualification: Hardeep booked a berth in Rio after winning a silver medal in the 98kg category at the Asian Olympic Qualification Championship.
Strengths: With the daunting strength that Hardeep displayed Asian Championship, if he also improves his stamina, he can certainly outperform his European counterparts.
Past Olympic performance: Debut
Past record (best performances): - Silver medal in the 2016 Asian Championships in Bangkok
- Gold medal in the 2013 Johannesburg Commonwealth Wrestling Championship.
Sushil Kumar, Yogeshwar Dutt and Narsingh Yadav have made their names in the Indian wrestling community. But there isn't a single Greco-Roman wrestler who has reached the same stature. Hardeep Singh broke the 12 year silence in the Indian Greco-Roman Olympic Wrestling arena by qualifying for Rio. The burly athlete is aware of how this style of wrestling isn't India's forte.
One of the reasons for this obscurity is that European grapplers have always bested Indian participants in this style. "The best Greco-Roman wrestlers come from Europe. I believe I need to pummel them in order to make a mark in Rio," Hardeep said to News18.
In comparison to freestyle, this wrestling approach outlaws tackling under the belt and fully relies on upper body strength. "It requires more strength and stamina than free style which is more liberal sort of wrestling. Since it's difficult to maintain hold on rival's body especially when the opponent is also attacking you, it becomes very difficult to score," the wrestler explains.
Hardeep believes that winning a medal is what it takes to change India's mindset about Greco-Roman Wrestling. India will have to bank on Hardeep and Ravinder Khatri, who will be competing in the 85kg category, to make it big in this style of wrestling.
In terms of Hardeep's chances, his coach Kuldeep Singh believes that he has potential to perform well. "Hardeep's wrestling is phenomenal. He can match anybody of his weight category in upper body strength. We are working on stamina. If fate favours him in having slightly ordinary wrestlers in initial rounds, you never know he might score in knockouts. I am not writing him off because he beat good wrestlers during qualifiers," the coach said to the crowdfunding platform India For Sports.
Hardeep Singh is looking to do all it takes to make India proud in Rio. "Though I won a silver medal at the Asian Championships in Bangkok this year, I consider Olympic qualification as the best performance of my career. Representing the country in the Olympic is the highest honour for a wrester like me," he said to News18.
Hardeep's Olympic dreams were almost shattered when his father lost a leg in an accident in 2008. He was compelled to become the sole bread-winner for the family. But his family knew that he was meant for greater things, and now he is almost there. Will Hardeep Singh be the catalyst that the Greco-Roman wrestling discipline needs right now? Only time, and victories, will tell.
With inputs from agencies
Sports
Sakshi Malik defeated long-time nemesis Sonam Malik while Vinesh Phogat pipped Antim to emerge winner in the 53kg category in the trials in Lucknow.
Sports
From COVID-19 battle to a string of defeats and training postponement in the post-pandemic era, Divya Kakran finally finds her old self with a dominating performance at the WFI trials for CWG and World Championships.
Politics
"With the rising fuel price hike, people are using cow dung cakes to make rotis," said a Congress worker