Rio Olympics 2016: Lalita Babar finishes 10th in Women's 3000m steeplechase
Lalita Babar finished 10th in the women's 3000m steeplechase finals at the Rio Olympics as India's poor track and field display continued on Monday.
Rio de Janeiro: Lalita Babar failed to repeat her creditable display in the qualification as she finished 10th in the women's 3000m steeplechase finals as Indians continued their disappointing performance in track and events of the Rio Olympics in Rio de Janeiro on Monday.
Babar clocked 9:22.74 in the finals on Monday, nearly three second outside her national record effort of 9:19.76 in the qualification on Saturday.
Despite her 10th finish, Babar's effort was still the best performance by an Indian in a track event after after PT Usha's fourth-place finish in the 400m hurdles in 1984 Los Angeles Olympics.
The 27-year-old from the drought-prone Satara district in Maharashtra had become the second Indian woman after Usha in 1984 Los Angeles to qualify for a final at a track event at quadrennial extravaganza.
Kenyan-born Ruth Jebeth of Bahrain won the gold in 8:59.75 which is less than a second outside the world record timing of 8:58.81. She was the pre-event favourite.
2015 World Championships gold winner Hyvin Kiyeng Jepkomoi of Kenya took the silver in 9:07.12 while American Emma Coburn won the bronze in 9:07.63.
Meanwhile, triple jumper Renjith Maheswary's flop show in big stages continued as he failed to make it to the final round after finishing 30th overall out of 48 competitors in the qualification with a pedestrian best effort of 16.13m.
The 30-year-old Kerala athlete had made the Rio Olympics cut on the last day of qualification period on July 11 at the hurriedly arranged Indian Grand Prix with a jump of 17.30m.
In women's 200m also, India's Srabani Nanda finished sixth out of eight competitors in heat number five with a timing of 23.58 seconds. She has a personal best of 23.07. The Odiya girl finished 55th overall out of 72 competitors.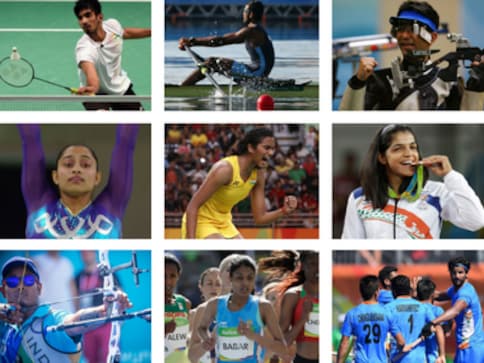 Sports
Everything that you need to know about Team India's performance in the Rio 2016 Olympics
Sports
At one corner, sitting on a wheel chair, was Vinesh Phogat, perhaps still thinking about what could have been an Olympic medal but for the knee injury.
Politics
Three track and field athletes, including veteran triple jumper Renjith Maheswary, booked Rio Olympics berths with national record breaking performances in the 4th Indian Grand Prix in Bengaluru on Monday.