Premier League: Antonio Conte's creativity, hardwork and eye for detail helped him guide Chelsea to title
Hardwork is at the root of the football philosophy of Antonio Conte and his team of soldiers did the club and manager a service by embracing it as their own.
There is something about victory that lingers gently in the air like a finely crafted French perfume. The ingredients that go into making it in the glorious setting of the English Premier League though are the sweat of toiling men and the warm blood of brotherhood. The intoxicating aroma that fills the Moore Park Estate has a lot to do with the labour of love that defines Antonio Conte, the man behind Chelsea's fifth league title this millennium.
As he jumped deliriously in front of the dugout yesterday, Conte's joyous eruption was a celebration of his creativity, the spirit of unity and the crafty work of his attentive men. Unlike his smooth transition into Juventus colours in 2011, the Chelsea expedition was a risky adventure.
The team was bruised and battered from one of the most hollow campaigns ever produced by a Premier League champion. There was an abject lack of purpose that seemed to wobble the Bridge. Conte arrived amidst high hopes, but the loss at home to Liverpool was far from the ideal start for a manager who dined on the taste of success.
Even as Conte began to question the wisdom of his decision to move to Chelsea, his team drove him up the wall as they slipped to a three-goal deficit against a rampant Arsenal. Conte blew his top in the dressing room sowing the seeds for a creative spark that redefined the team and its season.
The Italian had started the season with a 4-1-4-1 formation after putting his boys through a rigorous drill of pre-season training. Gary Cahill, an important defensive weapon in Conte's arsenal, told the media that it was the hardest he had ever trained in his life. But early results were beginning to hurt and the halftime outburst in that Arsenal game got Conte thinking on his feet.
In an inspired moment of risk taking, Conte decided to move into a 3-5-2 formation, midway through that game against his London neighbours. Incredibly Chelsea would transform into a mean machine growing out of their misery in a matter of moments. The Blues kept a clean sheet for ten hours, beginning that evening.
Eye for detail
The bold move that day served to showcase Conte's taste for fastidious observation. David Luiz, Cesar Azpilicueta and Cahill provided an effective backline that played a critical role in helping Thibaut Courtois concede a miserly 27 goals in 35 games.
N'Golo Kante and Nemanja Matic were ever willing to fall back and support the wall at the back, despite helping produce incisive expeditions into enemy territory. Both men played nearly three thousand minutes this season and their commitment has been at the heart of their team's success.
The presence of Victor Moses and Marcos Alonso on the wings, with a happy propensity to drill forward meant that Conte constructed a midfield that was exploding with energy. This flexibility in the midfield helped Conte draw 13 straight victories with his newly minted 3-4-3 formation.
This organisation of the defences and the midfield helped Eden Hazard, Diego Costa, Pedro and Willian rediscover confidence and freedom. They rewarded the club with 50 goals and 20 assists, leading to a marauding run to the league title.
Desire for work
Conte and his team of backroom engineers were driven by an intense willingness to work the extra mile. Hardwork is at the root of Conte's football philosophy and his team of soldiers did the club and manager a service by embracing it as their own.
The preseason training was planned down to meticulous detail. The work laid a foundation for a largely fit and available pool of resources throughout the season. A relatively enviable schedule helped Chelsea manage their players effectively too. Conte needed just 18 players on his team through their relentless march towards a seemingly inevitable title run.
Clarity of purpose
The September awakening also forced Conte use his man management skills to the hilt. He spent countless hours drilling his players into retaining shape even under intense pressure.
The barking noises of a manager deeply engrossed in the making of champions found an echo inside Stamford Bridge through a team of players that rallied around each other and their manager.
The passionate expression of those well-crafted drills helped the players understand their roles well, aligning them on their journey toward supremacy.
Unity above all else
The strong bonds of camaraderie that Conte cultivated inside this team was not always an easy journey. Handwritten notes, team lunches, barbeque sessions and wine bottles – fostered a sense of togetherness between the boys.
But the team did not hand it to Conte on a platter. He earned it with his decisiveness and conviction. When Diego Costa was dabbling with a transfer to Tianjin Quanjian in January, Conte pushed him to the bench for the game at Leicester City, sending a strong message to the ranks. Costa's return against Hull City in the next game with a goal to boot sealed that conversation with an immediate finality that was impressive to witness.
Even as the flashlights capture Kante for turning into a serial winner and Costa for his prolific ways, it is the manager that is leaving an immediate mark.
Conte joins Manuel Pellegrini, Arsene Wenger, Jose Mourinho and Carlo Ancelotti in an exclusive club of managers who won the English Premier League in their first full season in command.
But he is far from satisfied with his immediate success. "It has been a great season," said Conte. "(For it) To be a fantastic season we have to win the FA Cup." The Cup final against Arsenal is in two weeks' time.
"This is for my players," added Conte. "I have to say thanks for their commitment, attitude and passion — and their will to do something great this season. We have won this title together. We fought a lot to win this title. My players were fantastic in a club who supported us," his words a reminder of his willingness to share the fruits of his success with the people around him.
But there might just be a prize that awaits the genial man. Inter Milan is hunting for Conte with a purportedly 20 million pounds cheque. And Chelsea will be hardpressed now not to open the purse for the manager and any players that he may wish to bring over for next season.
A beautiful new journey may have just begun for this talented and determined manager.
Sports
Arsenal, Chelsea, Liverpool, Manchester City, Manchester United and Tottenham face a £25 million fine and 30-point deduction if there are further attempts to break away.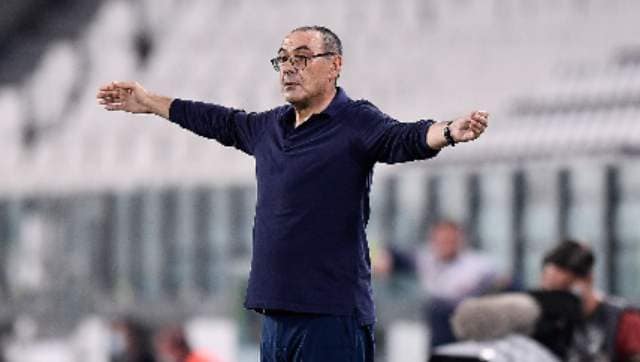 Sports
Before posting the confirmation, Lazio had earlier sent out a tweet showing a hand holding a lit cigarette, track suit tops and a simple drawing of a bank.
Sports
United and Liverpool face off at Old Trafford on 23 October and 19 March at Anfield.