PR Sreejesh interview: I was doing the 'lungi dance' long before Shah Rukh Khan discovered it
Firstpost caught up with PR Sreejesh, the captain of the Indian Hockey Team, who is currently busy with the Hockey India League.
PR Sreejesh made his senior debut for the Indian hockey team in 2006 at the South Asian Games in Colombo. He was awarded the best goalkeeper of the tournament when India won the Asia Cup in 2008. He became a regular member of the Indian senior team from 2011 onward and has been instrumental in helping India win several important tournaments.
His two penalty stroke saves in the final against Pakistan in the 2011 Asian Champions Trophy in Ordos, China helped India lift the title for the first time. In 2016, he led the Indian team to yet another momentous feat at the FIH Champions Trophy in London where the team won a historic silver medal. He also led the team to a splendid win against Pakistan in the final of the Asian Champions Trophy in Kuantan last year.
Firstpost caught up with PR Sreejesh, now the captain of the Indian hockey team, who is currently busy with the Hockey India League. He serves as the goalkeeper of Uttar Pradesh Wizards. Just 28 years old and conferred with a Padma Shri, he has been named as one of the candidates for the 2016 FIH Goalkeeper of the Year award. Somewhere beneath the heavy pads and helmet of this goalie, is an honest and emotive heart that beats for his country, his teammates and his daughter.
We have heard that aside from saving goals, you have mastered the lungi dance. Is this true?
When I joined the national team, I used to wear a lungi to bed. (Because of Adrian D'Souza, I moved on from lungi to a boxer). In fact, back in our village in Kerala, we wear lungis casually and while hanging out with friends too. In fact, dancing to Tamil music is best done in a lungi. When Shah Rukh (Khan) did it, it became famous. Nobody noticed us when we danced in our rooms in lungis to motivate ourselves or in the dressing room just to get into rhythm before a big match.
In recent times, whenever India reach a podium finish, you've had a big role to play in it. As Adrian puts it, one of your best qualities is that you forget negative performances quickly and perform well in the next game or next move. What's the secret behind that attitude?
I have always been Adrian's (Dsouza) junior. In one of the test series in Holland, in the first half, he conceded three goals. Then in the second half, not a single goal. I was observing him closely from the bench. In 2009, at the Champions Challenge in Argentina, when we won the match 2-0, Adrian said to me that people will praise you if you win today but if the team loses tomorrow, the blame will be put on the goalie. We can't cheer like the forwardline guys because if we start dancing after one save and miss the subsequent one, it will all go down the drain. We have to maintain our calm for 60 minutes and keep our minds fixed on what's coming next. Forget both good and bad and move on, that's the only way to concentrate.
Such is the expectation from the country from you that if the match goes into a penalty shoot-out situation, people are relieved that you will ensure victory. How do you deal with such pressure?
I had never taken this to be my strong point. In the Asian Champions Trophy in 2011, we won not only because of my saves but because our players scored. For instance, this time in the Asians Champions Trophy, in the semi-finals, I barely touched the ball. My players hit five goals and the team won. The credit must be distributed equally. During a penalty corner, for the drag-flicker to do his bit, defenders like Bob (Rupinder Pal Singh), Raghu (VR Raghunath) and Birendra (Lakra) do a good job of tackling and rushing and ultimately ensure that the ball gets into the net smoothly.
How has the Hockey India League affected hockey in India?
You will not find such fame, money and exposure anywhere else. Today, it is the dream of every hockey player to play in HIL and has changed the framework of hockey in the entire country. Since 2010, there isn't a single national level player who is struggling to make ends meet on the streets. It isn't just about lifestyle and glamour, but about a sense of pride and identity as a respectable hockey player that it cultivates in players.
Harendra Singh, who has been with several Indian team, fondly remembers the time you landed at the national camp, holding a trunk. Your reflections on those memories and the journey they were a part of?
I had never seen hockey till I reached the sports hostel when I was in eighth grade. When I showed up at the Under-16 camp at Patiala, I was using an old pad, wearing football shoes and didn't have a jersey. (The lungi was intact though). Harendra Sir first saw me during a visit to Kerala and directly called me to the Asia Cup camp in 2004 in Delhi. He and Clarence Lobo Sir would teach me the basics of goalkeeping separately because they were concerned I might get hurt because I did not have the right kit. Maybe it was their foresight in preparing a goalie for the future.
I first made it to the junior national team in 2004 against Australia in Perth. Over there, I couldn't save several goals and it clearly wasn't a great debut. But the excitement of playing for India managed to keep my spirits afloat. After that, I was taken to Pakistan, Malaysia and Spain.
In 2009, against Pakistan, I was the second goalkeeper. Pakistan were prepared for Adrian, so we decided to confuse them and I was sent into the field. We did well. Then, I was dismayed by the one-goalkeeper strategy for the Commonwealth Games in Delhi the following year and it was obvious that Bharat Chetri, who was the senior-most, was the first choice. In hindsight, maybe that was a good thing because if I hadn't done well, I would have been out of national scene. It's been a long journey, almost from the general compartment to first AC in a train.
It is believed by cricket enthusiasts and experts that Sachin (Tendulkar) remembers his every shot. It seems even you clearly remember your journey?
I don't remember my saves, because they just happen. But when I let in a goal, I remember that. It is a situation that goalies across the globe train for hours to avoid. In Rio, there were two goals scored by Canada at the right-down position. I still remember those because I had trained a lot specifically for that. In 2006 SAF Games final, we played against Pakistan and two goals were hit between my legs. No one said anything to me then but the way people look at you, smile at your face, it feels like they are making fun of you or insulting you. Maybe they don't mean to laugh at you but since you are at your most vulnerable low and shouldering the heavy burden of defeat, that's how you read into such a moment.
Has the morale of the Indian hockey fraternity changed in the last few years, especially because the team has improved and the country has increased expectation from the team?
Indeed, it has. Earlier, people expected us to win at least one match. Now, they want medals and trophies. Wherever we go, people tell us we are playing well. I was shocked when Rahul Dravid and Ravi Shastri recognised me at our hotel in Mumbai recently.
How has your daughter Annashree changed your life?
I have missed out on her childhood. Each time I am away for a tournament or camp, she grows up more. When she was four days old, I left for a camp for the Commonwealth Games, then by the time the Champions Trophy got done, she was crawling. But hockey has given me a life and I play with the spirit that one day she will look at me and feel proud. I am training her to be an outdoor person, her toys feature plastic cricket bats, hockey sticks and balls.
Tell us something about the current coach Roelant Oltmans, who is also your coach in the HIL.
Our coach Roelant Oltmans shares an emotional connect with us. He asked me to spend time with my family during the Azlan Shah tournament, because it was to be followed by a long schedule including the Champions Trophy, a test series in Spain and then the Olympics. Both the coaching staff and the players indulge in fun activities that relieve stress and foster an environment of confidence and cheer. For instance, during the Junior World Cup recently, we had a rule where one player or staff would be punished for either a mistake or something else and will have to go for breakfast in funny clothes -- such an act makes junior players understand the importance of enjoying even in high pressure tournaments.
Raghunath and you share a Jai-Viru equation. What does it mean to you?
We have been together since our sub-junior days. Until I wield two solid cuss words at him on the field, he doesn't feel charged. It's a relationship that cannot be described. I have spent more time with him than with my wife.
Rapid-fire round:
Your favourite movie: Iqbal (not Chak de India)
Your favourite sportsperson: Sachin Tendulkar, MS Dhoni and Dhanraj Pillay
Your first crush: My wife, we have been together since I was in eighth standard.
A moment you cherish: The playing of the national anthem after victory. Only a sportsperson will understand the sentiment in such a moment.
Your favourite movie dialogue: Rajini sir (Rajinikanth)'s line from Baasha, "Naan oru darava sonna adhu nooru darava sollara maadari" (If I say something once, it is like saying it a 100 times).
PR Sreejesh in one line: "Lucky" and a man who believes in destiny.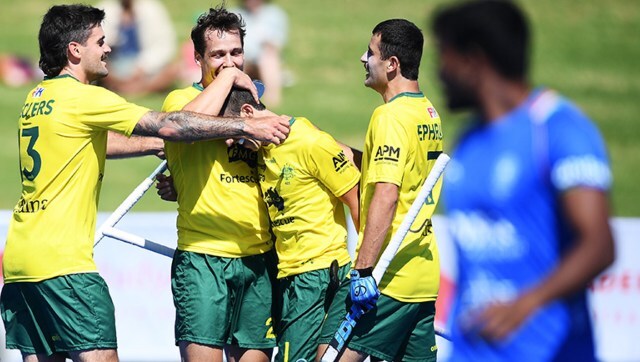 Hockey
Akashdeep Singh (10th, 27th, 59th) scored thrice but the Aussies prevailed in the end as Blake Govers (57th, 60th) found the back of the Indian net twice from penalty corners in the dying minutes of the game.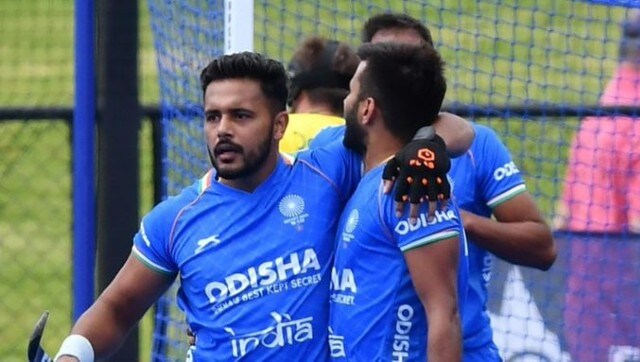 Hockey
The famous win also kept the five-match series alive with Australia leading 2-1.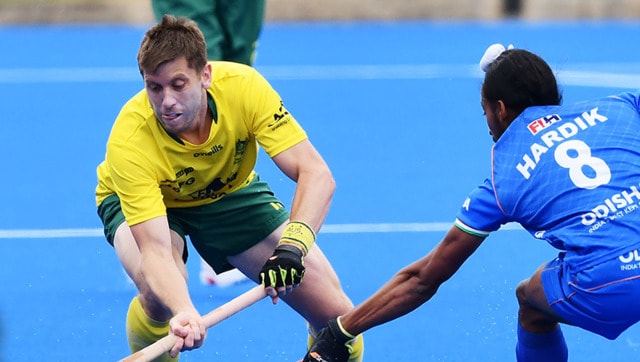 Hockey
The Kookaburras, who had registered a narrow 5-4 victory in the opening game on Saturday, extended their winning streak against the Indians to 12 matches with the latest result.