As India contrived to lose the fourth ODI at Manuka Oval, Canberra, and another couple of centuries went in vain — five so far in this series — and it brought back painful memories of collapses from the past: Sachin Tendulkar's 136 that went in vain against Pakistan in Chennai, his brilliant 175 against Australia in Hyderabad, and the abject surrender against South Africa in 2011 World Cup in Nagpur and so on.
While the bulk of the blame for the pathetic performance in the ongoing series against Australia has been directed at the bowlers, it must be understood that India's woes extend well beyond that. Finishing is just as big a problem. In Canberra, India were cruising at 277/1 in the 38th over, chasing 349. With 72 required off 76 balls, it required a choke of epic proportions to lose the game from that position and India managed to do just that. Dhawan departed off the third ball of the 38th over and two balls later Dhoni followed.
What followed was a procession as India lost nine wickets for 46 runs.
It's like a throwback to the 1990s where the entire team was dependent on Sachin Tendulkar and once he got out, the result was in most cases, a forgone conclusion. In the 2000s, India had actually mastered the art of finishing. They had a strong top, middle but most importantly lower-middle order with the likes of Yuvraj Singh, Suresh Raina, MS Dhoni, Mohammad Kaif et al.
The NatWest Trophy finals of 2002 were a watershed moment in this regard.
India seemed invincible while chasing in the period between 2005 and 2006 where they successfully chased down targets in 17 consecutive matches in the period between 2 September, 2005 and 18 May, 2006.
This streak of sorts continued till the 2011 World Cup.
After that, the loss of Yuvraj was a big one but Raina and Dhoni continued the good work for a while, with Ravindra Jadeja too chipping in. Raina has fallen out of favour now, Jadeja's batting has taken a massive dip and Dhoni isn't at his best and because of that, the frailties of the lower and lower-middle orders have been massively exposed.
There was blame on the top-order batsmen for being relatively slow in the middle overs, but it's probably worth considering that they don't have much faith in India's lower and lower-middle order. After India lost the first ODI, where Rohit Sharma's unbeaten 171 went in vain, he had this to say: "When we were batting in the middle the idea was to capitalise and bat as long as possible. Because considering we have got a couple of newcomers in the middle order. So the top three batsmen — myself, Virat and Shikhar (Dhawan) — it is a big responsibility on the three of us to bat as long as possible."
The top order has done its job in helping India post respectable totals.
To make those starts count, the lower and lower-middle order needed to step up, but they have faltered. In the second ODI, they managed just 75 runs for the loss of six wickets in the last 10 overs which included 38/5 in the last five. In the 3rd ODI, they managed 88/4 in the last 10. Considering that they were 207/2 at the end of 40 overs, getting 88 runs was still a very poor return given India were in need of 20-30 runs more in every match.
Factor this: In this series so far, India's lower and lower middle order (from numbers 5 to 11) has averaged just 9.45 at a strike-rate of 100, while Australia's has averaged 29.5 at a strike rate of 114. In the last one year (since 1 January 2015), India's lower and lower middle order (from numbers 5 to 11) has had the second-worst average as well as strike-rate among the top eight nations — 21.74 and 89.64 respectively. This has led to India's finishing problems.
In the same period, India have averaged 20.08 per wicket in the last 10 overs — only Bangladesh is worse with 17.04. South Africa tops the lost with 31.87 and have scored at 9.8 runs an over, whereas India have scored at 7.16 runs per over which says a lot about the struggles.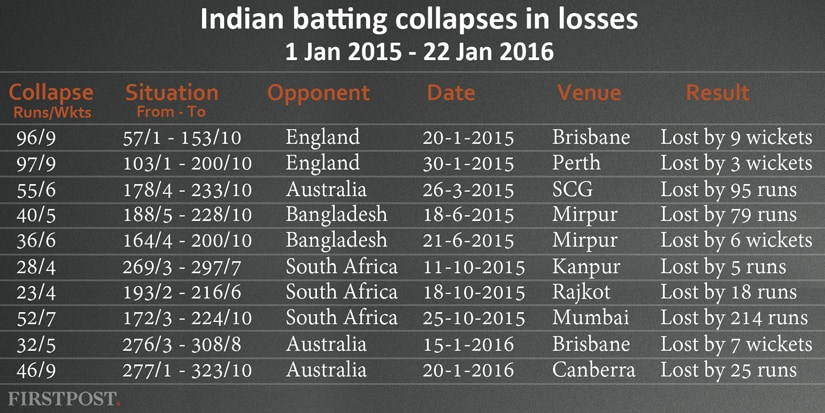 There was a time when India were finising games at will and that was also the time Dhoni was in imperious form. Chases were meticulously planed. There was a time when Dhoni had the confidence to take a match to the final over, before finishing it off in style. In fact, his penchant for these coups de grâce even earned him some thinly-veiled flack from Gautam Gambhir. Then there was the experience of Yuvraj and Raina to support the likes of Dhoni. The skipper's dip in form of late has been one of the major reasons for India's finishing frailties.
Also the lack of out-and-out big hitters isn't helping the cause. The other reasons might be constant chopping and changing of the batting line-up and the constant collapses.
Over the last few years, batting collapses in ODIs seems to have become the norm for India — so much so, that around two-thirds of Indian losses have taken place following a collapse.
Not convinced? Read on.
In 2014, the percentage was at 62.5 percent with five collapses in eight ODI losses, but in the last year (from 1 January, 2015 to 22 January, 2016), the percentage has shot up to 77 percent with 10 collapses in 13 losses.

In 2013 (from 1 January to 31 December), India lost 10 out of 34 matches, and suffered collapses in seven of them. This means that 70 percent of the losses saw them suffer a collapse.
After the Canberra ODI, Dhoni shouldered the blame for the loss.
"I think it was my wicket because that specifically is my role in the team from that kind of position to make sure we finish off the game well," Dhoni said in the post-match conference. "So my wicket really was the turning point at that point of time, we lost quite a few there but it was my wicket because according to the role and responsibility that everybody has, that specifically is my role."
It's pretty evident that collapses are a big worry for India. Dhoni's lack of form isn't helping. There needs to be some game plan — conspicuous by its absence in Canberra — devised to avoid such eventualities as the multiple brain-fades in the Australian capital with batsmen trying their best to throw away their wickets.
India have won just one ODI series — that too against Zimbabwe — in the past year and maybe going further, Dhoni will want to stick a nice colourful printout in big letters in the dressing room which states what Sachin Tendulkar once said: "It is not how you start but how you finish that matters."
Your guide to the latest election news, analysis, commentary, live updates and schedule for Lok Sabha Elections 2019 on firstpost.com/elections. Follow us on Twitter and Instagram or like our Facebook page for updates from all 543 constituencies for the upcoming general elections.
Updated Date: Jan 23, 2016 11:17:42 IST