NBA playoffs: Stephen Curry shines as Warriors crush depleted Spurs, take 2-0 series lead
Stephen Curry scored 29 points as the Golden State Warriors thrashed the San Antonio Spurs 136-100 to take a 2-0 lead in their Western Conference finals series
Oakland: Stephen Curry scored 29 points as the Golden State Warriors thrashed the San Antonio Spurs 136-100 to take a 2-0 lead in their Western Conference finals series on Tuesday.
Curry's points haul included six three-pointers as the Warriors all-round offensive power crushed a San Antonio Spurs line-up missing the injured Kawhi Leonard and Tony Parker.
Curry also contributed seven assists and seven rebounds to put the Warriors just two wins away from reaching a third consecutive NBA Finals in the best-of-seven series.
No fewer than seven Warriors cracked double figures as the home side led from start to finish before their home fans at the Oracle Arena.
"I thought in game one we didn't come out with a sense of urgency," said Warriors acting coach Mike Brown, who is standing in for the injured Steve Kerr.
"They came out with a sense of urgency tonight from the beginning and they did that for 48 minutes."
The Warriors were quickly into their familiar scoring groove, sprinting into a 33-16 lead by the end of the first quarter and never letting up.
They led by 28 points -- 72-44 -- by half-time and accelerated still further in the third quarter to lead 106-75.
"You always try to build momentum and sustain it, for sure," Curry told reporters.
"We had a point of emphasis of starting the game with a lot more energy and focus on the defensive end so that we could just feel a little bit better about ourselves than we did last game in the first quarter."
San Antonio's depleted offense was led by Jonathon Simmons with 22 points. Only one other Spurs player made double figures -- Davis Bertans with 13 -- while LaMarcus Aldridge was restricted to just eight points.
'Lack of edge'
San Antonio coach Gregg Popovich gave a typically forthright assessment of his team's obliteration.
"It's not what I expected. Disappointed," Popovich said.
The blowout capped a miserable few days for San Antonio, who on Sunday had squandered a 25-point third quarter lead before Leonard suffered his ankle injury that left him sidelined on Tuesday.
Popovich suggested his team had been unable to mentally cope with the loss of Leonard for Game 2.
"The only way I can process is that I don't think they believed. You have to believe.
"They didn't start the game with belief. And it showed with the lack of edge, intensity, grunt."
Popovich meanwhile was critical of Aldridge for failing to assume the offensive responsibilities in the absence of Leonard.
"He's got to score for us. He can't be timid. He can't turn down shots. He has to score. He's got to do it. No doubt about it," Popovich remarked, declining to explain Aldridge's poor performance.
"I'm not going to psychoanalyze him," Popovich said. "He doesn't deserve that."
Curry meanwhile had nothing but praise for Warriors youngster McCaw, who filled in for the injured Andre Iguodala with 18 points.
"He was amazing," Curry said. "Obviously with Andre (Iguodala) out, it was the next-man-up philosophy. Everybody says it, but when you have a guy like Pat who doesn't really know when his minutes are going to come, he always stays ready.
"That was a huge pickup for us, obviously, with Andre out. And he'll probably get a lot more minutes down the stretch of this series, and he hopefully can continue to do the same."
Game 3 takes place at San Antonio on Saturday and Brown has already warned the Warriors to expect a response in Texas.
"It's going to be a dog fight," Brown said.
"We've got to get our guys ready to play a tough Game 3. Because if we don't we could end up losing the game."
Find latest and upcoming tech gadgets online on Tech2 Gadgets. Get technology news, gadgets reviews & ratings. Popular gadgets including laptop, tablet and mobile specifications, features, prices, comparison.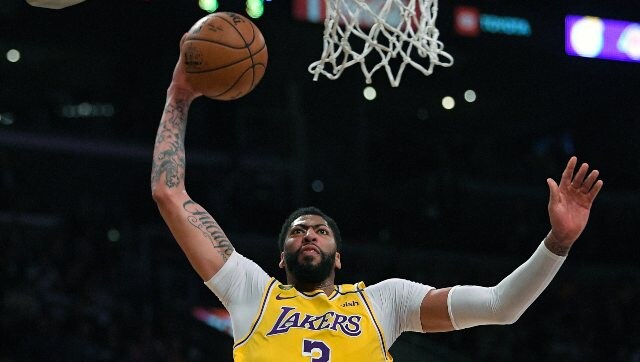 Sports
More than 100 other NBA players are unrestricted free agents; another 75 or so can be restricted free agents. What promises to be a chaotic NBA free-agent window opens on Friday.
Sports
Killian Hayes, Deni Avdija, Theo Maledon, Leandro Bolmaro, and Aleksej Pokusevski are among the top picks in the NBA Draft this year
Sports
The draft is usually held in June in New York, where NBA commissioner Adam Silver announces the first-round picks. This time, Silver will be announcing the picks from the ESPN campus in Bristol, Connecticut.