NBA Academy attempts to woo cricket loving India and finds new admirers from unexpected quarters
Kids from unassuming places like Guna, Rewa, Ratlam, Kota and Salem have made it to the NBA India Academy, which throws open its doors in May.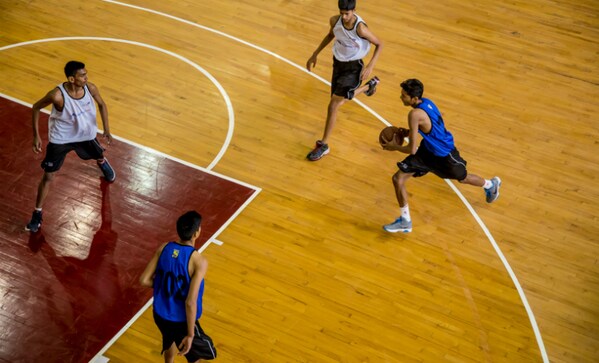 Almost three years ago, Manoj Sisodia had a rather peculiar problem. He ran funny. Every time he was required to do so, he would do little hops instead of sprinting. "Like a horse galloping!" Manoj says sheepishly.
That, however, changed when Manoj enrolled in a neighbouring academy which taught basketball. There he learnt how to run properly besides picking up the tricks of the sport, which he had taken a liking to afer watching it on television.
"In a few months, I got really good at it too," Manoj adds.
Just how good?
In 2015, he turned out for India in the FIBA Asia Under-16 Championship.
Now, the boy who used to have a funny way of running wants to take a giant leap onto the biggest stage of them all: the NBA.
Manoj is just 17 years old. And he is from a little place in Madhya Pradesh called Ratlam.
Almost 800 kilometres from Ratlam, in Rewa, 14-year-old Brijesh Tiwari has been gripped by the same dream. He too started playing basketball just two years ago, in a small academy which had barely 20 other kids. While many of his friends prefer cricket, he found himself drawn to basketball. Watching NBA matches, given their early morning timings, can get a little tricky in India. But try telling that to Brijesh.
"I always make sure I don't miss the good matches. If I have to stay up late or wake up early, I don't really mind. And if I cannot watch a match, I'll catch the highlights anyhow," says Brijesh. He adds that there have been times when he's missed school to watch a match. He calls it a compromise.
Many hundred kilometres further south, in the state of Tamil Nadu lies Salem, the hometown of M Shanmugam. Shanmugam's tale is nothing short of inspiring. He is the son of a fruit vendor, whose father could not always afford to buy the shoes he needed to pursue the sport. Shanmugam's talent on the basketball court, though, was undeniable. So his school decided to help him out with the gear he needed.
Last month, Shanmugam, along with Manoj and Brijesh won scholarships for the NBA Academy India, which will begin its operations in Delhi NCR.
They aren't the only ones.
When the academy throws open its doors in the first week of May, kids from unassuming places like Guna (Virat Dhakad), Rourkee (Riyanshu Negi), Tiruvalla (Sejin Mathew), Kota (Digvijay Shekhawat), Durg (Rishabh Jaiswal), Varanasi (Robin Banerjee), Jalandhar (Jagshaanbir Singh), Mohali (Amaan Sandhu), Nainital (Prashant Rawat), and Bhatinda (Vivek Chauhan) will join Manoj, Brijesh and Shanmugam as they attempt to follow in the path tread by Satnam Singh. Satnam, who comes from a small village in Punjab called Ballo Ke, became the first Indian to be drafted into the NBA when Dallas Mavericks picked him in the 2015 draft.
Surprisingly, from amongst the 21 kids selected for the scholarship for NBA Academy India, just seven will be from metropolis like Mumbai and Kolkata. While some of the players were picked from tryouts held in six cities – Mumbai, Delhi, Ludhiana, Kochi, Chennai and Kolkata – NBA's scouts picked the rest from national level tournaments.
The academy, NBA's fifth elite training centre globally, represents the NBA's boldest move to tap the Indian market. It also provides a structure for budding youngsters who want to play in the cash-rich American league. As the NBA attempts to woo a country completely besotted by cricket, it seems to have new admirers from unexpected quarters.
"There are a lot of talented basketball players who have come from the region where I am from. But none of them got an opportunity as I have when they were young. So I am thankful for this," says Shanmugam.
He started playing basketball for the same reason many kids in India do: because he was tall.
"I was always the tallest kid in every class in school. I was 5'6" by the time I was in the 8th standard. So a PT teacher told me that I should try out basketball. I did, and was hooked," he adds.
His height is not the only attribute that impressed the NBA scouts.
"I saw him playing at a tournament in Pondicherry. He has solid ball-handling skills. He can create and is also a prolific scorer," says Carlos Barroca, the Associate Vice President of Basketball Operations of India for NBA. Barroca has had a hand in picking all the 21 kids, who were awarded scholarships.
"We were looking for someone who can run, jump and was also quick. Apart from these skills on the court, size was a factor too," he adds.
As part of the program, the 24 kids, three of them are yet to be selected, will be exposed to NBA-level coaching, facilities, and competition at the residential academy in Delhi which will also look after their education.
Apart from a technical director, who will be the head coach, the academy will also have a strength and conditioning coach and a player development coach, who will specialise in individual workouts and individual trainings. There will also be administrators who will assist with technology and data and analytics.
"To get this opportunity was absolutely unbelievable. I feel like this is a big deal," Shanmugam says.
For those selected, the NBA Academy is only the first step towards the realisation of their 'American dream'.
But for Indian basketball, it could be a giant leap.
NBA
Kyrie Irving made the request after talks about a new contract did not go to his liking.
NBA
Five players were ejected following the brawl, which started in front of the Orlando bench late in the third quarter.
World
Duquesne coach Keith Dambrot also complimented the Uber Eats guy referring to his commitment to work