Monaco Grand Prix: Lewis Hamilton has no intention of engaging in 'psychological wars' with Sebastian Vettel
Lewis Hamilton topped Thursday morning's opening free practice for this weekend's Monaco Grand Prix and then fell more than a second adrift in the afternoon,
Monaco: Lewis Hamilton has said he will avoid any kind of mind games in his title battle with Sebastian Vettel this year as the two multiple world champions scrap it out for the tiniest of advantages at every race.
Having topped Thursday morning's opening free practice for this weekend's Monaco Grand Prix and then fallen more than a second adrift in the afternoon, the 32-year-old Briton had every reason to consider engaging in the kind of "phoney war" of previous seasons.
His intra-team battles with 2016 champion Nico Rosberg, during three seasons of raw competition, were characterized by spells of accusations and acrimony that made life difficult for Mercedes' management.
But this season, the three-time world champion has made it clear he wants a pure championship scrap, without any discord, that will be decided on the track.
"I want him to be his best when he gets in the car so I don't have any intention of playing psychological wars outside the car," Hamilton told reporters.
"I want to beat him in the car because, when he's at his best and I beat him, that says what it needs to say rather than having him on the back foot."
The Englishman was only six points adrift of the championship leading four-time champion before arriving in the Mediterranean principality for their classic street circuit showdown.
Facing a further 15 races, he made clear he believed his long-term performance this year, his experience and his mental strength will stand him in good stead as the season unfolds.
He showed clearly his relish for the fight in his first session when he topped the times in a best lap of one minute and 13.425 seconds, using Pirelli's ultra-soft tyre, a time that was quick enough to dismiss Mercedes' fears of being disadvantaged by having the longest wheel-base car in the field.
The pair showed that Mercedes and Ferrari are again likely to be very closely-matched this weekend with Valtteri Bottas fourth-fastest for Mercedes between the impressive Red Bulls of Dutch teenager Max Verstappen and Australia's Daniel Ricciardo.
That session ran without incident, but the second was interrupted by a red flag to halt the action when Esteban Ocon hit the barriers on entry towards Casino Square in his Force India.
This resulted in a six-minute stoppage with half an hour to go – and Hamilton, at that time, down in eighth, struggling for space and time on track, and more than a second down on Vettel, who had lowered the target lap to 1:12.720, nearly half a second clear of Ricciardo.
He was unable to improve his position, but remained calm, believing in his team's capacity for recovery and his own durability and experience.
"I take a lot of pride in the fact I am very strong mentally," said Hamilton. "I think that's something you can admire when battling someone else -- like Sebastian or Fernando Alonso."
Much matured since the days when he allowed his frustrations to show in rash comments and actions, Hamilton acknowledged that mental strength was likely to be a key factor as his bid for a fourth title unfolded.
"It's definitely going to be part of it this year," he said. "For both of us… It's such a long year, just like it is in golf, over 18 holes.
"Whoever is the most consistent generally ends up winning. I am excited about that. It's an all-round battle, physically, mentally, technically -- and I think that's why it's a great battle."
The key alteration in the dynamics of this year's championship, said Hamilton, is that Mercedes are no longer split by their drivers' rivalry, but united in a fight to beat Ferrari.
"There's just so much more excitement now that we are fighting against another team," he said.
"There is actually more passion and excitement being extracted from within the team. I've not seen this team so passionate and excited in the five years that I've been with them.
"Being on the podium in the last race, I saw an energy from my team that I've been yearning for -- that they've probably all been yearning for…"
All of which has left Hamilton, and Bottas, working closely within a different kind of rivalry to last year's Hamilton-Rosberg relationship for the good of the Mercedes squad, particularly as they are still seeking to optimize their performance with a new breed of 'fatter and faster' cars that are harder on tyres.
"I quite like it that the car's difficult to drive," Hamilton explained. "It's like jumping on a bull and trying to tame the bull -– or to tame a horse."
Find latest and upcoming tech gadgets online on Tech2 Gadgets. Get technology news, gadgets reviews & ratings. Popular gadgets including laptop, tablet and mobile specifications, features, prices, comparison.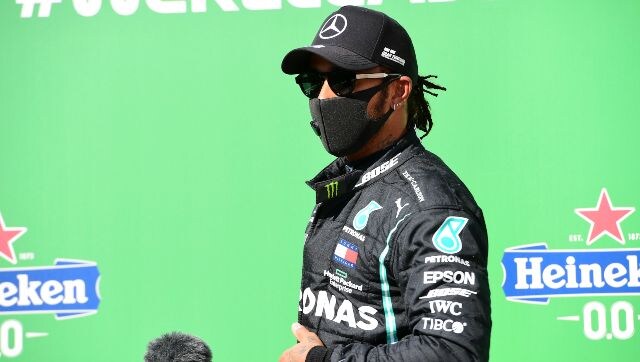 Sports
The Mercedes team said it would announce a replacement driver later in the week
Sports
In a statement, the San Raffaele hospital in Milan said on Saturday the 54-year-old "has been transferred to a hospital in Padua".
Sports
Speaking at a virtual news conference on Thursday ahead of this weekend's Bahrain Grand Prix, Steiner admitted that earlier this year, following the outbreak of the coronavirus pandemic, team owner Gene Haas had considered pulling out of F1.