Ranji Trophy final, Mumbai vs Gujarat, Day 5 Highlights: Gujarat win maiden title
LIVE NEWS and UPDATES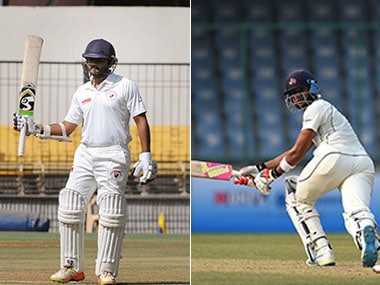 15:51 (IST)

We have got obly ourselves to blame for the loss in the final, says Mumbai captain Aditya Tare

15:39 (IST)

Gujarat becomes the 17th side to win the #RanjiTrophy 👏
Mumbai becomes runner-up for the 5th time! The last time: lost to Haryana in 1990/91

— Mohandas Menon (@mohanstatsman) January 14, 2017

15:38 (IST)

Gujarat:

2014-15: Won Syed Mushtaq Ali Trophy (T20)
2015-16: Won Vijay Hazare Trophy (List A)
2016-17: Won Ranji Trophy (First-class)

— Bharath Seervi (@SeerviBharath) January 14, 2017

15:38 (IST)

Parthiv Patel's 143 today is the highest score by any batsman in 4th innings of a #RanjiTrophy Final for a winning cause.

— Rajneesh Gupta (@rgcricket) January 14, 2017

15:35 (IST)

That's it! Gujarat are champions. They have beaten Mumbai by five wickets

15:25 (IST)

OUT! Great innings by Parthiv Patel comes to an end, Shardul Thakur bounces him out. Patel top edges to Thakur

15:22 (IST)

Gujarat need just 19 runs to win after starting final session with two boundaries

15:01 (IST)

Great session for Gujarat, with 139 runs being scored off it for the loss of just one wicket. Parthiv still going strong on 137.

15:01 (IST)

Tea on Day 5. Gujarat are all but set to lift the title for the first-ever time the way things are going at the moment, with the score reading 285/4, needing another 27 to win with six wickets in hand.

14:57 (IST)

WTH! Mumbai can't hold on to a chance to save their lives it seems. This was tough but still... there is a match on the line. #RanjiTrophy

— Ashish Magotra (@clutchplay) January 14, 2017

14:53 (IST)

Yet another chance dropped by Mumbai after Herwadkar fails to hold on to a chance at the slips after an edge off Rujul Bhatt's bat. Nothing seems to be going Mumbai's way, with the trophy fast slipping out of their hands at the moment. Gujarat 272/4 after 85 overs

14:40 (IST)

If you're to drop as many catches has Mumbai has in this 4th innings, you're not winning #RanjiTrophy final. Gujarat crushing at the moment.

— Naveen Peter (@peterspeaking) January 14, 2017

14:37 (IST)

The second new ball has been taken by Mumbai at the start of the 82nd over. Shardul Thakur gets to make first use of it.

14:33 (IST)

Fifty-partnership up between Parthiv Patel and Rujul Bhatt, with the former collecting most of the runs. Meanwhile, the two look set to guide Gujarat towards a historic win, unless Mumbai can get a wicket at this stage.

14:15 (IST)

Hope am not speaking early, but Parthiv easily toying with the two left arm spinners. Leading from the front with a brilliant 100 @parthiv9

— Mohammad Kaif (@MohammadKaif) January 14, 2017

14:10 (IST)

Tare's 'you just dropped the cup, mate,' moment. Drops a catch in trying to celebrate. BWhat's worse? Five penalty runs #RanjiTrophy

— Shashank Kishore (@captainshanky) January 14, 2017

14:10 (IST)

DROPPED! Aditya Tare drops Rujul Bhatt on 1 after the latter edges a Shardul Thakur delivery behind. Thakur cannot believe it! What's worse, the ball touches the keeper's helmet, which results in Gujarat getting awarded five extra runs.

14:09 (IST)

Hundred in the Vijay Trophy final and now in the Ranji final. Skill, poise and resolve. Take a bow Parthiv, sir. #RanjiTrophy

— Bharath Ramaraj (@Fancricket12) January 14, 2017

13:59 (IST)

25th First-Class century for Parthiv Patel, and he gets there with an INSIDE-EDGE — the shot that defined the first half of his innings. The ball runs away towards fine-leg nevertheless, allowing the skipper to collect a couple of runs. Barely any celebrations though, as the captain knows he has a tough task at hand!

13:52 (IST)

This is turning out to be one amazing match.The Ranji finals deserves to be like this.Keep going PP and Shardul Thakur.

— Ashwin Ravichandran (@ashwinravi99) January 14, 2017

13:49 (IST)

Tare gives Juneja a send-off. Some angry words. Parthiv batting on 85. Gujarat need 107. Mumbai need six wickets. #RanjiTrophy

— Shashank Kishore (@captainshanky) January 14, 2017

13:46 (IST)

Stunning batting by Parthiv, this. Three impeccable on drives.

— Vinayakk (@vinayakkm) January 14, 2017

13:46 (IST)

WICKET! Akhil Herwadkar delivers the big breakthrough for Mumbai, ending the 116-run fourth-wicket stand! Juneja looks to execute a wild slog towards midwicket off a delivery pitched outside the off-stump, and ends up getting an inside-edge to the keeper. Gujarat 205/4; need another 107 to win.

13:39 (IST)

FIFTY for Manprit Juneja — his 3rd consecutive and 15th overall in First-Class cricket. Does so in style, flicking it towards deep midwicket off Sandhu's bowling, also bringing up the 200 for Gujarat in the process.

13:20 (IST)

Really good sensible batting from Parthiv and Juneja. Mumbai's fielding has been a bit of a let down. #RanjiTrophy

— jigar mehta (@jigsactin) January 14, 2017

13:20 (IST)

FOUR! Parthiv Patel brings up the 100-run partnership with Juneja with a crisp drive through extra-cover off Sandhu, as Gujarat are in firm command of the proceedings at the moment. The situation is ripe for them to pull off their maiden title triumph.

13:15 (IST)

@parthiv9 playing one of those legendary #RanjiTrophy innings. If he wins this one, he will forever be remembered in Indian domestic cricket

— Adwait Kulkarni (@I_Sherlocked) January 14, 2017

13:06 (IST)

With the partnership between Parthiv and Juneja nearing the three-figure mark, Gujarat look headed towards a historic maiden title triumph, unless Mumbai get a crucial breakthrough at this stage of course. Having moved on from a series of edges, Parthiv looks solid at the moment with his strokeplay.

Gujarat 177/3 after 58 overs, need 135 to win with 7 wickets in hand.

12:34 (IST)

The players are back after lunch, and Gujarat bring up the 150 in the first over after the interval.

11:54 (IST)

Parthiv, the batsman is such a contrast to Parthiv, the WK.

As contrasting as a Wimbledon fan & a Russian football fan.#RANJITROPHYFINAL

— Suneer (@suneerchowdhary) January 14, 2017

11:48 (IST)

Lunch on Day 5 of the Ranji Trophy final, and the game is still anyone's for the taking! Parthiv Patel and Manprit Juneja help steady Gujarat's innings after three strikes early in the day, and hold the key to Mumbai's 42nd title victory. We'll return in about 40 mins for the second session. Gujarat 146/3 after 47 overs, need another 166 to win.

11:33 (IST)

Mumbai might ponder bringing a spinner on from one end. Just to offer something different.#RanjiTrophy

— jigar mehta (@jigsactin) January 14, 2017

11:33 (IST)

Played Parthiv, two 50s in this match so far, doesn't celebrate. Just an acknowledgement. Knows, still a long way to go. #RanjiTrophy

— jigar mehta (@jigsactin) January 14, 2017

11:31 (IST)

Another inside-edge off Parthiv's bat carries all the way to the long-stop boundary, bringing up the 50-stand between the Gujarat skipper and Juneja for the 4th wicket. Parthiv later takes a single to bring up his second half-century in the final! Gujarat 141/3 after 42 overs; need 171 to win.

11:15 (IST)

Juneja begins scoring freely, with Parthiv going strong at the other end. Crisply strikes the ball down the ground, before punching Sandhu through cover in the very next ball to get back-to-back boundaries. Gujarat 126/3 after 39 overs; need 186 to win.

11:06 (IST)

Some intense sledging going on. Mumbai were unhappy with Gujarat's slow tactics. Reminding them now in chase. #RanjiTrophy

— Shashank Kishore (@captainshanky) January 14, 2017

11:06 (IST)

Gohil was a bit unlucky with his dismissal.

Another match-defining blooper by Indian umpire.

Absolute daylight between bat and ball, and umpire succumbed to pressure#RanjiTrophy 😠😠😠

— The Yellow Guy 🏏⌛ (@Maurvin_MUFC) January 14, 2017

10:50 (IST)

100 up for Gujarat for the loss of three wickets, and skipper Parthiv Patel brings up the milestone by guiding the ball towards backward point. Following the loss of early wickets, Gujarat have pinned their hopes on their skipper, as well as the likes of Juneja in their quest to lift the trophy for the first time. Gujarat 101/3 after 33 overs, need 211 to win.

10:36 (IST)

OUT! Nayar gets the breakthrough for the defending champions, getting the edge of Gohil's bat (though replays suggest otherwise) with the ball seaming away towards the off-side after pitching along middle. Gohil departs for 21, as Gujarat lose their 3rd wicket with 89 on board, needing another 223 to win.

10:16 (IST)

Parthiv Patel is starting to step up the aggression against the Mumbai bowlers with a few boundaries, with as many as two coming in the 26th over. He enjoys a bit a luck as well, as a couple of them were leading edges that carries past, or through the slips. Gujarat 78/2 after 26 overs; need 234 to win.

09:54 (IST)

OUT! Sandhu strikes early on the final day, and removs the danger-man in Priyank Panchal, who was in full flow in the final session of Day 4. And it is an attempted cut that carries to the slips that brings an end to Panchal's incredible run in this tournament. Gujarat 47/1; need another 265 to win

09:47 (IST)

Can Mumbai clinch their 42nd title with a decisive performance on the final day? Or will Gujarat, who have fought tooth-and-nail so far in the contest, lift the trophy for the first-ever time? Stay tuned to find out!

09:45 (IST)

Hello and welcome to our live coverage of the fifth day of the ongoing Ranji Trophy final between Mumbai and Gujarat at the Holkar Stadium in Indore on Saturday!

17:52 (IST)

That's it from us today. It all comes down to the fifth and last day. Gujarat have made a solid start, negotiating a tough phase of play in the final session on Day 4. Do join us tomorrow for our live coverage of the fifth day's play in the final of the Ranji Trophy 2016-17. It promises to be an exciting contest.
Day 4 report: Doughty challengers Gujarat -- aiming for their maiden title -- were on Friday set a 312-run winning target by record champions Mumbai in the 83rd Ranji Trophy cricket final here.
After Gujarat dismissed Mumbai for 411 in their second innings, openers Priyank Kirit Panchal (34 not out) and Samit Gohel (8 not out) were at the crease when the umpires called it a day -- with the second-time finalists, at 47-0, requiring 265 runs to win the coveted title.
Earlier, seasoned all-rounder Abhishek Nayar (91) and captain Aditya Tare (69) propped up Mumbai, who are bidding to extend their record haul of 41 Ranji Trophy titles.
Resuming the day at 208-3, Mumbai failed to put up a strong partnership throughout the day. They were driven by the individual brilliance of Nayar and Tare.
The first wicket of the day was overnight batsman Suryakumar Yadav (49), with the former captain scoring barely four runs in the morning.
Incoming batsman Siddesh Lad too didn't last long, falling at an individual score of 15 when he was caught by Chirag Gandhi off left-arm medium pacer R.P. Singh.
At 270-5, walked in left-hander Nayar but soon Tare, who scored his 17th fifty in first-class cricket, lost his wicket -- a LBW verdict in favour of Hardik Patel. Tare's knock was studded with 12 fours.
After the captain's wicket, Nayar decided to take the attack to the opposition, even as his partners kept changing regularly.
Nayar used the long range shots to good effect, launching five fours and five sixes as he waged a lone battle against Gujarat in his 31st fifty.
Balwinder Singh Sandhu (20) and Vishal Dabholkar (12) did their best to support Nayar, who was the last batsman to the dismissed, with R.P. Singh getting a LBW decision.
For Gujarat, medium pacer Chintan Gaja took six wickets for 121 runs, adding Sandhu, Shardul Thakur (2) and Dabholkar to the three he took on Thursday.
Gujarat, who had taken a 100-run first-innings lead, were set a target of 312 runs. In-form openers Panchal and Gohel put them on the right path from the beginning, scoring 47 runs for no loss.
Panchal, who has 1,276 runs prior to this innings in the Ranji Trophy season, looked in ominous form as he hit seven fours during his unbeaten knock of 34 runs from 45 deliveries.
At the other end, Gohel was determined to come afresh on Saturday which will be one of the biggest days for Gujarat cricket.
Brief scores: Mumbai 228 and 411 all out (Shreyas Iyer 82, Aditya Tare 69; Chintan Gaja 6-121, R.P. Singh 2-83). Gujarat first innings 328 all out and 47-0 (Priyank Kirit Panchal 34 not out, Samit Gohel 8 not out) on Day 4.
With IANS inputs.
Updated Date: Jan 14, 2017 16:09:02 IST