Leander Paes' fall from grace: By venting his frustration in public, he has incensed fans and players alike
When the six-man team was pruned to four and was without Leander Paes, the latter turned defiantly petulant. He did his image and reputation little good after that with statements which later turned his reading of the situation incorrect.
Leander Paes, more than anyone else in the current Indian Davis Cup team, should know there is no place for prima donnas in a team sport. But 27 years in the mix could give anybody a false sense of entitlement. And when Paes, unwisely, chose to go for broke and vent his frustration in public there could be only one of two results: acceptance or a swift and ugly fall from grace.
It was that sort of a week, although the setting and timing had changed from Dubai via Mexico through February and March to finally erupt in April in Bengaluru.
The cause was for a berth in the Indian team for the crucial Davis Cup Asia-Oceanic group I second round clash against Uzbekistan in Bengaluru. The match gained importance as it was the gateway to the World Group playoff, which would decide a coveted berth in the Davis Cup elite World Group.
To recount, following the stepping down of Anand Amritraj, Mahesh Bhupathi, another iconic tennis player, was given the onerous task of putting together an Indian team for the tie against the Uzbeks and beyond.
Bhupathi, as was revealed, met Paes over lunch in Dubai when the latter was playing the Dubai Duty Free open in late February and ascertained over the availability of the player, given the changed scenario.
"On March 5, the day before the selection committee met, I sent him a message telling him candidly that I am going to ask for six in the team. And that I would respect his decision if he decided not to come and if he wanted to wait till he was guaranteed a spot in the four.
He said that if he was in the six, he would be happy to come and that playing Davis Cup is priority," Bhupathi revealed after the triumphant tie against Uzbekistan.
Actually it was sad that the Paes issue had taken centre stage at the press meet where the victory of the Indian team was expected to be discussed and hailed anew.
It was a young team, with 22-year-old Ramkumar Ramanathan and 27-year-old Prajnesh Gunneswaran, with another 27 year-old debutant Sriram Balaji and the experienced Rohan Boppana doing duty.
Bhupathi had already explained the logic of his choice of team: He'd go in with three or even four singles players and a doubles specialist would be included only in the event that he was outstanding. He had said that he would encourage his singles players to play doubles in Challengers and other events so that they could become multi-dimensional.
"It would help them with getting used to volleying and playing from the net," he said.
Additionally, since Davis Cup format was four singles and one doubles match, it made sense to pick players who could be of use in four matches rather than the sole doubles.
The 43-year-old Paes landed in Bengaluru at the eleventh hour and without taking a fitness test which was a pre-requisite, according to the skipper's conditions. Further, he hardly had a knock on the courts with the boys.
When the six-man team was pruned to four and was without Paes, the latter turned defiantly petulant. He needlessly posed alongside the team in the photo taken after the draw. He was not in the same uniform as the team which included the skipper and coach Zeeshan Ali, and hence stood out like a sore thumb.
At KSLTA, venue of the match, when captain Bhupathi was addressing the press, Paes unexpectedly entered the conference hall and took a seat behind the reporters. This was needless and rude, especially as the focus until then was all on the young boys who would do duty for India not just in this tie but expectantly over the next five to eight years.
Paes did his image and reputation little good after that with statements which later turned his reading of the situation incorrect, especially as Bhupathi came clean with the message exchange between the two since February.
Before that, Paes further incensed tennis lovers by constantly texting on his phone while seated alongside the team on the courtside sidelines during the opening day of the match.
Inexperienced youngsters were doing duty for India and it looked odd that while the rest of the team and spectators were wildly cheering for every point gained, Paes was indifferent and transfixed on his phone. That certainly did not go well and many former tennis players were quite vocal with their disgust.
"In one single day he has negated and thrown away 27 years of good work," one senior fumed.
Paes disappeared from the stadium after the opening day's singles were both won by India.
One die-hard Paes fan remarked that although he was critical of his hero's behaviour, "he could have been given a chance to set a record."
Another shot back: "He had the chance against New Zealand last match. He went with a player of his choice, yet they were the only ones to lose in the 4-1 victory."
That should tell Paes where he currently stands in Indian tennis' never-ending cycle of intrigue and drama.
Sports
The 18-year-old Briton became the first qualifier in history to win a Grand Slam when she defeated 19-year-old Canadian Leylah Fernandez 6-4, 6-3 at Arthur Ashe Stadium on Saturday.
Entertainment
The seven-part series, co-directed by Ashwiny Iyer Tiwari and Nitesh Tiwari, will release on 1 October on ZEE5.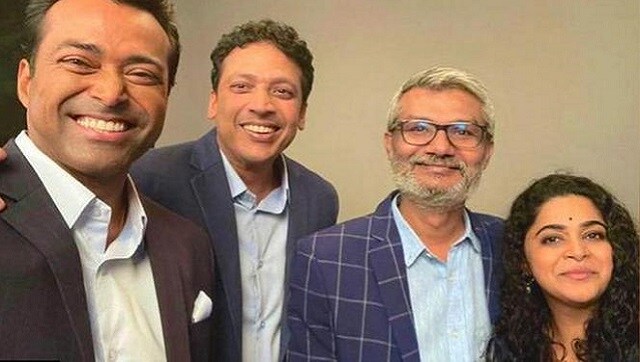 Entertainment
"It's not a puff piece but a 'tell all,'" insist Nitesh Tiwari and Ashwiny Iyer Tiwari, co-directors of Break Point, the docuseries featuring Mahesh Bhupathi and Leander Paes' partnership and split on the tennis court.