Korea Open 2018: Nozomi Okuhara downs Akane Yamaguchi in battle of attrition; Tommy Sugiarto to face Chou Tien Chen in final
Nozomi Okuhara outlasted her compatriot and top seed, Akane Yamaguchi, by a 16-21, 21-17, 21-14 scoreline in a 53-minute battle of attrition that somehow failed to scale the heights.
There have been four distinct occasions in living memory when Japan's Nozomi Okuhara has played with the total elan of a world-beater.
One of those occasions was on display in the semi-finals of the $600,000 Korea Open World Tour 500 badminton championships on Saturday, when she outlasted her compatriot and top seed, Akane Yamaguchi, by a 16-21, 21-17, 21-14 scoreline in a 53-minute battle of attrition that somehow failed to scale the heights.
Those with long memories recalled a contest between the two Uber Cup team-mates and bitter adversaries in the final of the 2012 World Junior Championships, played in the port city of Chiba, when the then 17-year-old Okuhara had comprehensively thrashed the then 15-year-old Yamaguchi by a 21-12, 21-9 margin, to pocket the gold medal.
That had made up, to a large extent, for the disappointment of the earlier year, when Okuhara had had to settle for the bronze after losing at 16-21, 16-21 to Thailand's eventual champion, Ratchanok Intanon, in the semi-final of the 2011 World Juniors in Chinese Taipei.
If Chiba had marked the first time that Okuhara heralded her arrival on the world badminton scene, she was in truly devastating form over a four-month period in 2015-16, when she bagged the year-ending Superseries grand finals crown in Dubai in December 2015, beating the redoubtable Chinese former world champion, Wang Yihan, in straight games. Okuhara went on to annex the prestigious All England championship in March 2016, beating another Wang from China - Shixian, by a desperately tight 21-11, 16-21, 21-19 scoreline in Birmingham.
Injuries, including one to her playing shoulder, blighted her career for a while until she struck a rich vein of form in mid-2017, annexing the Australian and Korean Open titles, and the World Championships gold medal - the first of these at the expense of fellow-countrywoman Yamaguchi, and the other two by pipping India's Pusarla Venkata Sindhu.
Okuhara's 21-19, 20-22, 22-20 triumph over Sindhu in an epic 110-minute battle in the final in Glasgow - on the back of her convincing win over Olympic gold medallist and two-time defending world champion, Carolina Marin of Spain, in the semi-final - is still considered an all-time classic.
The fourth time in her career that this pocket-sized combination of speed, agility and endurance showed her true worth has been at the Korean Open, where she is the defending champion. Saving four match-points in Friday's quarter-final against Indian veteran, Saina Nehwal, Okuhara completed a 22-20 third-game triumph, and went one better on Saturday by wearing down her favourite whipping-girl, Yamaguchi, in a match that was painful for the spectator to watch.
It was clear from her sprightly movements on the court that Okuhara had recovered from whatever injuries she had suffered last year, and which had caused her to concede a walk-over in her home tournament, the 2017 Japan Open, after first knocking out Sindhu.
In the title round, the tiny Japanese dynamo will run into American-Chinese Beiwen Zhang, who is one of the few players on the circuit to travel without a coach, trainer or back-up entourage. Zhang accounted for local favourite, Sung Ji Hyun, who found the weight of expectations of her home crowd too big a cross to bear, and bowed out by a 21-18, 21-19 scoreline, in a match in which both rivals stuck to each other like leeches, and were never separated by more than a point or two.
The 23-year-old Japanese is a raging hot favourite to slip it across Zhang on the morrow, for she has never lost to the American in four previous meetings. Three of these encounters have taken place between last year and this, and have all ended in straight-games victories for Okuhara, with the most recent result reading 21-17, 21-10 at the Thailand Open in July this year. Zhang just does not have the weapons to hurt the Japanese ace; and it will come as a huge surprise to badminton aficionados if she manages to score her first-ever win over Okuhara on Sunday.
As for the men's singles event, which has seen the eclipse of the top three seeds in Denmark's Viktor Axelsen, Japan's Kento Momota and Korea's Son Wan Ho, the final will see the resurgent Indonesian, Tommy Sugiarto, take on Chinese Taipei's No 4 seed, Chou Tien Chen, for the title.
The two finalists took contrasting routes to the summit clash. The 30-year-old Indonesian eliminated the 2018 Asian Games gold medallist and compatriot, Jonatan Christie, at 21-13, 22-20, while Chou was forced to pull out all stops in a 71-minute battle-royal against Japan's Kenta Nishimoto, before he could post a 19-21, 21-18, 21-14 win.
Both players have beaten each other four times in their earlier eight meetings, but the significant statistic here is that Sugiarto has won three of their last four encounters, including the most recent two. Their duel at the Indonesia Open in July this year went the full distance, with the hometown lad pipping the Taiwanese by a 21-13, 14-21, 21-18 scoreline.
Nevertheless, Chou appears to be in sparkling form, as was indicated by his one-sided 21-13, 21-11 quarter-final victory over Anthony Sinisuka Ginting, the man who had beaten him narrowly in the semi-final of the China Open, exactly a week ago. The 28-year-old Taipei ace seems to have marginally the better chance of upstaging the Indonesian old-timer, whose biggest achievement has been a bronze medal at the 2014 World Championships in Copenhagen.
Badminton
Lakshya Sen dished out a superlative performance to outwit Japan's Kodai Naraoka 21-12 21-11 while Saina Nehwal eked out a 21-15 17-21 21-15 win over Chinese Taipei's Pai Yu Po
World
Japan's Chief Cabinet Secretary Matsuno Hirokazu said spreading fake information not only threatens universal values but could also affect security, reported National broadcaster NHK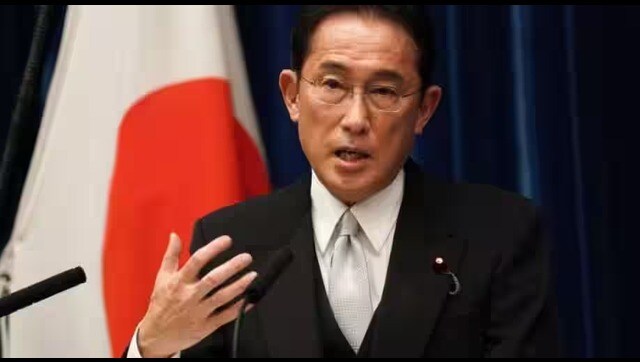 World
The new sanctions include freezing the assets of 36 individuals and 52 organizations linked to Russia