Italian GP: Lewis Hamilton grabs pole, dominates proceedings in Ferrari's backyard
Lewis Hamilton humbled his rivals by securing a dominant pole position for Sunday's Italian Grand Prix.
Monza: A happy Lewis Hamilton humbled his rivals on Saturday as he joined two of motor racing's legendary drivers in the record books by securing a dominant pole position for Sunday's Italian Grand Prix.
The series leader and three-time defending champion was in untouchable form during a coruscating performance in qualifying as he outpaced Mercedes team-mate and title rival German Nico Rosberg by almost half a second.
Ferrari, with new updated power units, were also left gasping in pursuit with four-time champion German Sebastian Vettel, who was third ahead of team-mate Finn Kimi Raikkonen, admitting "those guys ahead look like they're in a world of their own".
Rosberg's face and his struggle to explain the size of Hamilton's advantage was telling evidence of the 31-year-old Briton's supremacy as he drew alongside Juan Manuel Fangio and Ayrton Senna as a five-time pole-sitter at the famous old Autodromo Nazionale.
"Lewis did some good laps and that was it," said Rosberg. "I had a good weekend until now – I just wasn't quick enough… Lewis had his best qualifying for a long time."
Hamilton has now taken three successive Italian poles, five in all to equal Argentine Fangio and Brazilian Senna and 56 in his career as he seeks to complete a hat-trick of Monza victories and to register his 50th career victory in Sunday's race, the last in Europe this season.
"I feel very proud and honoured to be up amongst people like Fangio and Senna," said Hamilton.
"They are such incredible drivers and I never thought in a million years that my name would be mentioned in the same breath as them.
"I came with my A-game today, particularly that last lap and it just felt incredible. What this team has achieved is phenomenal and we are so fortunate to drive a car like this as it was today.
"This is a great track with great fans and today I was right in the sweet spot with the car and I got an exceptional time out of it."
Mercedes Lockout
Hamilton's best lap in one minute and 21.135 seconds was not only nearly half a second faster than Rosberg, but also more than 2.2 seconds quicker than the pole lap time he clocked last year.
Hamilton and Rosberg's front row lockout was Mercedes' 41st and enabled them to equal the record of dominance set by Red Bull pairing German Sebastian Vettel and Australian Mark Webber in their heyday.
Hamilton leads Rosberg by nine points in the title race and will start on Sunday as favourite to enlarge that cushion because the last six Italian races, at the high-speed Monza track, have been won from pole.
Finn Valtteri Bottas was fifth for Williams ahead of Australian Daniel Ricciardo and his Red Bull team-mate Dutch teenager Max Verstappen.
"That was my best lap of the week," said Bottas.
The under-scrutiny Verstappen, 18, who was criticised for his aggressive driving in Belgium last Sunday, said he had enjoyed his session.
"I thought we'd be further behind Ferrari and you never know about a race podium," he said. "We are usually stronger in the race."
Mexican Sergio Perez was eighth ahead of his Force India team-mate German Nico Hulkenberg with Mexican Esteban Gutierrez taking 10th for Haas on his first appearance in the top-ten shootout.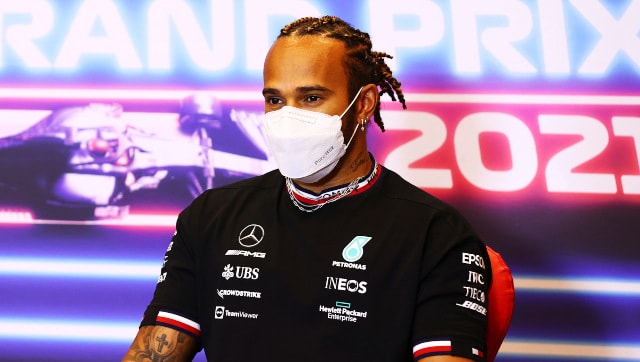 Sports
Verstappen accused seven-time world champion Hamilton of being "dangerous, disrespectful and unsportsmanlike" following their collision at Silverstone on Sunday.
Sports
Roared on by a crowd of more than 140,000, Hamilton attempted to overtake Verstappen on Copse corner on the first lap instead sending the Red Bull careening off the track and into the barrier.
Sports
The Italian marque returned to the sport after a 30-year absence in 2018, with Swiss outfit Sauber rebranded Alfa Romeo in 2019.