Intercontinental Cup: Indian football team coach Stephen Constantine stresses on preparing tactically
Four-nation tournament was conceptualised to test the Indian team ahead of the Asian Cup to be held in the four cities of the UAE from 5 January and 1 February.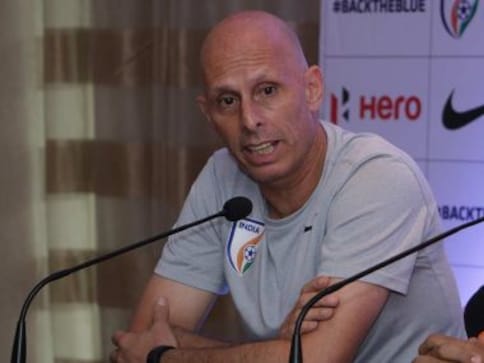 India may be the top-ranked side in the Intercontinental Cup beginning, but head coach Stephen Constantine is expecting "different problems" from each of the three opponents and said that his team would need to be tactically prepared to shine in the tournament.
India take on Chinese Taipei at the Mumbai Football Arena in the lung opener of the tournament which also has New Zealand and Kenya. The home team is ranked 97th ahead of Kenya (111), Chinese Taipei (121) and New Zealand (133).
This four-nation tournament was conceptualised to test the Indian team ahead of the Asian Cup to be held in the four cities of the UAE from 5 January and 1 February.
"We will use these games as a preparation for Asian Cup. We are looking forward to the game against Chinese Taipei tomorrow. Kenya and New Zealand will be giving us different problems. Physically we are prepared and we need to now prepare tactically," Constantine told reporters at the pre-tournament press conference.
"I am aware of the quality of the players whom Kenya and New Zealand have brought in and they are playing all across Europe," added the Indian coach.
He said the team has done analysis of its opponents through watching video clips.
"We have broken down our opponents. We have had separate sessions with individual players and are looking at the video clips both from matches and training sessions to get better," Constantine said.
There are still eight months for the Asian Cup and the head coach informed that the team has a busy schedule lined up.
"We have Asian Games, then SAAF Championships, there we have the October-November windows. There will be a camp before we head to UAE for Asian Cup, quite a busy schedule. There is a lot of football to be played between now and Asian Cup," the Briton said.
He informed that the Indian team has 11 U-23 players.
"I have 11 U-23 players in the squad but we also need the senior players to lead, guide and mentor these players, its not easy," he said.
Constantine also spoke about two new support staff — Joel Carter and Claus Peeterson.
"Claus works with individual players who are not quite ready. He is a rehab specialist and the players really enjoy and need the session. Carter is doing match analysis and is a coach in his own right."
He also said that Indian football has come a long way and needed to qualify for the Asian Cup on a regular basis.
"It is all about performance, work. It does not matter whom we play. Whoever is in front of us is the team we need to beat. There is much more awareness about the game from the general public. But I think in the last four years we have taken it to a new level. We need to continue the momentum and qualify for tournaments like Asian Cup on a regular basis," he said.
Meanwhile, Chinese Taipei head coach Gary White admitted that India was a "strong team".
"India are a strong side and they are going up step by step. Sunil (Chhetri) is nearing to achieve a milestone. I hope he reaches it in the next two games but not against us. This tournament is going to add massive experience to our boys, more than any of the training sessions," said White.
White also felt that it was a challenge for his players to play against teams like New Zealand, India and Kenya.
"It's a challenge for the youngsters to take up responsibility and show the potential for the future. Playing against the opponents like India, Kenya and New Zealand in the first tournament is really special and that lies for our players ahead. We have to dig deep before the Asian Games in August and we're ready to do that," he said.
White said it would be "really motivating" for his side to play a higher-ranked team in the first game of the tournament.
Sports
The suspected tumor was detected during routine tests, according to the hospital, where Pele has been undergoing treatment since 31 August.
Sports
Derided by opposition fans for trampling over German football traditions, RB Leipzig find themselves in the unusual position of not being cast as the bad guys as the Champions League's group of death kicks off on Wednesday.
Sports
Leeds said Wednesday the club have failed with their appeal against Struijk's sending-off, which happened in the second half of Liverpool's 3-0 win in the Premier League at Elland Road. Elliott required a lengthy period of treatment before being carried off on a stretcher, and underwent surgery on Tuesday.