Indianapolis 500: Fernando Alonso's run could usher in exciting new phase in Motorsport
Fernando Alonso's run at the Indianapolis 500 will be remembered for decades to come. It could potentially usher in an exciting new phase in the world of Motorsport.
Fernando Alonso's run at the Indianapolis 500 will be remembered for decades to come. Not just because it was the run of a champion — the bittersweet outcome will only add to the legend of this man — but because it could potentially usher in an exciting new phase in the world of Motorsport.
Alonso is a world class talent
Not that we needed any confirmation but Alonso is a true champion. What can we say about the man — entering his first Indy 500 race, he scorched the track. He charged past 2016 race winner Alexander Rossi for the lead (when was the last time we saw Alonso leading a race?). He passed cars at will, from any line on the track he chose, including flirting with the perilous outside line. Rivals marvelled at how quickly he had learned so much. Indeed, Alonso has been known to be the most adaptable driver in Formula One — and now, outside Formula One too.
For Alonso, running the Indy 500 was all about making a statement — that he is still in top form as a racing driver and was only being let down by a disaster of a racing car.
Ironically enough, his Indy run proved exactly that — with the Honda engine in his Andretti car blowing up spectacularly as if to prove a point. Of course, the manufacturer's F1 and IndyCar programs are entirely different projects, but the irony stung hard all the same. Alonso's run at Indy 500 will also send out a strong warning message to the Formula 1 world that if this double World Champion does not find a competitive car soon, he could well be on his way to greener pastures, where evidently, he is being welcomed with open arms.
Indy 500 is a phenomenal race
Thanks to Alonso, hardcore Formula 1 fans (yours truly included) developed a new-found appreciation for the spectacle that is Indycar Racing. It is the fastest race with real overtaking, minus DRS). As a true-blooded Motorsport fan, what more do we need? And yes, I love that they serve milk on the podium instead of champagne!
Formula 1 always prides itself on being the pinnacle of Motorsport, but times like this serve as a handy reality check. We can learn a lot from IndyCar, much like the sport can learn a lot from MotoGP. IndyCar has some really interesting technological features such as rotating car cameras (love it!) and pit-stop timers on the side of the car. Teams also run different liveries for different cars, giving each car its own unique identity on track.
IndyCar has refuelling — which is a subject that opens a lot of debate. While Formula 1 moved away from the refuelling era, the latest fan survey suggests that viewers would love refuelling to return. IndyCar has no complexity of which tyre to run, while perhaps Formula 1 overdoes it — we don't care about the tyre as long as we get to see racing.
The most exciting part about the Indy 500 was the sheer unpredictability of it all. Right till the very end, we had no idea who would win. Compare this with the Monaco Grand Prix, when we knew who would win rather early on.
Leverage the power of publicity
'Winning' in Formula 1 is not only about being the first to cross the chequered flag — indeed, these are all means towards an end. Constructors use Formula 1 to build their brands, imagery and gain publicity that could in some cases translate into sales. That's why it is important that the sport ramps up publicity machinery to use every means available to it to amplify itself.
Perhaps as important as the race itself, is the build-up to it — and this is something that IndyCar has perfected to the hilt. The massive buzz leading up the Indy 500 was perfectly orchestrated, drawing in even peripheral viewers like myself. The entire event is extremely social and it seems that they share every microsecond that is broadcast-able.
Even during the race, they have a live stream available — something that Formula 1 needs to pick up, given that the age of streaming is upon us. Indy 500 also ran in-broadcast ads — something which will make purists balk, but at least we don't miss any of the on-track action.
Alonso running in Indy 500 was a fantastic publicity opportunity for both series, a perfect win-win. It gave American audiences a slight taste of Formula 1 talent, albeit in a car and series that they identify with, while challenging Formula 1 fans to explore a different series. The amount of publicity that Alonso (and McLaren-Honda) garnered with this move is probably more than what they have had all through the year! I am only waiting to see which sponsor first thinks of putting Lewis Hamilton in an IndyCar to leverage his popularity in America. Moreover, perhaps Hamilton will realise that the best way to conquer America is not through Hollywood or pop music, but IndyCar.
An era of collaboration
We know that thanks to Liberty Media, Formula 1 has entered a new state of being — modern, open, shareable and collaborative. Alonso racing for Indy 500 exemplifies this spirit. In Bernie Ecclestone's times, surely Alonso would have been made to pay the price for choosing Indy 500 over Monaco, but no more. I am sure that this will inspire a new generation of Formula 1 drivers to think of Motorsport beyond Formula 1. He has paved the way by breaking boundaries and conventions. On that note, kudos to the IndyCar paddock for accepting Alonso so warmly. I wonder if Formula 1 would ever have done the same for a so-called outsider.
The various Motorsport series should see themselves as collaborators rather than competitors — trying to increase the overall viewer base of Motorsport, rather than fighting for share in a limited pie. To this end, my only request to the governing bodies is to ensure that there never is a clash between Formula 1, Le Mans and Indy 500!
For a fan of Motorsport, there is nothing as exciting as seeing a driver they love crossover into another series. Who can forget the excitement that accompanied Valentino Rossi potentially swapping two wheels for four? It spikes interest in the race and brings in new viewers. As a friend exclaimed, it is like having Batman show up in the next Avengers movie. Thanks to Alonso, Indy 500 recorded a 975 percent spike in viewership from the UK alone.
Where the Alonso story goes is anybody's guess. Maybe he will go on to win more championships against all odds — whether in Formula 1 or outside, who knows? Maybe things will continue to go awry, in which case, Indy 500 could be an everlasting ode to the brilliance of the man, the racer.
Find latest and upcoming tech gadgets online on Tech2 Gadgets. Get technology news, gadgets reviews & ratings. Popular gadgets including laptop, tablet and mobile specifications, features, prices, comparison.
Sports
Defending six-time champion Hamilton, who bids to capture a record-equalling seventh world title in Sunday's race, was only sixth in qualifying with his teammate Valtteri Bottas in ninth.
Sports
Unlike most Formula 1 drivers, Hamilton didn't have a racer dad, a famous surname or rich parents. A chance encounter with former McLaren supremo Ron Dennis at the age of 13 paved the way forward, and clichéd as it sounds, the rest is literally history.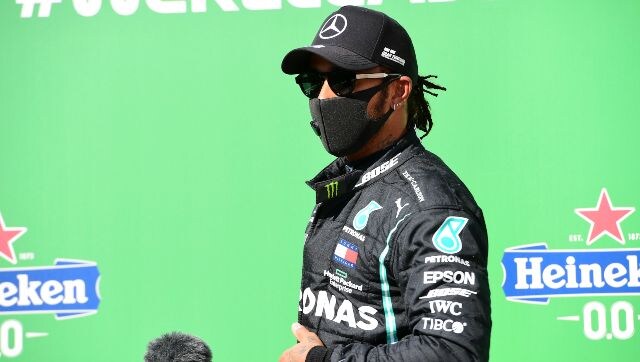 Sports
Lewis Hamilton cemented his position as one of Formula One's true greats when he equalled Michael Schumacher's all-time record of seven world titles