Indianapolis 500: Fernando Alonso finishes fifth in qualifying, Scott Dixon takes pole
New Zealand's Scott Dixon captured pole position for the 101st Indianapolis 500 with a dramatic four-lap qualifying run Sunday while Formula One racer Fernando Alonso booked a second-row start.
Washington: New Zealand's Scott Dixon captured pole position for the 101st Indianapolis 500 with a dramatic four-lap qualifying run Sunday while Formula One racer Fernando Alonso booked a second-row start.
Dixon, who won his only Indy 500 crown in 2008 from pole, shocked even himself by driving his Honda-powered car around the 2.5-mile (4km) Indianapolis Motor Speedway oval at 232.164 mph (373.631 km/hr).
He then watched rivals try in vain to bump him from the inside front row spot in next Sunday's IndyCar classic.
"When I saw that first lap (at 232.595mph) I was a little shocked myself," Dixon said. "It feels damn good. But this was job one. The pole is its own race. The significance is big. But the most important thing is the race. Let's bring on next week."
Spaniard Alonso, a two-time F1 champion who will skip next week's Monaco Grand Prix to seek a checkered flag as an IndyCar rookie, settled for fifth at 231.300 and will open in the middle of the second row.
"This is the biggest race in the world," Alonso said. "I felt that the first time I came here. Now getting up to speed, with all the fans, I feel it's even more amazing. I can't wait for next Sunday."
American Ed Carpenter was second at 231.664, edging US defending champion Alexander Rossi, the outside row one starter.
Alonso will be flanked in row two by Japan's Takuma Sato to the inside and American J.R. Hildebrand to the outside.
The 33-car field was filled in two sessions based upon Saturday times, the fastest nine Saturday running for the pole and the others completing the last eight rows.
That's how American Ryan Hunter-Reay had the fourth-best run of the day at 231.442 but will only start on the inside of row four.
"It was crazy. It was white knuckle the whole time," he said. "It didn't feel like I took a breath."
Dixon's third career Indy 500 pole after 2008 and 2015 came after the team gambled and trimmed out downforce. It paid off but left Dixon on edge as he watched rivals attack his time, some nudging the outer wall with tires in their speed quest.
"This place is nerve wracking, especially when you see everybody going around, touching the wall," Dixon said.
"These extremes, the highs and lows, it's emotional. The emotions you get here are crazy."
That's how last-man Carpenter felt after failing to overtake Dixon.
"If you told me we would have done what we did I would have thought that would have been on the pole," he said. "But when I saw Dixon's time, I knew it was going to be hard to beat."
Alonso had the fastest morning practice time but diagnostic readings worried team leaders and they ordered an engine switch, which came in 90 minutes to beat a deadline, adding to the stress on Alonso.
"With everything that has happened today being among the top 5 is a dream!" Alonso posted on Instagram, adding, "15 days ago I would never have thought about fighting for the pole. Thanks to the whole team!! Now another week of learning and race next weekend."
Alonso said he felt there was more he could have gotten out of the car as he learns with every Indy lap.
"I felt a little more confident on the track," he said. "I think I they changed the engine in record time and the car performed well."
Australian driver James Davison, grandson of a four-time Australian Grand Prix champion, was named by car owner Dale Coyne to replace injured French racer Sebastien Bourdais, who underwent successful surgery after suffering multiple pelvic fractures and a broken right rib in a crash during a qualifying attempt Saturday.
The Honda-powered entry, which turned Saturday's fastest two laps above 231 mph, will start last after not posting a qualifying time.
Find latest and upcoming tech gadgets online on Tech2 Gadgets. Get technology news, gadgets reviews & ratings. Popular gadgets including laptop, tablet and mobile specifications, features, prices, comparison.
Sports
Defending six-time champion Hamilton, who bids to capture a record-equalling seventh world title in Sunday's race, was only sixth in qualifying with his teammate Valtteri Bottas in ninth.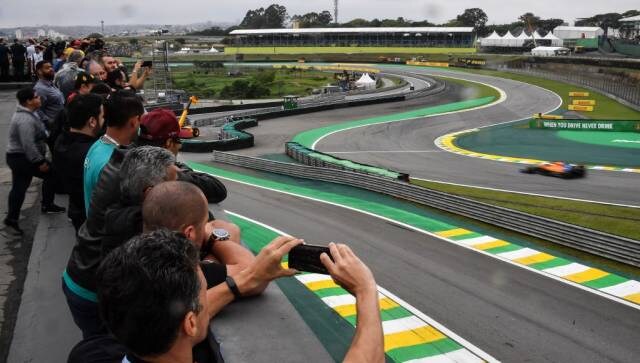 Sports
Sao Paulo's governor Joao Doria told reporters that mayor Bruno Covas would sign a contract renewal with US developer Liberty Media.
Sports
Speaking at the Turkish Grand Prix, where Hamilton is seeking to seal a record-equalling seventh drivers' world championship, the Austrian also heaped praise on the Briton's ambition and commitment.