India defeated England convincingly by 4-0 in the Test series. The ODI series between India and England is set to begin from 15 January, 2017 at Pune. England have added some new and fresh faces in their ODI side and will be looking to clinch their second ODI series in India.
On the other hand, India will be looking to build on the winning momentum they had in the Tests series under the leadership of Virat Kohli. Yuvraj Singh has been recalled to the Indian ODI side, which will give the stability to the middle order. Both teams have some decent all-rounders in their squads. However, it will be intriguing to see how the England batsmen will play Indian spinners and how the England spinners will bowl against Indian batsmen, as that could help decide the result of the series.
Generally, it is toilsome for a visiting team to beat India in their home in ODIs, but this power-packed England side can trouble Virat Kohli and his men. India have not lost a bilateral ODI series against England in India since 1985. Furthermore, at home, India have lost only two bilateral series since 2010. They lost one against Pakistan in 2012/13 by 2-1, and another against South Africa in 2015 by 3-2.
India will once again bank on their upper order batsmen to help them to post mammoth totals or to chase the targets as India's upper order's batting average since 2015 is the best among all the teams which have played more than 35 ODIs. However, in the absence of Rohit Sharma, it is vital for India to pick an opening batsman other than Shikhar Dhawan, who can play an innings like him.

On the other hand, England's middle-order batsmen (4-7) have been their strength as their batting average since 2015 in ODIs is the second best among all the teams which have played more than 35 ODIs. England will once again rely on the trio of Jonny Bairstow, Ben Stokes and Jos Buttler, who had helped England to win many matches in 2016. The onus will be on Eoin Morgan to come good as he has not had the best of times in the middle for England in the warm-up games against India-A and in 2016 as well.
India have won eight out of the last ten matches against England in home ODIs. The two teams have played 16 bilateral ODI series so far, with India winning eight and England six. Overall, India have won 50 ODIs against England while England have won 38 ODIs against India.
Below is the head-to-head ODI record between the two sides from 1974 to 2015.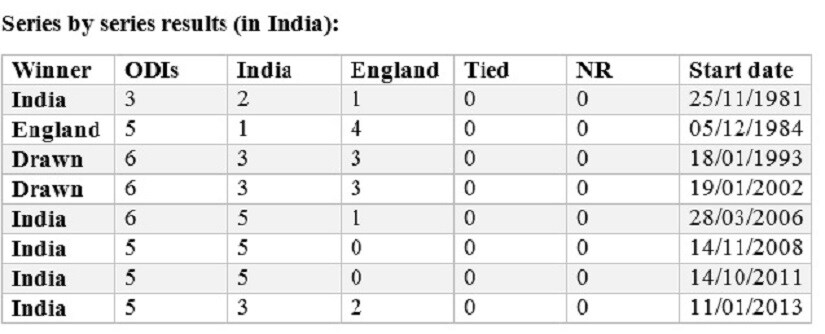 However, it is notable that both teams have had quite similar recent form in ODIs, with India winning seven and England winning eight out of their last 10 ODIs. Therefore, this series promises to be cracking contest.
Recent form (Last 10 ODIs) – Most recent first
India: W, L, W, L, W, W, W, W, W, L
England: W, L, W, L, W, W, W, W, W, W
Some Individual Records in India-England ODIs in India:
Highest total
India: 387/5 at Rajkot in 2008
England: 338/8 at Bangalore in 2011
Lowest total
India: 170 at Bangalore in 1993
England: 125 at Jaipur in 2006
Highest individual score
India: 138* by Yuvraj Singh at Rajkot in 2008
England: 158 by Andrew Strauss at Bangalore in 2011
Best bowling
India: 6/55 by S Sreesanth at Indore in 2006
England: 5/35 by Paul Jarvis at Bangalore in 1993
Leading run-scorers
India: 799 (avg. 49.93) by Suresh Raina
England: 929 (avg. 46.45) by Kevin Pietersen
Leading wicket-takers
India: 31 (avg. 22.09) by Harbhajan Singh
England: 17 (each by Tim Bresnan (avg. 29.11) and Andrew Flintoff (avg. 33.88))
Catch the live updates and ball-by-ball commentary of the 1st ODI between India and England at Pune here
Yuvraj Singh – the comeback man for India – has scored the second most runs against England among Indians in ODIs. He would like to cement his place in the side by performing well in the ODI series, while Virat Kohli would want to give chances to as many batsmen as possible as this ODI series against England will be the last ODI series for India before the ICC Champions Trophy 2017.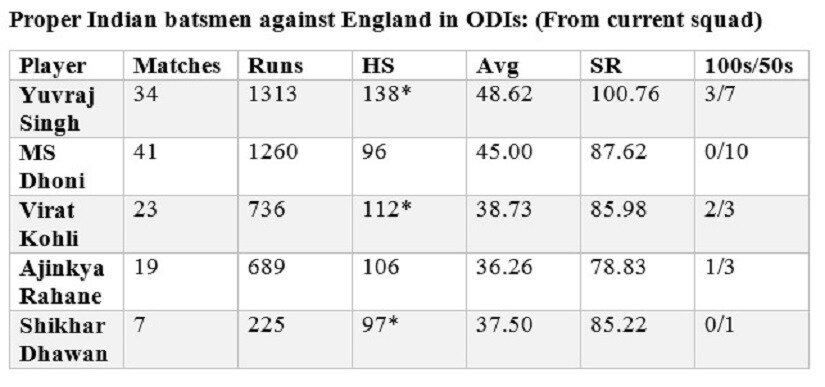 The current England batting line up are certainly not an experienced lot, with only Joe Root and Eoin Morgan having played more than 10 ODIs against India. Only Joe Root has an average of more than 35 against India. This will be a stern test for them, as India have a decent bowling lineup.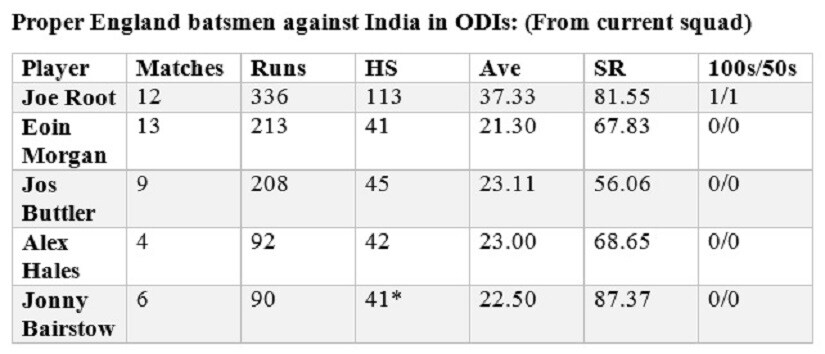 India will once against depend on their two spinners – Ravichandran Ashwin and Ravindra Jadeja – who helped them win the Test series against England. Yuvraj and Hardik Pandya will add more variety to the bowling attack. It will be interesting to see which two pace bowlers will be picked from Bhuvneshwar Kumar, Umesh Yadav and Jasprit Bumrah.

Just like the England batsmen, the bowlers too have not had that much experience of playing in India against India in ODIs, which will be an added benefit for the Indian batsmen.

Updated Date: Jan 15, 2017 13:59:16 IST