Hockey World League Semi-Finals, highlights: India start campaign on winning note defeating Scotland 4-1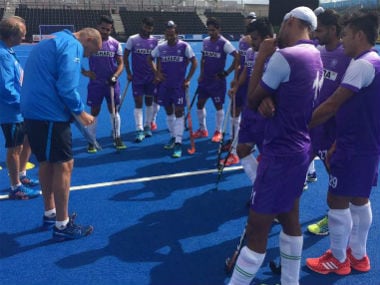 20:27 (IST)

Join us on Saturday (17th June) when India take on Canada.

Have a good night and Goodbye!

Scotland played some excellent hockey to take the lead in the 1st quarter. But India fought back to get four goals. Ramandeep Singh got two with the rest coming of the sticks of Akashdeep Singh and Harmanpreet Singh. India will now play Canada day after tomorrow.

AND INDIA HAVE STARTED THEIR HOCKEY WORLD LEAGUE CAMPAIGN ON A WINNING NOTE BEATING SCOTLAND 4-1.

Can India get another goal in the remaining three minutes or so? That would require another moment of brilliance as the Scots might be 1-4 down but have held their defence together in this 4th quarter.

It's almost like a drill. India refuse to give the ball to Scotland. Five minutes left in the 4th quarter.

Replacements, Jasjit Singh Kular and Sumit for Rupinder Pal Singh and Uthappa are on the pitch now. Great exposure for Sumit after his Azlan experience. India controlling the match at this stage. Not letting in the Scots.

India slightly slowing the pace down now. Keeping the ball tight inside the zones and looking for Scotland to create the error. With less than nine minutes left in the 4th quarter, India lead 4-1.

Scotland making forays. But lack the belief they had in the 1st two quarters. Plus 1-4 down has it's own pressures. India will be looking to getting more goals.

As the final and 4th quarter begins, India are in a safe position. They have opened up the game so strongly controlled by Scotland in the first two quarters. It's now a question of India increasing their 4-1 lead and if Scotland can cut the scores and get another goal.

AT THE END OF THE 3RD QUARTER, INDIA LEAD 4-1. ALL FOUR GOALS COMING IN THE 3RD QUARTER. RAMANDEEP GETTING TWO AND ONE EACH FOR AKASHDEEP AND HARMANPREET SINGH.


Scotland unable to sustain the pressure now brought about by the Indian midfield and forwards. In their quest to defend in numbers, they allowed India space and the Indians powered in with four goals. With the 3rd quarter about to end, India lead 4-1.

1st PC of the match goes to India off a referral. AND IT'S HARMANPREET SINGH WITH HIS FIRST GOAL OF THE MATCH. INDIA LEAD 4-1.

Manpreet Singh, the skipper, slightly under-powered in the match finally finds the space to create a goal out of nothing. His powerful shot is deflected in brilliantly by Akashdeep. India now cruising at 3-1, looking for more goals.

IT'S NO.3 FOR INDIA AS MANPREET FIND HIS MAN WITH A SUPERB THROUGH AS AKASHDEEP DEFLECTS IN INDIA 3RD GOAL. INDIA LEAD 3-1 WITH FIVE MINUTES LEFT IN THE 3RD QUARTER.

Satbir Singh has been shown the green card. India down to ten men. Opportunity for Scotland to create and find space.

Scotland will try and gain some ground back. They have the players who can keep rotating the ball. But can they keep India away from counter-attacks. Sardar sets one up but Mandeep's pace is faster than the ball and the shot is wayward. Nine mins left in the 3rd Q. India lead 2-1.

AND IT'S RAMANDEEP AGAIN. IT'S A LOVELY RUN IN BY SV SUNIL AND THE CROSS IS DEFLECTED IN FROM A TIGHT ANGLE. INDIA LEAD 2-1 IN THE 3RD QUARTER.

Two attacks after India found the equaliser. Scotland now will give space in trying to keep India out. The midfield has opened up. At the moment, India have the upper hand.

WHAT A GOAL!!!!!!! RAMANDEEP'S SCORCHING SHOT, A REVERSE HIT FROM THE TOP OF THE CIRCLE BEATS ALEXANDER IN THE SCOTTISH GOAL. IT'S 1-1.

And India have a change in goalkeeper. Vikas Dahiya is on the bench. And Akash Chikte is in goal. 3rd quarter starts. India need an equaliser.


AND THAT'S THE BREAK. SCOTLAND LEAD 1-0 AFTER A LOVELY PLACEMENT BY THEIR CAPTAIN CHRIS GRASSICK. INDIA NEED TO DO SOMETHING IN THE REMAINING 2 QUARTERS. THEY HAVE THE TEAM. BUT DO THEY HAVE THE MENTAL STRENGTH. NOT A SINGLE PC TO EITHER TEAM.


India losing possession in the defence and midfield. Can't afford to do this when down a goal against Scotland! The Scots will increase pressure on the counter attacks. Thus important for India to find an equaliser and play with some fluidity; missing at the moment.

What a chance wasted by Akashdeep!!. Pardeep Mor's lovely cross and the deflection goes wide. Scotland still lead 1-0.

Brilliant save from the Scottish goalkeeper Alexander Thomas. Akashdeep's rising shot deflected off the gloves. Five minutes left in the 2nd Q.

Yet another run by the Indians on the right flank. But the penetration is missing. They need to cut the ball into the midfield and use the middle corridor. The flanks are not working at the moment. Scotland still lead 1-0. Morton Lee has the green card. Scotland down to ten men for five mins.

Nice move by Sardar and then Kothajit sweeps it in. But not a single Indian player in position. India need to bring on the pressure and create penalty corners if field goals are difficult because of the lack of space. Around 8 minutes left in the 2nd Q.

Akashdeep and Ramandeep teamed up perfectly but the final flourish was missing as they let the ball loose and India lose another opportunity. Scotland not letting a single Indian player free. They are playing the perfect man-to-man marking seen in a match.

Scotland making it tough for India by playing up. But India are reckless with their passes. They seem to be in a hurry. Rolling substitutions are happening fast.

2nd Quarter starts. Scotland have taken a shocking but deserving 1-0 lead. It's now for India to raise their game and find an equaliser.


Almost a goal for India. But Mandeep's deflection is saved by the Scotland goalkeeper Alexander Thomas. End of 1st Quarter. Scotland lead 1-0.

India a little ragged in the field. The usual midfield domination not being seen. Mandeep the lone forward looking for loose balls. But the Scottish are playing hard and tough on the tackles, India trying to rotate but the passes are wayward. No pressure yet on Scotland. They lead 1-0 with a minute to go in the 1st Q.

No PC for India as Scotland were successful in their referral. It's back to India looking for an equaliser. Scotland lead 1-0.

Scots playing man-to-man in the midfield and defence. India desperate. But unable at the moment to create anything substantial. Four minutes plus left in the first quarter. And India get the 1st PC of the match.

India trying to forge through the middle. Creating a chance but the Scottish defenders manning their goal in numbers clear it away.

It was a Kothajit error. Beaten on the turn and then a lovely cross which two Indian defenders including the Indian goalkeeper Vikas Dahiya couldn't stop.

Against the run of play, it's the Scottish captain Chris Grassick who has scored. Scotland lead 1-0.

Kothajit's sweeping shot but Mandeep's stick not in the right position. India are probing. Scotland holding tight in their defensive positions.

Opening play has India pushing the Scots into defensive positions. Scotland smartly rotate the ball not giving any opening. Mandeep penetrates but can't utilise the open space.

The Indian team will be here in ten minutes. Warming up for what should be a journey straight to the Hockey World League Finals in December at Bhubaneshwar. The top eight teams will be there. India have already qualified as hosts while the rest of the world fight it out for the remaining seven spots.

Both teams are on the pitch. Pool B's opening encounter should start in a minute now. India and Scotland in a huddle. India should press the accelerator right from the opening whistle. There they GO...


Welcome to the Olympic Hockey Centre here at the Olympic Park, London. It's bright and sunny. In fact very bright. A few clouds in the distance but nothing threatening. In the opening match of the Hockey World League semi-finals, Olympic Champions Argentina have beaten South Korea 2-1. It was close but not close enough to cause too much trouble for the Olympic Champions. India is up next. They play Scotland.

18:12 (IST)

The starting elevens for India and Scotland in their Pool B clash of the Hockey World League Semi-Finals in London.

See who Chief Coach @OltmansOltmans has selected to start for India's first match in the Hero Men's #HWL2017 SF in London against Scotland! pic.twitter.com/5l7NoXC6B3

— Hockey India (@TheHockeyIndia) June 15, 2017

17:35 (IST)

The India women's national hockey team rally behind the men ahead of the Hockey World League Semi-Finals.

The Indian eves send good luck wishes to the Men's team ahead of their Hero Men's #HWL2017 SF opener against Scotland.#IndiaKaGame pic.twitter.com/9MFOHn94IW

— Hockey India (@TheHockeyIndia) June 15, 2017

16:16 (IST)

Welcome to our live coverage of the Pool B match between India and Scotland in the Hockey World League Semi-Finals in London.

World No 6 India open their campaign against World No 23 Scotland.

After PR Sreejesh was ruled out due to injury, Manpreet Singh has been named as captain of the side in his absence.

The Indian team faced further setbacks yesterday when experienced defender Rupinder Pal Singh and midfielder SK Uthappa were also ruled out. Jasjit Singh Kular and Sumit Kumar have been called up to replace them.

The other matches scheduled for today are:
Pool A: South Korea vs Argentina
Pool A; England vs China
Pool B: Netherlands vs Pakistan

Stay tuned for more updates.
Preview: High on confidence despite missing out on two experienced players on the eve of the Hockey World League (HWL) Semi-Final, India are expected to face an easy task when they take on minnows Scotland in their first match in Pool B on Thursday.
Experienced defender Rupinder Pal Singh and midfielder SK Uthappa have been ruled out of the Indian squad, Hockey India (HI) announced on Wednesday.
Rupinder will be unavailable for the tournament due to a hamstring injury. The ace drag-flicker will be replaced by defender Jasjit Singh Kular, who also doubles up as a penalty corner specialist.
Kular has played 46 matches in an Indian jersey with five international goals to his name.
Uthappa, on the other hand, had to return home to attend to a family emergency. He will be replaced by Sumit Kumar.
Sumit made his debut for the senior India team at the 26th Sultan Azlan Shah Cup earlier this year. He had a successful stint with the junior India team last year during which they won the Junior Men's World Cup.
The 20-year-old from Sonepat district of Haryana was part of the 33-member core group that trained at the Sports Authority of India (SAI) centre in Bengaluru prior to this tournament.
However, head coach Roelant Oltmans is confident that the replacements will live up to the challenge.
"With a strong core group who have been working together since February this year, we have several options and I don't see this as a setback for us at all," he said.
India are placed in an easier Pool B, with the Netherlands only team ranked higher. Other teams in the pool are Pakistan and Canada. The other pool comprises Olympic 2016 champions Argentina, England, South Korea, Malaysia and China.
"You always want to start well in the pool stage. Playing a tournament like the Hero Hockey World League Semi Final is always challenging with a number of strong teams in the competition. The pools are equally strong too but based on the ranking in our pool, we have to get a good start against Scotland," said Oltmans.
Oltmans also laid stress on a better goal conversion rate to ensure a successful outing. The lead up to the opening encounter saw the Indian team led by midfielder Manpreet Singh win the practice match against England 3-1 on Tuesday with a successful dragflick by Harmanpreet Singh and a double goal by striker Mandeep Singh.
"To win this kind of tournaments, we have to get a higher percentage of goals out of our opportunities and concede less unnecessary goals. If we can manage this aspect of the game, then anything is possible to achieve for this team," he said.
With inputs from IANS
Updated Date: Jun 15, 2017 20:29 PM