Hockey World Cup 2018: Drag flick woes, defensive fumbles mark India's scrappy opening win over South Africa
India might have played their easiest match of the tournament. They would do well to believe it was their worse too.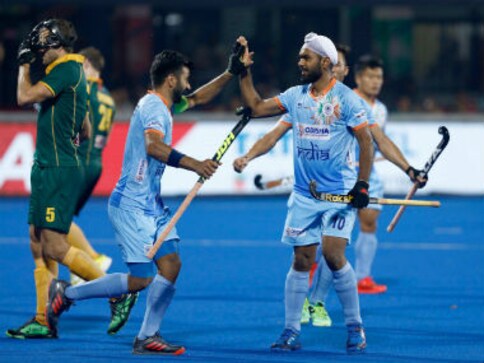 Bhubaneswar: Call it harsh, uncharitable, too demanding or what you will, but not often does one escape an error-prone performance of such magnitude with a favourable 5-0 result. Manpreet Singh-led India opened their World Cup campaign against a spirited, but lightweight, South Africa with a clean sheet, but once coach Harendra Singh - understandably elated after getting off the blocks - finds himself away from prying eyes, his mind would race back. The vignettes come so fast and so soon that the scoreline sounds redundant at the end of it all.
Sometime around the middle of the third quarter, South Africa's Richard Pautz received a cross and dived full length in front of the Indian goalpost. PR Sreejesh, among India's most experienced men in the field of play, charged and averted the danger. Seconds later, the vistors mounted another attack, and very nearly pulled one back but Surender Kumar's touch kept the ball away.
That brief, four-minute period when the visitors parked themselves in the Indian half, should give Harendra some jitters. The jovial, triumphant roar that accosted India throughout the match turned into a whimpering buzz of anxiety, as the visitors – trailing 0-2 at that stage – tried their best to reduce the deficit.
Picture this setting against any of the top-four teams. Think Germany, England, Malaysia and Pakistan – all ranked below India, and you would know where the cynicism stems from. Harendra though would have none of it. Not in public, at least.
"I think after 2-0, they were smelling one goal. I think we should not give opponents a sniff; they can score too," is the closest he would come to introspection on a night where his trusted plans lacked execution.
"I think sometime in the third quarter, we were put under pressure. But the credit goes to all defenders who held their nerves and played the simple game and came out with the press. The moment they were 2-0 down, they took one player from the back three and put him in the midfield.
"We decided that we have to step out and stop the ball early. It took us 3-4 minutes to understand that. With the crowd that we had, it was difficult to communicate. The players were communicating through sound and not visuals, and it's tough to be heard in this crowd. But we regrouped well."
Four minutes is eternity against teams like Argentina and Australia, and the World No 3 Belgium – India's next opponent – would be watching. For a team that has had sessions to communicate in a simulated, noisy cauldron, it's a barely acceptable explanation.
Dilip Tirkey, former India captain and an ace defender of his time, agrees on the need for a tighter defence.
"There were a few anxious moments when South Africa mounted attack after attack in the third quarter. I think Sreejesh came up with some good saves, but overall, we need to pay attention to our defence. Stronger teams won't give you so much space, and if you allow them in your half for so long, it could prove costly," Tirkey, who represented India in 412 internationals, told Firstpost.
Defending in the last quarter was marginally better than the third, but South Africa still had their chances. With five minutes remaining on the clock, Lalit Upadhyay fed Simranjeet in the D, but latter's reverse hit found Pieterse. South Africa counter attacked soon, and Julian Hykes found himself next to Sreejesh in no time. Once again though, the Indian custodian stood tall to ensure a clean sheet.
Defence was not India's only concern on Wednesday. Penalty corner conversion remained a worry, and though the scoresheet would show two goals from five short corners, none of them came through direct drag flicks.
"A 5-0 result against any opposition is a good result, but we need to focus on short-corner conversion. We missed quite a few of them, and the focus must be to maximise these opportunities," Tirkey said.
In the tenth minute of the match, Mandeep Singh received a precise aerial ball from Harmanpreet, and after controlling it beautifully in the South African D, he forced a penalty corner via referral. Harmanpreet's high drag flick was palmed away by goalkeeper Rassie Pieterse, but Mandeep was in place to slot home the rebound.
The only other successful conversion happened in the 46th minute after India almost made a hash of it. Harmanpreet failed to hit a clean shot, but Nilakanta Sharma was on his right to send the ball across to Varun Kumar, whose hit was deflected straight into goalkeeper's pads by Chinglensana Singh. Simranjeet lapped up the rebound and gave India a 5-0 result.
"People will say that we didn't score on direct shots, but I think a goal is a goal. Who scores and how we score is irrelevant. We couldn't control two PCs, so we will go back to the meeting room and discuss where we went wrong - if it was the injector, the pusher, or the ball was bumpy. But I am happy that they used their mind," the coach said.
Early in the second half, India earned another penalty corner. Now Harmmanpreet, who was clearly scratchy, slipped the ball to Amit Rohidas, who failed to score. Moments later, Hardik sent a pass to Nilkanta Sharma in the D, who did a one-to-one with Sumit but failed to find the net.
India got another PC early in the third quarter via Sumit, but poor blocking meant another lost opportunity. Akashdeep fed the ball back in, but Harmanpreeet hit wide.
In face of such glaring misses, Harendra's optimism sounds slightly misplaced. "The important thing is, were you there to score the goal? I think they were there. Otherwise what generally happens is that start running back and they forget that the ball is still with us," he said.
India were loose, to begin with, when, despite dominating possession in the first quarter, they couldn't trap the ball cleanly in the opponent's half. In the third minute of the match, Manpreet hit a long cross to an unmarked Mandeep, but the 23-year-old failed to get a touch. Within next five minutes, Lalit and Dilpreet entered the D, but both failed to score.
Harendra attributed early fumbles to nerves. "The players were understandably anxious, playing their first match at this World Cup. The positioning was good, but the sticks were in the air, and so a few passes slipped away. However, the players soon realised that they need to keep their sticks on the ground, and luckily for us, Mandeep scored."
That South Africa are not exactly the top dogs of international hockey did help. They provided generous spaces to Indians and their man-marking was way off the mark. A lot of free runs were allowed to Mandeep and Akashdeep in the flanks, and even when they had men in the D, they failed to anticipate deflections.
In the third quarter, an unmarked Mandeep dribbled his way into the D and fed Simranjeet Singh, who scored first of his brace with a neat deflection. It was a glaring error from South Africa, who once again were guilty of providing acres of space to the Indians. By the time they rushed in, Simranjeet had the ball under control and the youngster scored an easy goal.
Even Akashdeep's goal in the first half was made easy by clueless defending. Varun's cross found Simranjeet Singh in the net, who coolly deflected it to Akashdeep, and the experienced forward scored without a fuss. At the time of that goal, five South Africans, excluding the goalkeeper, stood in the D, but none bothered to challenge or mark Akashdeep.
Against Belgium, nerves and skills will be put to sterner tests. Harendra refused to reveal the areas of improvement – "This is a World Cup, and we would not like to elaborate our plans" – but that was a vain attempt to hush lapses under the shroud of secrecy. Safe to say, India might have played their easiest match of the tournament. They would do well to believe it was their worse too.
also read
Hockey
India is the most successful side in the event alongside Pakistan with both countries having lifted the trophy three times each.
Hockey
The Indians have played three games against Australia, losing 2-4 and 2-3 in the first two games, respectively, and then coming from behind in the third game to ensure a 1-1 result.
Hockey
World No 3 Australia, thus, take an unassailable 2-0 lead in the three-match series. India, ranked eighth, had earlier lost 2-4 in the series opener on Thursday at the Mate Stadium.