Highlights Sultan Azlan Shah Cup 2017 final, Australia vs Great Britain, hockey score and updates: GB beat AUS to win title
LIVE NEWS and UPDATES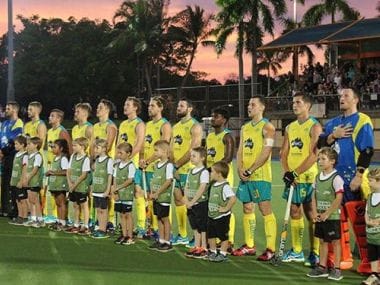 AND THAT'S IT FROM THE AZLAN SHAH CUP. GREAT BRITAIN, THE CHAMPIONS HAVE BEATEN AUSTRALIA 4-3 IN A THRILLING FINAL

FINAL POSITIONS AT THE AZLAN SHAH CUP:

1. GREAT BRITAIN

2. AUSTRALIA

3. INDIA

4 NEW ZEALAND

5. MALAYSIA

6. JAPAN

WITH THIS WIN, GB SEND A WARNING TO OTHER TEAMS AT THE WORLD LEAGUE SEMI-FINALS THAT THEY ARE BACK AND CAPABLE OF WINNING TITLES. AUSTRALIA, A LOT TO INTROSPECT AFTER THIS AND FOR THEIR FANS, HOPEFULLY, COLIN BATCH BRINGS THEM BACK TO THE TOP AGAIN.


GB IS THE FIRST EUROPEAN TEAM AFTER THE NETHERLANDS IN 2006 TO WIN THE SULTAN AZLAN SHAH CUP.

SO FOR GB IT'S TWO FINALS AND TWO TROPHIES. THAT'S A HUNDRED PERCENT RECORD.

GREAT BRITAIN HAS STUNNED THE WORLD CHAMPIONS AND REIGNING AZLAN SHAH CHAMPIONS 4-3. AUSSIES LOSE THEIR SECOND CONSECUTIVE MATCH. YESTERDAY THEY LOST TO JAPAN 3-2 AND TODAY GB HAS BEATEN THEM TO THE PRESTIGIOUS AZLAN SHAH CUP.

GB HAS WON THE SULTAN AZLAN SHAH TOURNAMENT 4-3. THEY HAVE WON IT AFTER 23 YEARS. AUSTRALIA HAVE LOST THE FINAL.

AUSTRALIA WIN THE REFERRAL. NO PC TO GB. MATCH STILL ON. GB LEAD 4-3 WITH UNDER 2 MINS LEFT.

WITHOUT A GOALKEEPER, AUSTRALIA HAVE CONCEDED A PC. BUT ASK FOR A REFERRAL. UNDER 2 MINS LEFT.

AUSTRALIA HAVE PULLED OFF GOALKEEPER CHARTER. AUSSIES PUSHING IN EVERYTHING FOR THE EQUALISER.

GB SAVES. THEY LEAD 4-3. UNDER THREE MINUTES LEFT.

AUSTRALIA HAVE THEIR 6TH PC. UNDER 4 MINS LEFT. CAN THEY SCORE?

Australia desperate now. But GB is playing very steady. Holding and keeping possession. They know if they keep the ball away from the Aussies, precious seconds would be eaten up. (04:49, 4th Q)

WITH AROUND 8 MINS LEFT, GB LEAD 4-3. CAN THEY HOLD ON?

Australia's goalkeeper Charter is back. The Aussies revert back to their usual formation. They are still attacking. GB has to scramble to clear. (09:08, 4th Q)

GB TRIED AN INDIRECT CONVERSION. FAILED. IT'S 4-3 TO GB WITH 11 MINUTES LEFT.

GREAT OPPORTUNITY FOR GB. THEY HAVE THEIR 2ND PC.

AND AUSTRALIA PLAYING WITHOUT A GOALKEEPER HAS PULLED ONE BACK. DYLAN WOTHERSPOON HAS SCORED. IT'S 3-4 TO AUSTRALIA. (12:16, 4TH Q)

The third quarter is on. Australia is still without their goalkeeper. They are pushing hard. Just 15 minutes between them and a comeback to equalise first and then find a match-winner. But GB is tough today. Playing superb hockey, they have given the Australians a run for their money. GB lead 4-2. (13:17, 4th Q)

END OF THE 3RD QUARTER. GB LEADS 4-2.

Australia pull of their goalkeeper as they were down to ten men. Andrew Charter the GK is off. The Australians are looking to pull one goal back before the 3rd quarter ends.

It was actually a superb piece of work by Alan Forsyth who did an almost 360 degree turn before pushing the ball for Goodfield. GB lead 4-2. (00:42, 3rd Q)

WHAT A GOAL!!! DAVID GOODFIELD FLICKS IT OVER THE GOALKEEPER AS GB LEAD 4-2. (01:55, 3RD Q)

GB is not just defending. They attacked and almost got the fourth. But the shot didn't have power and neither was there a player to pick up the cross. (03:55, 3rd Q)

Australia have opened up the game. Instead of the flanks, they cut through the middle. That's GB's weak link at the moment. The World Champions have increased the pace. Can GB last this quarter without conceding another one? (06:07, 3rd Q)

THIS QUARTER IS TURNING OUT TO BE A THRILLER. AUSTRALIA HAVE CAMPED IN THE GB HALF. THEY ARE SEARCHING FOR THE EQUALISER. IT'S GB LEADING 3-2. (08:31, 3RD Q)

AND AUSTRALIA PULL ONE BACK RIGHT AWAY. IT'S DYLAN WOTHERSPOON AND JOSHUA POLLAR SLIDES IN AND BANGS IT AWAY. IT'S 2-3 TO AUSTRALIA. (10:08, 3RD Q)

GB GET THE THIRD. ANOTHER STUNNING GOAL, A LOVELY THROUGH AND OLLIE WILLARS PUSHES IT THROUGH. GB LEAD 3-1. (11:21, 3RD Q)

Teams are back on the pitch. 3rd quarter to start. GB leads 2-1. This will be a crucial quarter. If GB get one more, they can expect to hold off Australia. But an equaliser from Australia will push them to the title.

GB have had their chances in the 2nd quarter. Under huge pressure from the Aussies, GB are fighting back. The Australian goal was a result of some slack GB defending. In fact, Harry Gibson, did get a glove on the ball but the alert Eddie picked up the rebound and tapped it in.

AT THE END OF THE 2ND QUARTER, GB LEAD 2-1. AUSTRALIA PULLED ONE BACK THROUGH EDDIE OCKENDEN. IT WILL BE A BRUISING 3RD AND 4TH QUARTER.

AUSTRALIA HAVE PULLED ONE BACK. IT'S 1-2 TO AUSTRALIA. EDDIE OCKENDEN IS THE SCORER. MATCH ON NOW. GB WILL BE UNDER PRESSURE.

GB has only one PC, from which they scored. Australia have had five and no goals to show for it. (03:27, 2nd Q)

Australia get their 5th PC. This is the time to pull one back. Can they? They don't. Australia are poor in their stopping and give the initiative away to GB in the defence. (04:22, 2nd Q)

Much tighter defence by the Aussies now but they are still troubled by the speed of the British strikers especially Alan Forsyth, who has been in the thick of matters inside the Aussie D. (Arasu, 06:01, 2nd Q)

Great defending by GB on the line and then the aerial ball takes the danger away. GB is playing very tight. Strong defence, packed midfield and looking for the counter-attack. (08:57, 2nd Q)

It's 2-0 to GB. They are playing with three forwards upfront. Australia are leaving a few gaps at the back in their search of goals. Australia know if GB get an opportunity, they will whack it in. That's the advantage of taking an early 2-0 lead. (11:15, 2nd Q)

That was slipshod work from the Aussies. It's not a clean stop but Matt Dawson still tries but the GB defence pulls the ball away. (12:57, 2nd Q)

2nd quarter to begin now. GB leads 2-0 and are in control of the match in this Azlan Shah Final. Australia are fighting back and it wouldn't be surprising if they pull one back now. And AUS have their 4th PC.

Correction on the scorer there for GB. It's David Goodfield who scored for GB. GB lead 2-0 after the 1st quarter.

And Australia get their 1st PC of the match. It leads to a second PC. It's a 3rd PC now as GB save. GB leads 2-0 at the end of the 1st quarter.


AFTER A BOUT OF PASSING BETWEEN FIVE PLAYERS, MATTHEW WILLIS POUNCED AND TAPPED THE BALL IN. GB LEAD 2-0 (01:52, 2ND Q)

GB get their 1st PC of the match.

AND AN INDIRECT CONVERSION GIVES THEM GOAL NUMBER 2. GB LEAD 2-0. THIS IS A STUNNER.

This has come against the run of play. GB opened up the midfield, pulled the Aussie defence away and Alan scored a stunning goal.

AND GB TAKE THE LEAD WITH A STUNNING STRIKE. PHIL ROPER'S BALL AND ALAN FORSYTH'S HIT LEAVES THE AUSSIE GK BEATEN. GB LEAD 1-0. (06:51, 1ST Q)

GB have their first move through the middle but the Aussies manage to keep them away.

In their earlier league match, Australia had beaten GB 2-1. (09:03, 1st Q)

After a brisk start, things settling down now. Gb will look to keep possession and ensure Australia don't use their usual pace to break down defences.

Australia are looking for their 10th title while Great Britain their first since 1994. It was the team from England that won this tournament 23 years ago. Arasu, 12:06, 1st Q)

Australia are the World Champions and the reigning Azlan Shah Champions. GB is building itself up again after a 9th place at the Rio Olympics. At the 2014 WC, GB had finished 4th.

Australia into the attack right away and come close to taking the lead. But GB should have a tight defence.

And there we go - Australia in yellow/green and GB in red/white. This should be a good final. Both teams raring to start the 2017 season on a winning note.
Preview India's chances of entering the final of the ongoing Sultan Azlan Shah hockey tournament went up in smoke as they suffered a 0-1 defeat to hosts Malaysia in their last league match in Ipoh on Friday.
India struggled to break down the opponents' defence throughout the game and paid the price around 10 minutes from the end when Shahril Saabah (51st minute) beat Indian goalkeeper P.R. Sreejesh with an excellent placement off a penalty corner.
Malaysia thus ended the league stage of the tournament without conceding a goal.
India's loss means Britain will meet Australia in the final on Saturday.
Going into Friday's match, India were at the second position with seven points from four matches. They had the same number of points as Britain but were ahead as they had scored more goals.
With Britain winning their match against New Zealand 3-2 and jumping to the second position in the points table, India had to beat Malaysia by a margin of two goals or more to qualify for the final.
India will now compete for the bronze medal against New Zealand on Saturday.
After the first quarter ended in a goalless stalemate, India earned a penalty seconds after the start of the second period.
It was a quick-thinking Mandeep Singh who found the defender's leg but India's experienced dragflicker Rupinder Pal Singh's powerful sweep was padded away by Malaysian goalkeeper Kumar Subramaniam.
Kumar was kept busy all through the quarter but he did not disappoint. He made an important save when Talwinder Singh received a pass from Affan Yousuf and took a shot on goal in the 22nd minute.
A back stick on the ball by a Malaysian defender in the penalty circle saw India win their second penalty corner in the 23rd minute but the Malaysian rushers did well to keep Rupinder at bay.
The hosts' defence continued to impress as India's third penalty corner attempt was denied as the second quarter ended goalless.
Malaysia played a determined game with good defence that continued to test the Indian players.
They won their first penalty corner in the 34th minute following good stick work by Faizal Saari who found Sardar Singh's foot in the circle.
Malaysia won another penalty corner soon after but Rupinder ensured that the flick did not reach the post. With the clock ticking away, India were desperate for a breakthrough.
Entering the final quarter, Malaysia kept up the pressure on India who conceded a penalty corner in the 49th minute. But the hosts couldn't convert with the flick going wide.
Malaysia won another penalty corner when Fitri Saari found Manpreet Singh's foot in the striking circle. This chance didn't go amiss for Malaysia with Shahril Saabah firing the ball to the right of a diving Sreejesh.
A penalty corner in the 56th minute brought some hope for India. It was S.V. Sunil who helped win the set piece but a goal was denied with Harmanpreet Singh's flick blocked by the Malaysian defenders.
Another penalty corner came India's way with just three minutes to go for the final hooter. But a variation in set piece saw Rupinder pass to Sardar Singh who couldn't manage to find the target, thus ending India's hopes to earn a berth in the final.
Your guide to the latest cricket World Cup stories, analysis, reports, opinions, live updates and scores on https://www.firstpost.com/firstcricket/series/icc-cricket-world-cup-2019.html. Follow us on Twitter and Instagram or like our Facebook page for updates throughout the ongoing event in England and Wales.
Updated Date: May 06, 2017 20:09:28 IST