Harmanpreet Singh says he has greater responsibility now than ever before in Raghunath's absence
Young drag flicker Harmanpreet Singh is aware that responsibilities are more in the senior team and said he is ready to put in the hard yards to live up to the expectations of Chief Coach Roelant Oltmans.
Bengaluru: Young drag flicker Harmanpreet Singh is aware that responsibilities are more in the senior team and said he is ready to put in the hard yards to live up to the expectations of Chief Coach Roelant Oltmans.
Harmanpreet and midfielder Harjeet have spent a considerable amount of time under Oltmans last year when the senior men's team prepared for Rio Olympics.
While both Harmanpreet and Harjeet played at the FIH Champions Trophy in London last year where the team won a historic Silver medal, Harmanpreet went on to represent the country at the Olympics.
The two youngsters along with nine others from the junior team are part of the 33-member core probables being put under the grind at the Senior Men's national camp in SAI.
At the national camp, penalty corners continue to be a top priority. Ahead of every session, Harmanpreet, Rupinder Pal Singh, Jasjit Singh Kullar and Dipsan Tirkey along with injectors and ball stoppers are expected to turn up an hour early to improvise on penalty corner conversions.
"This is a practice we followed even during the camp ahead of Rio Olympics. I got to work a lot with experts Raghunath and Rupinder. In this camp too, drag flickers go an hour early and try out different variations," said Harmanpreet.
With Raghunath being excluded from the camp, Harmanpreet is expected to shoulder the responsibilities of a defender-drag flicker, a role he is ready to take on.
"I do understand that I have greater responsibility now than ever before. I am working hard on improving my game and putting in those extra hours with Rupinder and other drag flickers is helpful," he said.
"We also have several meetings with just the players and we discuss our goals, where we need to improve. We also discuss any difficulties we face. I think these aspects are very important especially for juniors in the squad."
Harmanpreet and Harjeet were instrumental in the junior team's successful campaign at the 2016 Junior World Cup.
Midfielder Harjeet, who captained the junior squad, said: "The expectations are higher in the senior camp. We cannot make small mistakes in basic skills and get away with it. We are expected to show maturity and responsibility on the pitch in every session at the camp."
The 40-day camp ahead of the Sultan Azlan Shah Cup in Malaysia is a stepping stone for the 11 boys and under a taskmaster like Oltmans who expects 100 per cent from his team in every training session, things can get challenging.
"It's only been two weeks since we started the camp and there are times when the newcomers find certain sessions to be tough. But the Coaches keep asking us about the difference between junior and senior level of training," Harjeet said.
"They motivate us and tell us that it's ok to find it tough. They tell us it's only a matter of time before we get used to this level of training and encourage us to keep talking to them or the seniors if we have any issues."
The fact that the junior hockey team has received several accolades in the past is a great motivating factor for the players to improve and show their worth in the senior team.
In a recently held awards ceremony, the Junior Men's Team was awarded the Best Team of the Year 2016 and were chosen ahead of the men's cricket team for the award.
"I think this was the first time that hockey was chosen over cricket and it is a very big motivating factor for us. These awards make us realise that if we work harder and show better results, the support we get will only increase.
"As junior players, lots of people have supported us and now with the senior team, we want to show good results to take hockey to the next level," expressed both Harmanpreet and Harjeet in unison.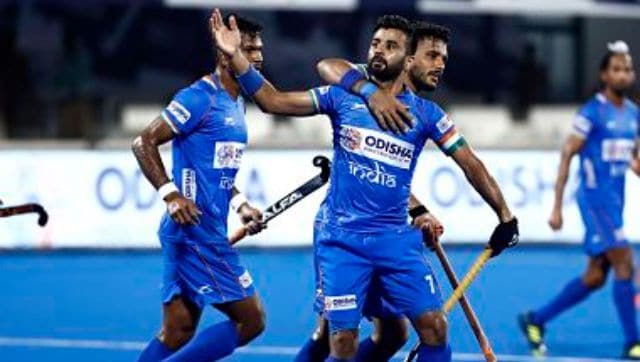 Sports
With the Asian Games scheduled to be held in Hangzhou, China from 10 to 25 September next year, the team's top priority will be to qualify for the Paris Olympics by winning the gold at the continental tournament.
Sports
The Belarus hockey federation had initially signaled Dmitri Baskov could stay on as president, but he told state TV on Friday he was stepping aside to avoid possible further sanctions against the federation if he stayed.
India
Vivekananda's speech, which dwelt at length on Hinduism and Indian culture, had drawn all-round praise and remains resonant