Of trolls and patriots: Gautam Gambhir's noble gesture shows 'patriotism' isn't a dirty word, yet
Trust Shah Rukh Khan to cut to the chase. One suspects his pithy take on 'humanity', delivered with customary wit during his maiden TED Talk at the annual conference will become one of those oft-quoted ones
Trust Shah Rukh Khan to cut to the chase. One suspects his pithy take on 'humanity', delivered with his customary wit during his maiden TED Talk at the annual conference will become one of those oft-quoted ones. "Humanity is a lot like me. It's an aging movie star, grappling with all the newness, wondering whether she got it right," said the veteran Bollywood actor in Vancouver on Thursday to a healthy round of applause.
SRK's words might be more prescient than even he meant them to be. If humanity's midlife crisis points to a world where the values that we live by are increasingly getting inverted, nowhere is it more evident than in the world's largest and most cacophonous democracy.
"The job of a citizen is to keep his mouth open," Gunter Grass, that irreverent soul, once said. We Indians have taken to the Nobel-winning German author's advice like duck to water. Trouble is, the modern debates that define us point more to a nation in the throes of a deprecating crisis than one staying true to its revered argumentative tradition. In other words, we have normalised the paradigm of inverted values to such an extent that it resembles the world inhabited by Macbeth's witches where 'fair is foul, and foul is fair'.
Take Gautam Gambhir, for instance. The former India cricket captain, who plays for the Kolkata franchise in Indian Premier League, has announced that he will bear the entire educational expenses of the children of the CRPF jawans who were killed during a Maoist ambush in Chhattisgarh's Sukma district. He has earned all-round plaudits for his noble gesture.
In his column for Hindustan Times, Gambhir explained the motivation behind this step. "On Wednesday morning, I picked up the newspapers and saw gut-wrenching pictures of the daughters of two CRPF men killed in the latest attacks. One was saluting her martyred father while in the other picture, the howling young woman was being consoled by her relative."
The images so haunted him that the battle-hardened, veteran professional found it tough to concentrate on his game. As he expressed in a subsequent blog post in Kolkata Knight Rider's official website, the brutal butchering of 25 jawans and the heart-wrenching pictures put in perspective the triviality of the issues that consume us and the enormity of the tragedy that befell the jawans' families.
In his own words, "We were to play against Rising Pune Supergiant in the evening (Wednesday). As the day went on and I was going from selection meeting to batsmen's meeting to bowlers' meeting, the pictures kept growing on me. I thought to myself how does it matter to the families of those 25 CRPF men whether KKR won or lost… I kept thinking and decided a few things. First, my team KKR would play with black arm bands to express solidarity with mourning families. Second, Gautam Gambhir Foundation will take care of the entire education expenses of the children of these martyrs. My team has already started work on this and I shall soon share progress we have made."
The decision perhaps put him a little at ease but as he relates in the post, the struggle never left him. To the extent that the KKR captain, normally a hard taskmaster who leads by example, let go of lapses from teammates without a rebuke.
"Some incidents shake me so hard that I lose context of playing cricket," he writes in the post.
Gambhir, who has also pledged to donate the prize money that he may receive in 10th edition of IPL to the families of Sukma jawans, added that his love for the armed forces stems from his respect for values such as teamwork and selflessness.
Although he was careful to add that "the quantum of losing a dear one while serving the country can never ever be compared to losing a cricket match."
What we see here is simple manifestation of humanity, displayed by a very successful yet sensitive professional. His actions arise from a deep conviction about the values that he holds dear and the code that he lives by. It is the belief in these codes and values that bind us that has prompted some of our most acclaimed and accomplished athletes (cricketers, wrestlers) to take to Twitter to express their anguish and anger at the difficulties faced by our jawans, the tragedies that befall them and the narrative that alternates between lionising or berating them.
This is Unacceptable ! Cant do this to our CRPF jawaans .This rot has to stop. Badtameezi ki hadd hai. pic.twitter.com/rZbqGbXk6O

— Virender Sehwag (@virendersehwag) April 13, 2017
For every slap on my army's Jawan lay down at least a 100 jihadi lives. Whoever wants Azadi LEAVE NOW! Kashmir is ours. #kashmirbelongs2us

— Gautam Gambhir (@GautamGambhir) April 13, 2017
Anti-Indians hav forgotten dat our flag also stands 4: saffron - fire of our anger, white - shroud for jihadis, green - hatred 4 terror.

— Gautam Gambhir (@GautamGambhir) April 13, 2017
These professionals value the code of unity because unlike most of us, they live by it. For them, patriotism isn't a vacuous concept but a real notion to be fought for and upheld.
Unfortunately, values have been so inverted in our twisted paradigm that patriotism is now a dirty word. Those who swear by it face some of the most vicious criticisms and trolling. Gambhir, who has shown himself to be an extremely empathetic human being ready to go beyond empty phrases and suit actions to words, came under ad-hominem attacks for his stance.
New Modi Bhakt in town,He used to play cricket until he got kicked out of the team and now shows patriotism on twitter. https://t.co/h9mKsmeJ6k

— IamRayaan (@TheRayaanAleem) April 13, 2017
Rascality has its limits, stupidity none https://t.co/CznzgFtbXy

— Rana Ayyub (@RanaAyyub) April 13, 2017
Why don't you go & join the army instead rather than issuing empty, violent, hateful threats on Twitter.#Kashmir is not a game of Cricket! https://t.co/wFxWuZzkWQ

— Prerna Bakshi (@bprerna) April 13, 2017
In this paradigm, patriotism, we are told, is the manifestation of fascism. It is 'patriotic' to raise slogans against India's integrity and call for its breaking into pieces but it is fascism to stand by our jawans. It is 'patriotic' to look for "root causes" behind terrorism and 'unpatriotic' to call for the crushing of those forces who use violence and bloodshed to achieve their ends.
In the clamour for holding individual liberty as a sacred, moral principle above all else, we have forgotten that patriotism cannot survive in a vacuum. It needs signifiers, which may ultimately help to bind and unite a nation. Absent these, a nation loses its moorings.
Humanity's crisis, that Shah Rukh Khan referred to in his speech, is the erosion of principles that put collective above the individual. That is the genesis of our troubles.
Entertainment
"A part of me is still refusing to accept that you are no more," Farhan Akhtar wrote on social media on Milkha Singh's demise
Entertainment
When asked about his first thought on India, the Loki star said, "Shah Rukh Khan"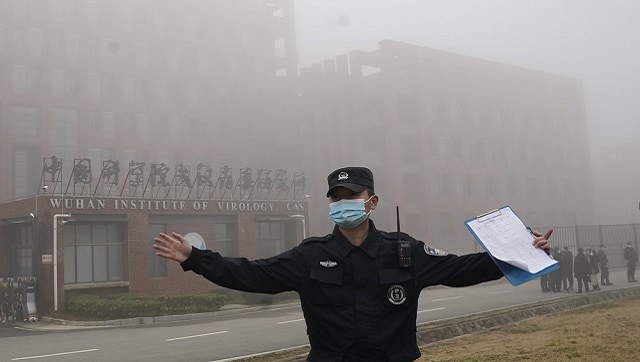 Blogs
The probe must look at how every single check and balance across every single global health institution got homogenised and drew from the same merry-go-round of medical-bureaucrats.