French Open justified in denying wildcard to Maria Sharapova; she needs to fight her way back up
The French Open and its leaders deserve credit for doing the sport a service, in resisting the urge to issue a wildcard to Maria Sharapova.
Hard decisions, they say, are often the right decisions. The French Open and its leaders deserve credit for doing the sport a service, in resisting the urge to issue a wildcard to Maria Sharapova. In this age of commerce and television, there must have been compelling reasons to consider allowing the iconic Russian to slip through the door. On balance, this is a decision that deserves to be commended for its conviction and character.
"This suspension is over, and she can take her path toward new success," said Bernard Giudicelli, president of the French Tennis Federation. "But while there can be a wildcard for return from injury, there can't be a wildcard for return from doping."
Sharapova is already on the fast track to mainstream tennis, having been at the receiving end of some European generosity over the past few weeks. Stuttgart, Madrid and Rome have all laid out the red carpet for the eminently saleable figure of Sharapova. Birmingham is next in line.
One of the richest female athletes on the planet, Sharapova has a substantive fan base and an irresistible appeal to audiences across the world. She has earned her stripes, having won each of the four grand slam events, carving herself a unique space in the history of the women's game.
The Russian's narrative is built on an undying thirst for battle, intensity under duress and a well-groomed appearance. Those ingredients have combined to turn her into a global superstar worth well over a hundred million dollars.
Sharapova's ability to draw crowds is beyond question. She has a large team of professionals managing her affairs on and off the court. And they have done their best in recent weeks, working to rehabilitate the Russian diva. Ironically, it is the same team that failed her when it mattered most, when the WADA updated the list of prohibited substances in December 2015.
The Russian paid the price for the lapse, serving a sentence for doping that kept her out of action from February 2016 through April 2017. There is some argument that Sharapova ought to be allowed to play on the biggest stages of tennis, now that the suspension has ended. A large part of the player community seems to have drawn away though, advocating a tougher stance.
They have argued that Sharapova doesn't deserve the chance to be eased back into tennis. Some of them have been vocal about it, most notably Eugenie Bouchard, who beat Sharapova in Madrid. The players that are against issuing wildcards Sharapova have coalesced to suggest that Russian work her way back through the challenger circuit.
Andre Agassi did just that in the 1990s before scripting a brave second chapter to his illustrious career. Of course, Agassi's slump down the order was catalysed by a drop in intensity and a dip in form. The great American worked his way back in a heroic comeback that navigated the choppy waters of the challenger circuit.
Recently, Indian player Leander Paes has partnered with multiple players to take the circuitous route, to compensate for his loss of form and drop in rankings. Several of Sharapova's contemporaries believe that the Russian should have been doing just that.
As it stands though, Sharapova has made good use of the three wildcards so far to climb up to 211 on the rankings. Her run to the semifinals in Stuttgart and subsequent results in Madrid and Rome have done enough to secure her participation in the qualifying event for Wimbledon.
Guidicelli's decision may have also made it easier for the folks at Wimbledon, perhaps sparing them the need to deliberate on a wildcard decision for Sharapova. It will be interesting to see if the Englishmen let the Russian work her way through Roehampton or still consider a spot on the main draw.
Amidst the wave of negativity around the Russian's return to tour, she seems to have found staunch support in the WTA and from Martina Navratilova.
"I don't agree with the basis for their decision. She has complied with the sanction," said WTA chief Steve Simon. "There are no grounds to penalise any player beyond the sanctions set forth in the final decisions resolving these matters."
Sharapova presented a stoic face, in response to the snub from Roland Garros. "If this is what it takes to rise up again, then I am in it all the way, every day," Sharapova wrote on her Twitter profile. "No words, games, or actions will ever stop me from reaching my own dreams. And I have many."
"I think it's time for the players to lay off Maria. She made a huge mistake, paid dearly for it, 'done the time' and now let's play ball," said Navratilova through Twitter.
Pam Shriver, former professional turned commentator, had sound words of advice for Sharapova.
"She's smart and savvy," Shriver told the ESPN. "She needs to take a step back and reconcile that her return to major tennis is going to have to wait and not be bitter about it.
"It's a chance to be above it all and complimentary."
In an increasingly vitriolic setting, it has become rather difficult to spot anyone that is behaving so, including Sharapova. Andy Murray and Novak Djokovic have both expressed reservations about smoothening the passage for Sharapova.
Mirjana Lucic-Baroni won her match against Sharapova in Rome, when the Russian retired with a thigh injury, despite leading 4-6 6-3 2-1, with a break in the third set. The Croatian spared no sympathy though, in her post match comments.
"If you want to do the right thing, you have to do the right thing," Lucic-Baroni told the media. "If you want to invest more money in doping tests, then you can't award a person who failed a doping test, no matter how you guys want to wrap it up and make it sound pretty."
Sharapova will have a few weeks of rest now to recuperate from the injury and plan her assault for the grass court season.
The qualifying event in Roehampton might be just the stage she needs to turn around the prevailing sentiment and usher in a positive mood. If she can come through the qualifying event before producing a deep run into the second week at Wimbledon, Sharapova might finally draw an applause worthy of her pedigree.
Till then though, she will have to buckle up and endure the turbulence that comes with navigating these dense clouds that continue to define her return from the doping sentence.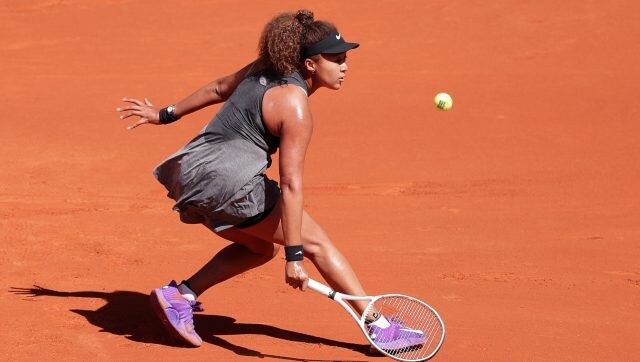 Sports
Osaka has never won a tour-level event on clay court while at the French Open, she is yet to make it past the third round.
Sports
Nadal is the top seed in Madrid and will play either compatriot Carlos Alcaraz or the Frenchman Adrian Mannarino in the first round while he is due to meet Dominic Thiem, a finalist at the French Open in 2018 and 2019, in the last four.
Sports
Serena Williams remains uncommitted about whether she will join up with Team USA in Japan this summer, especially if it means time away from her three-year-old daughter Olympia.