Five-a-side mixed team hockey gets thumbs-up from players but concept not Olympics-bound anytime soon
While Hockey India CEO Elena Norman said the national federation were looking at expanding the concept, FIH president Narinder Batra said it would not be at the Olympics at least till 2032.
The title song of Chak De! India blares from the giant speakers placed in the corners of the boxing arena at Pune's Balewadi Stadium, converted into a makeshift hockey rink for the day. A sizeable crowd is sitting in the stands, waiting for the action to begin.
The choice of music seems fitting, given the occasion. After all, the Bollywood movie which is based on the story of the 2002 Commonwealth Games-winning Indian women's hockey team, features the powerful scene where the Indian women's team has to take on the men's national team to be granted permission to go to the World Cup. On Saturday, something equally radical was taking place: the Second Hockey India Five-a-side Senior National Championship 2017 was holding an exhibition tournament where mixed teams — men and women playing in the same team — were facing each other.
While many sports like badminton and tennis have traditionally had mixed doubles events, shooting recently introduced mixed team events in the 10m air rifle, 10m air pistol and trap categories, with the ISSF World Cup Finals in New Delhi being the first major tournament to give competitors medals. The Tokyo Games in three years' time will be the first Olympics to have mixed team shooting events with the International Olympic Committee (IOC) aiming for gender equality.
However, in hockey the concept of men and women playing with each other brings along some concerns, given the nature of the game, where there is some contact between players. Male players are also perceived as stronger and faster. The mixed team event had some provisions to negate that: only pushes, flicks or scoops were allowed. A hard hit or slapping the ball would result in a foul, thereby nullifying the force men could put into their shots.
However, with the synthetic surface being used, along with the use of boards to keep the ball in play at all times, the pace of matches was relentless.
The mixed teams had nine-member squads, with four required to be women. The regulations for the tournament, hosted by Hockey Maharashtra, also required at least two female and two male players from each side to be on the pitch at all times during the three 10-minute periods which constituted a match.
Awkwardness, lack of cohesion
Predictably, most teams preferred to put two women and three men on the pitch for most of the time instead of the other way round — the only two permutations available for team combination given the rules. Once the event started, a lack of cohesion in teams soon became apparent — predictable, given that many of the players had not had any time to train with each other. Some of the teams like Haryana were even seen warming up in separate groups.
"Coordination was a problem because our culture is such. We don't mix easily with people of the other gender. This format will also help players to develop their personality. Interaction between players is very important," said Punjab coach Avtar Singh. He pointed out that before the event started in the morning his female and male players had barely spoken to each other, but had started to mingle as the day progressed.
The risk of injury also played on some players' minds.
"There was a possibility of picking up an injury because the men 'push hard' while tackling. It comes naturally to them. I was apprehensive while playing because next year is very crucial for India's female hockey players (with the Asian Games, World Cup and Commonwealth Games all slated for next year). So everyone hopes they don't get injured. Sometimes an injury can put you out for a year or threaten your career. Even during a game I was tackled by one of the men and I just stopped because I didn't want to injure my ankle or fall," said Rani Rampal, who at 22 years of age captains the Indian national team. However, she didn't fail to add, "It was very exciting. We have never played such a game of hockey in our career. You need time to understand the format and what is happening in the game."
Of course, players like Rampal adapted faster to the increased physicality and pace than some others. In Haryana's first group match against Jharkhand, there was a moment of magic from the forward that made the whole gender debate seem moot, at least for a moment. She received a pass from teammate Sher Singh with her back to the Jharkhand goal, not to mention with defender Simta Ming and goalkeeper Johnson Ekka blocking the way. Her quick turn negated Ming and she quickly released her shot before the approaching Mangra Bhengra could get to her. The shot beat 'keeper Ekka with ease.
Tough, but not rough hockey
As the tournament progressed, the female players learnt to use guile to negate the physical advantage of the male players.
"It is very different from the 11-a-side game which we play. Indoor hockey, especially mixed, is a completely different ball game. There is a difference of speed between men and women players. Since this is the first time we have played liked this, that is why it felt so different. If we work on this on a daily basis then female athletes will slowly understand the technique of the men's team and catch up with them. We will understand how to tackle them in a game.
"When you play against a men's team you have to use more strength and have to play with more focus. I am a striker and hence I need strength to receive the ball and hold it when a man is pushing you for the ball. You have to be mentally prepared for it, then you can handle it better," Rampal added before revealing that their coach had asked the male players to mark players of the same gender and vice versa during the match.
Harpal Singh, Haryana's captain, who has also played for India at the 2004 Athens Olympics, added: "I think women's hockey will benefit from this because they will play tougher hockey when they face other men's teams. When you play with a men's team, you have to be tougher."
Harpal admitted that the men were playing cautiously so as to not injure the female players.
"We tried to be careful obviously, but still to give our best and play tough. We played tough hockey, but not rough hockey."
The IOC and the International Hockey Federation (FIH) were said to be keeping a keen eye on the event, with FIH president Narinder Batra and Hockey India CEO Elena Norman in attendance at the Balewadi Stadium.
While Batra was happy with the experiment, he scotched talk of the variation being tried at the Olympics anytime soon.
"The idea behind this concept is that both genders can jointly play. You can get both genders involved and your following increases among both genders. The reason behind getting this concept in India is that the viewership in Olympics was about 525 million across the world. Out of that, 285 million were from India — more than half. But even then we found out that only 12 percent of India's population watched the tournament. Most sports are going commercial. So how can you get the numbers until you expand the base? And how do you expand the base? Get people involved in the sport. This variation can be a weekend game or a community game.
"But having this mixed gender event at the Olympics is for IOC to decide. Right now I can say that until 2032, there is no possibility of this variation being there at the Olympics. But Youth Olympics has five-a-side competition. Maybe the idea can be tried there," Batra said.
Meanwhile, Hockey India CEO Norman said the national federation was looking at broadbasing the concept. "We definitely want to expand this to other member units and are working towards promoting it on a large scale," she said.
The jury though is out on whether the concept will work in India.
Punjab coach Avtar was categorical in his reply. "Like T20 in cricket, this format will also be popular and make hockey more popular. It is a part of field hockey and won't hurt it. It will develop the players to make quick passes and think on their feet."
The last word, though, came from India skipper Rampal.
"The concept should work. Whenever you begin something, the start is always difficult. People will ask questions like 'what are they doing' or say 'this can't be implemented'. We should continue with this and see whether it will better hockey or not. You can't take a call whether it will work or not in the first attempt."
Video by Nevin Thomas, Jay Mehta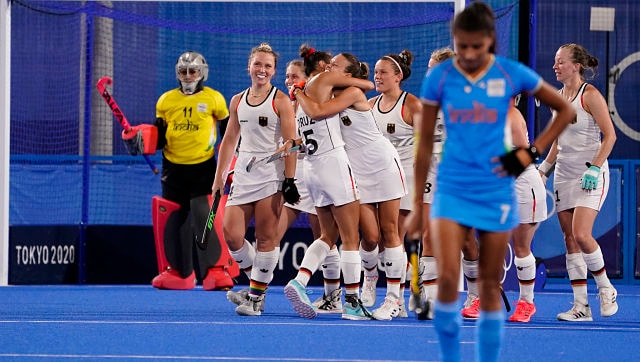 Sports
After the 1-5 drubbing at the hands of world no.1 Netherlands, the Indians lifted their game but it was not enough to get past world no.3 and Rio Games bronze-medallists Germany in their second Pool A match at the Oi Hockey Stadium.
Sports
Olympic and Japanese officials have staunchly defended the Games, which are being held in a strict biosecure "bubble" with daily testing. Eighty percent of athletes at the Games have been vaccinated.
Sports
"The International Olympic Committee has the honour to announce that the Games of the 35th Olympiad are awarded to Brisbane, Australia," IOC president Thomas Bach said after a vote in Tokyo.