FIFA World Cup 2018: Japan's progress at the expense of Senegal unfair; here are some ideas for a better tie-breaker
Japan's antics on Thursday amounted to the footballing equivalent of England's erstwhile skipper Nasser Hussain ordering part time left-arm spinner/part time 'wheelie-bin' to bowl a negative line at India in 2002
If there's one thing that we, here at FP Special Forces, won't stand for, it's prejudice, deceit, cruelty to animals, vandalism, terrorism-... wait, let's try this again.
Among the many things that we, here at FP Special Forces, won't stand for, is the highly-polarising topic of unimaginative, unadventurous and downright boring football. While we would've imagined this to be an open-shut case, it's sadly not the case. There are some who live for it, to the point where it brings in their rozi roti (see: A certain English Premier League manager, for instance). But this isn't a rant against the now-de rigueur notion of 'parking the bus'. This time, it's about FIFA actually encouraging teams to play insipid, uninspiring and as noted earlier (no, it's not a repetition that lazily got through the editing process), downright boring football.
We allude to Group H team Japan's antics on Thursday that amounted to the footballing equivalent of England's erstwhile skipper Nasser Hussain ordering part-time left-arm spinner/part-time 'wheelie-bin' to bowl a negative line at India in 2002. Except what made the Blue Samurais' conduct that much more heinous was the fact that while they chose to close out the game in the most craven manner possible in order to qualify for the Round of 16, a few hundred kilometres away, Senegal were fighting for their lives to score a goal and proceed to the knockout stage.
And why? Fair play, that's why.
Recap: For the 2018 edition, FIFA decided, in its infinite wisdom, that the best way to separate teams with the same number of points, same goal difference, same number of goals scored and a draw in terms of head-to-head record, would be their respective disciplinary records. In other words, the team that has picked up the fewer number of cards would pip the other.
In a few other words (very different from the 'other words' in the preceding paragraph), the Afro-Asian Battle — a set of fixtures that would determine whether it would be the last Asian team standing or the last African team standing that would go on to the Round of 16 — was settled by FIFA's notions of fair play. To link this to the way Europeans — the same ones who largely run the show at FIFA — colonised swathes of Asia and Africa and attempted to inflict their own idea of fair play on their 'subjects' (England, we're looking at you) would be tenuous, but worth noting nonetheless.
However, it is not the mandate of FP Special Forces to cry about what happened 200 years ago, 71 years ago, 43 years ago, four years ago or even a solitary year ago. Instead, it is our duty; nay, responsibility; nay, let's stick with duty because it sounds better-... it is our duty to suggest forward-looking solutions. And so, without further ado, let's look at a few other ways FIFA could've settled this whole Group H imbroglio.
A dance-off: Naturally, players wouldn't have to arrive at one venue to show off their moves — Russia is way too massive for that. Instead, teams would be judged on the strength of their celebrations after scoring goals during the group stage.
Best-behaved fans: Well-behaved, non-boorish and tidy visiting fans bring their own charm to any tournament. And so, teams that are tied on points (and all those other criteria) must be judged on the conduct of their fans. Additionally, boorish, loud, drunk and messy fans would automatically learn the consequences of their actions when they watch their team eliminated because of their behaviour. Unfortunately, this plan would fail when separating Japan and Senegal because both nations are home to fans who cleaned up after themselves (and others) once their matches were done.
World Cup Song trivia: A randomly-selected member of each team is to quickly name all the World Cup Songs of the past two decades. Whoever does so in the quickest time watches his team qualify for the knockouts. It's as simple as that. And for the record, here's the illustrious line-up
1998 France: La Copa de la Vida (The Cup of Life) by Ricky Martin
2002 Japan/South Korea: Boom by Anastacia
2006 Germany: The Time of our Lives by Il Divo featuring Toni Braxton
2010 South Africa: Waka Waka by Shakira featuring Freshlyground
2014 Brazil: We are One (Ole Ola) by Pitbull featuring Jennifer Lopez and Claudia Leitte
2018 Russia: Live it Up by Nicky Jam featuring Will Smith and Era Istrefi
Social media following: To keep things nice and fair, this wouldn't look at number of social media followers that players have. Instead, it would look at the total number of users followed by the 23 members of the squads. The team with the greater number goes through.
Ask the people: When all else fails, ask the people. And in preparation for 2022 — when we'll be ready should a Japan-Senegal type situation reemerge, let's conduct a poll right now. Needless to say, the team with the most votes goes through.
Paisa vasool meter: Travelling to play in international tournaments is an expensive business. Therefore, the team that had to make the longest journey from their home country should go through to the knockouts.
If at this point, you're not convinced that these are fair methods by which to separate tied teams, then you know how the large chunk of the footballing world that enjoys entertaining football feels right now. Now, where's that logo?
Ah, there it is.
Click here for full coverage of FIFA World Cup 2018
Click here to view the full schedule of FIFA World Cup 2018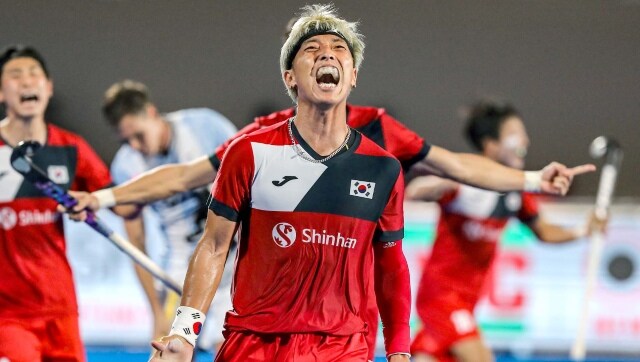 Hockey
Germany beat France 5-1 smashing three goals in the second quarter, whereas South Korea stunned Argentina in a penalty shootout.
Hockey
What started off as a dream to finish on the podium of the FIH Odisha Men's Hockey World Cup 2023, will now end with a mini-classification tournament to fight for 9th place for hosts India
Hockey
Defending champions Belgium and three-time winners Australia booked semifinal spots in the FIH Men's Hockey World Cup on Tuesday.