Fernando Alonso's decision to race for Indy 500 an attempt to grow his brand outside Formula 1
If there's one driver who can fly the Formula 1 flag high at America's most-popular race, it has to be Fernando Alonso.
'Is it April Fools' Day in some part of the world?', was my first reaction when I read McLaren-Honda's official statement confirming that their two times World Champion driver Fernando Alonso would skip the 2017 Monaco Grand Prix and instead race for a McLaren-Honda branded Andretti Autosport (also powered by Honda) in the 101st Indianapolis 500 (or the Indy 500) at the Indianapolis Motor Speedway. It was only after I read multiple posts on social media did I finally accept that the inevitable had indeed happened.
Alonso has been extremely vocal in the previous seasons against Formula 1 and how the cars had become easier to drive and how he was missing a challenge, and then of course against McLaren-Honda inability to deliver a car that could qualify to be called a Formula 1 racing car. In fact, all of last season Alonso publicly stated interest in other racing series and here he is, finally going to drive in one.
Is this is a good decision? For Alonso and Indy 500, yes, absolutely. The brand 'Fernando Alonso' has been on the decline ever since his last Formula 1 World Championship win, which came 11 years ago. Despite choosing to be with legendary teams like Ferrari and McLaren, and despite his extremely well-regarded talent, Alonso has been unable to find himself the fastest cockpit on the grid. The McLaren-Honda story in 2017 seems far worse than it did in the previous two seasons and this was probably the biggest factor for Alonso to look out. This move will help Alonso ensure that his legacy doesn't stop at winning the 2006 Formula 1 Drivers' Championship.
By deciding to race in the Indy 500 and by announcing his intent to aim for the 'Triple Crown' (winning the Monaco Grand Prix, Indianapolis 500 and the 24 Hours of Le Mans), Alonso is consciously aiming to grow his brand outside of Formula 1. A wise decision given that McLaren-Honda woes anyway mean that he might not have too meaningful a season this year too. He will now be seen as a driver wanting to achieve top honours across the best motorsport series in the world.
How does this bear for Formula 1 and McLaren-Honda? There's much rejoicing in the paddock and the interest in this year's Indy 500 has already shot up. But the American series' gain is Formula 1's loss. The sport couldn't manage to get one of their fastest drivers a competitive car for three seasons in a row and they will now see their star driver not participate in their marquee racing event of the season. But there's also a flip side — will having Alonso race in the Indy 500 help make Formula 1 popular in the USA, one of the sport's toughest-to-crack markets? Maybe it will, but I also see it as Formula 1 allowing their World Champion driver race for a rival series.
This is also where Formula 1 and McLaren-Honda have displayed a changed mindset. Alonso's decision wouldn't have been permitted had Bernie Ecclestone and Ron Dennis remained in charge of Formula 1 and McLaren respectively. While this offers a good chance to cross promote Formula 1 in America, the exclusivity barrier would now been broken. Ecclestone worked hard to position itself as the only series in the world where the best drivers competed. So if you wanted to watch Alonso in action, Formula 1 it had to be. But there's little Formula 1 and McLaren could've done. This was Alonso's decision and I am glad they came out in support. As for McLaren, they're sticking their neck out to keep Alonso happy and possibly retain him for 2018.
But is the Alonso-Formula 1 relationship coming to an end? This could be the beginning of the end, who knows. Alonso's Formula 1 chances could improve in 2018 when a few teams might look at changing their lineups. Red Bull Racing have a powerful junior driver program and they're hiring only Toro Rosso graduates. Mercedes chose Valtteri Bottas over Alonso (not that he was easily available) while replacing the retiring Nico Rosberg. As for Ferrari, they have only just started winning and while 'never say never' is the correct answer for those questioning a reunion, it does seem like a far-fetched thought. There was chatter during the Chinese Grand Prix that Alonso could race for Williams-Mercedes next season (the closest he will get to racing a Mercedes), but will a Williams be able to deliver him a World Champion? This is also why Alonso has been forced to believe in the McLaren-Honda project.
Finally, what are Alonso's chances at the Indy 500? There's no questioning his talent, but high-speed oval racing will require him to adapt his driving style. The cars are different too, they are heavier and he will be racing a Honda-powered car — but this Honda engine is probably the best of the field, thankfully. Incidentally, last year's Indy 500 was won by this very package (Andretti Autosport powered by Honda) and that too at the hands of a rookie driver (Alexander Rossi) who couldn't make it to Formula 1. At Indy, there's a prospect of rekindling an Alonso-Montoya rivalry, but above all else, if there's one driver who can fly the Formula 1 flag high at America's most-popular race, it has to be Alonso.
Find latest and upcoming tech gadgets online on Tech2 Gadgets. Get technology news, gadgets reviews & ratings. Popular gadgets including laptop, tablet and mobile specifications, features, prices, comparison.
Sports
Pierre Gasly finished 0.415 seconds ahead of McLaren driver Carlos Sainz and 3.358 ahead of Racing Point's Lance Stroll on a surreal-looking podium.
Sports
Lewis Hamilton, who won the Tuscan GP, wore a t-shirt bearing a message that said "Arrest the cops who killed Breonna Taylor" before and after the race, during an anti-racism ceremony and television interviews.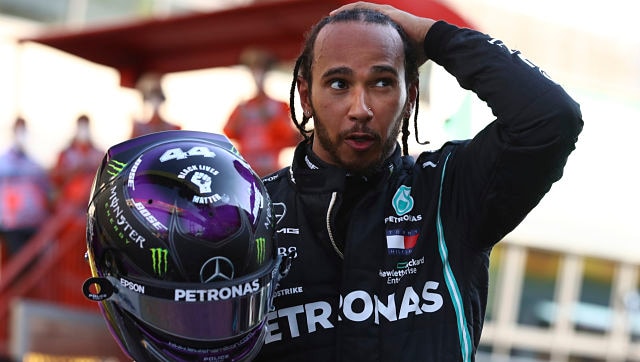 Sports
Ferrari reverted back to an age-old burgundy livery for its 1,000th F1 race. But there was little to celebrate as Charles Leclerc finished eighth and Sebastian Vettel 10th.