Federation Cup: Nirmala Devi, Nayana James show there is more to Indian athletics than the Dutee Chands
Nirmala Devi set fire to the track as she paced herself brilliantly and with 100 metres to go, just kicked in another gear to break the 400 metres meet record.
By the 50th metre of the 100-metre hurdles, Andhra Pradesh's Nayana James was closeted with Ankita Gosavi (Maharashtra) and Prajna Prakash (Karnataka). As a hurdle clattered away in lane two, the battle in the middle got ferocious. Hundreth of a second was the difference as Ankita seemed to be making up lost ground.
From the right side of the track, a group of athletes from Andhra Pradesh and Kerala egged on Nayana. With just 10 metres left, Nayana powered ahead, her face a mask of concentration and fierce determination as she dipped, her powerful six feet frame sailing across the finish line. Nayana clocked 13.96 seconds, Ankita 14.00 seconds and Prajna 14.03 seconds. Her smile said it all. It was her second gold of the championships, a dream Federation Cup debut; the first coming in the long jump, with 6.55 metres.
Nayana was panting away as the temperatures had barely cooled down to 40 degrees on that evening in Patiala; and the win was yet to sink in. "It's a huge step for me as an athlete to pick up two golds," she said. "But I would like to focus on both as I know with my strength I can jump and finish powerfully in both the events."
Seeing Nayana's finish at the hurdles is a peek into the precocious talent that Jose Mathew, a coach at SAI in Kerala had predicted, some four years ago. Jose had also coached Mayookha Johny and about Nayana, he said, "Nayana has a bright future and with her good physique, talent and speed, she will be one of the best." India's 100 metre hurdles national record of 13.38 is in the name of Anuradha Biswal created in 2002. Though it will be a long shot to expect Nayana to break that at the Asian Track and Field in Bhubaneshwar in July, but given a year or so, Nayana can hurdle past Biswal's timing. If the temperatures were a little kinder and the run up not so bruised and worn-off, Nayana could have erased the long jump meet record of Anju Bobby George of 6.59 metres, set in 2002. "I am happy with 6.55," she said after the event. "But I am slowly getting confident about reaching 6.7 and 6.8 in the next six months or so."
It's difficult to get large crowds into the NIS Patiala, the weather dissuading even die-hard athletic fans from landing up. But groups of athletes staying and training at the NIS turned up in large numbers to cheer on the stars. On the third and fourth day, the temperatures were murderous, bordering on inhumane. On the third day of the competition, it was 44 degrees at 4pm with a loo wind lashing away.
Former national coach and director of NIS Patiala, JS Saini, was concerned but said not many sprint athletes would see a major dip in their performances, but just the long distance runners. The 5,000 metres and 10,000 metres were held early morning with starts at 5.45am. There was yet another double gold in both men's and women's events with the sibling pair of L Suriya and G Lakshmanan taking both the 5,000 and 10,000 titles. In fact, Lakshmanan has dominated the 5,000 metres and is unbeaten in the past four years on the domestic circuit and has also picked up silver and bronze medals at the Asian Championships. It may turn out to be a special moment in Bhubaneshwar in July if both pick up medals in any of the long distance events.
Normally, the sprint events are the most anticipated. And Dutee Chand has quite a following among the younger athletes. Also with her in the news before the 2014 Commonwealth Games because of gender tests and then her winning the much publicised court battle against the International Amateur Athletic Federation with a Toronto-based legal firm fighting her case pro bono, everybody wanted to watch the Rio Olympian sprinter. Her face-off with Srabani Nanda was eagerly anticipated, especially over 200 metres, what with Srabani having trained at Kingston, Jamaica for almost six months. But not before the javelin had taken the shine off almost all the events on day one. The event slipped into evening and with dusk gathering, Junior World Champion Neeraj Chopra and Davinder Singh Kang were into a slugfest.
Earlier, Manpreet Kaur had established a new meet record of 17.04 metres in the women's shot put; the previous record-holder was Harbans Kaur, established in 1997 in Chennai with a 16.94-metre throw. Neeraj, already a star in his own right in Indian athletics, had touched 85.63 metres on his first throw. Kang followed up with 83.82 metres and kept trying till his final throw to get past Neeraj, with darkness closing in.
In fact, the meet record was in Davinder's name - 79.65 metres created in Mangalore in 2015. Neeraj broke that on his first throw and Davinder then bettered his own mark too. Both have now qualified for the August World Championships in London.
"I could have thrown more," said Neeraj. "Sometimes, you can just feel it. But I didn't push it too much. I have to keep training for the Asian Track and Field and then be in top shape for the World Championships." Kang, the crowd favourite as he was pushing the champion, also said he was looking forward to the Asians and then go all out in London. In fact, all the top three finishers, including Abhishek Singh of Uttar Pradesh, are slated to go and train in Germany under former World Champion Uwe Hohn who once threw the javelin to a world record distance of 104.80 metres in Berlin in 1984.
The performance of the Federation Cup came in the women's javelin when Annu Rani threw 61.86 metres to break her own national record of 60.01 metres in the last event of the competition. Rani also qualified for the World Championships in London; India's third javelin-thrower to make it to the World Championships. Rani had thrown 59.53 metres at the 2014 Asian Games in Incheon to pick up a bronze. Her rise through the years has been steady and if she improves on her record in London, it would be a spectacular effort. At the Rio Olympics, Sara Kolak of Croatia had thrown 66.18 metres - a fair distance that Rani needs to cover to be in contention for a place in the final at London.
On the last day, Nirmala Devi set fire to the track as she paced herself brilliantly and with 100 metres to go, just kicked in another gear to break the 400 metres meet record and clock 51.28 seconds. In the process, KM Beenamol's timing of 51.81 seconds, set in 2002, and was shattered. It also fetched Nirmala a ticket to the World Championships in London. "I was actually looking to break the national record," said Nirmala. "I will target the national record at the Asian Championships now." With a new track awaiting athletes in Bhubaneshwar, Nirmala has a good chance of breaking Manjit Kaur's national record of 51.05 seconds set in 2004.
On a few events in Patiala, the past still lies heavy, reminding us of athletes whose records still stand today and telling us that despite grass tracks and almost zero infrastructure, they created history, especially in the 800 metres and 3,000-metre men's steeplechase. It's at the 1976 Montreal Olympics that Sriram Singh clocked 1:45.77 in 800 metres and it still stands after 41 years. In 2014, Sajjesh Joseph, here in Patiala, clocked 1:46.81, but this time he finished a hugely disappointing eighth. But the youngster, with a fluent running action, Delhi's Amoj Jacob clocked 1:50.54 to win gold. Jinson Johnson, who had gone to Rio, finished with silver in 1:50.83. Amoj also picked up a second gold in the 400 metres flat, clocking 46.26 seconds. The national record holder Muhammed Anas was not participating in Patiala.
Jinson, however, made amends by winning the 1,500 metres in 3:48.49. The national record still stands in Bahadur Prasad's name at 3:38.00, set in 1995 in Chennai. Another national record, 8:30.88, set in 1981 at Tokyo by Gopal Saini in the 3,000 metres steeplechase, still stands and Haryana's Naveen Kumar could only clock 8:50.85.
Odisha dominated the sprints with Dutee Chand exploding out of her blocks to win the 100 metres in 11.48. Dutee, who was at the Rio Olympics needs a timing of 11.26 seconds to qualify for the World Championships. Srabani, also from Odisha, won the 200 metres beating Dutee's challenge. Later, Dutee, admitted that Srabani is a better curve runner and she always prefers the straight run down the 100 metres. In the men's section, national record holder, Odisha's Amiya Kumar Mallick, won the double – 100 metres and 200 metres – in 10.51 and 21.22 seconds respectively.
Forty one years ago, a certain gentleman by the name of Hari Chand clocked a timing of 28:48.72 in the 10,000 metres at the 1976 Montreal Olympics. At Patiala, G Lakshmanan of Tamil Nadu clocked 29:23.46. It was without doubt searingly hot, even at 5.45am in the morning. Present there in Montreal and now at Patiala, Saini put it into perspective: "Indian athletes need to push the clock and not just look at medals on the domestic circuit." Nayan James and Amoj Jacob better be listening.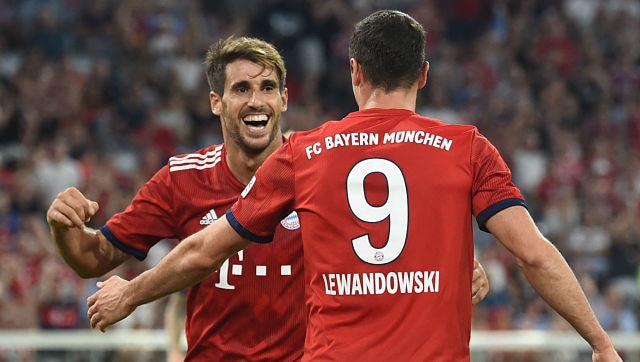 Sports
Bayern, and Martinez, are on the brink of winning a ninth straight league title this Saturday.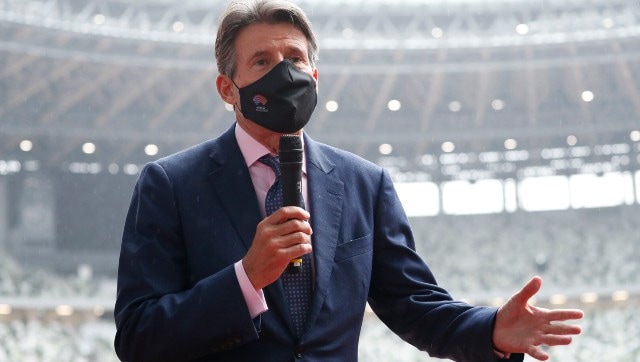 Sports
More than 10,000 athletes from 200 countries and regions are set to travel to Tokyo for the Games, with a decision on how many domestic fans - if any - can attend to be taken in June.
Sports
Hubbard is aiming to make New Zealand's Tokyo Olympics squad to contest the women's +87kg category, an event in which she is currently ranked 16th in the world.