Dubai World Superseries Finals 2017: Deconstructing PV Sindhu's struggles in energy-sapping major finals
After her third loss in yet another energy-sapping major final, PV Sindhu searches for the elusive finishing touch in her armoury.
National coach Pullela Gopichand had his eyes closed as if he was praying when one of his best wards PV Sindhu was stretched at the backcourt in the dying stages of the summit clash at the Dubai World Superseries Finals. Back-to-back rallies had sapped all her energy as she was on her knees, sweating profusely like a professional boxer would after a long-lasting, neck-and-neck fight. Presently, a sudden hush descended over the otherwise noisy setting inside the Hamdan Sports Complex where the Indian fans had been bellowing just a while ago.
Gopichand would not have imagined Sindhu crumbling under pressure in yet another major final when she raced to a 5-0 lead in the second stanza just minutes after taking the opening game 21-15, or a 4-0 lead in the decider against one of the most tenacious players in the women's singles section — Akane Yamaguchi.
It is not the first time that Sindhu had finished second on the podium. Having claimed silver medals at the 2016 Rio Olympics and the World Championships in August, this was Sindhu's golden chance to claim her maiden major tournament crown. Unfortunately, crucial mistakes at the net forced the Olympic and World Championships silver-medallist to be satisfied as the second best in yet another epic, losing 21-15, 12-21, 19-21 in an 84-minute thriller.
Despite flourishing on the international stage since Rio, Sindhu has not been able to eke out a win where it matters the most. Her loss in yet another humdinger of a clash indicated the need for the finishing touch in her armoury. "Yamaguchi was playing short and Sindhu could read her game well two days ago. Although this time, Yamaguchi pushed Sindhu to the back, was retrieving with ease and maintained a good length," said noted coach Vimal Kumar before adding, "In such conditions, it becomes difficult to penetrate, especially when you play a defensive player like that."
Sindhu has now fallen short against three players who approach a match way differently than the Indian ace. Carolina Marin sets the court alight with her fast-paced game, while Nozomi Okuhara relies on her strong backhand and control over rallies to unsettle the opponent. On Sunday, Sindhu faced an ultra-defensive Yamaguchi, who essentially is a retriever who mixes her shots well from front to the back to create an opening for herself.
So, there will be questions raised about what went wrong in yet another final. "Couple of things," said three-time Commonwealth Games medallist Aparna Popat, who also said that there were a few instances where her rhythm was disrupted. "The racquet strings snapping in the second game and when Yamaguchi tapped in a loose low serve from Sindhu at 18-18 in the decider."
It did not stop at 13-13 or 14-14 in the decider. Gopichand and Yamaguchi's South Korean coach Park Joo-Bong were seen getting animated on the touchline as the duo fought point by point till 19-19. "It was like a game of chess, one wrong move here and there could have been costly," said Popat, who believed Sindhu may have felt restricted due to a nose block she had because of cold.
Sindhu, who is known for her admirable court coverage and crosscourt strokes, ran short of ideas especially in the second game. Frustrated by her opponent's excellent retrieving ability, she allowed Yamaguchi to push her towards the backcourt. "Yamaguchi did not panic but instead did good enough to stick to her strategy, while Sindhu's strokes seemed to be less accurate. She needs to be really smart against retrieving players. Gopi sir was instructing Sindhu from the sidelines about not using too many smashes in the final game but let Yamaguchi try something extra. At times, you should just wait for the right opportunity and go for the kill," explained HS Prannoy, who practises along side Sindhu at the SAI-Pullela Gopichand Academy in Hyderabad.
The diminutive Japanese shuttler stood tall against the lanky Sindhu, restricting her from delivering smashes and playing at a good length from the mid-court area. "Yamaguchi doesn't play sharp shots but Sindhu can. So, she could have varied the pace in the second game knowing that her opponent had conserved energy for this match. Two clumsy unforced errors towards the end cost her the title," rues Kumar.
A worrying pattern
It is baffling to see that in all the three major finals where Sindhu contested — Olympics, World Championships and Superseries Finals — the 22-year-old has lost focus in the most crucial stages of the match. Notably, Sindhu has shown sharpness in each of the opening games only to falter in the decider.
Against Marin in the Olympic final, Sindhu held her nerve to win the first game 21-19 but fell short in the second and third 12-21, 15-21. Okuhara edged past Sindhu 21-19 in the first stanza of the title clash at the World Championships but came out victorious in the deciding game 22-20 after losing the second 20-22.
At 19-19 against Yamaguchi, Sindhu would have been feeling the heat after crumbling under pressure not once but twice in separate finals. "There is this small feeling that this was almost like the World Championships. But these things happen and they are part of life and I've got to move on from here," Sindhu conceded after the match.
Prannoy observed that his compatriot floored the opponent quite convincingly in the early stages with attacking strokes and her reach but failed to continue the rhythm. "All the three matches were different. She was pretty explosive in the first games and I don't think anybody has the chance to defend Sindhu's smashes once she gets going," said the Kannur-born shuttler.
"But players like Okuhara, Yamaguchi and Tai Tzu Ying seem to have a certain plan to unsettle Sindhu. I have seen a couple of times during training sessions that Sindhu becomes a bit impatient while retrieving shuttles," he added.
Looking at how the Hyderabad-based shuttler has struggled to smash away nervousness in tiring encounters, one would argue if this pattern is slowly becoming a trend. "Yes, it is slowly turning out to be a trend which I hope it's not but at the same time it's too early to make judgments. Still, I would say it is worrying," said former player and coach Arvind Bhat.
"When you play couple of finals where you have lost narrowly and if something same pops up, you always doubt that will you be able to pull this off? There are many questions running through your mind," added Bhat.
Interestingly, Sindhu has shown her attacking prowess on fast courts this calendar year, where she has been involved in incredible rallies with Okuhara twice and on Sunday against Yamaguchi. However, it is on the slower courts where she had her task cut out.
"Dubai was slow. More than that, it suited Yamaguchi than Sindhu. Earlier in many tournaments, she couldn't play Sindhu on fast courts. Yamaguchi started to change her strategy as the match progressed. She went from attack to defence, from long rallies to low serves. The shuttles were slow and Yamaguchi is a good retriever and prolonged rallies," Popat said after watching the final from the stands.
Japanese hoodoo
It's arguable that Japan is the new China as far as the women's singles discipline is concerned. The Japanese women have proved their worth in Superseries tournaments this year winning three titles and a World Championship crown. Meanwhile, the Chinese women's singles players failed to bag a single Superseries title for the first time in 10 years.
Sindhu has faced two Japanese shuttlers in the final this year — Okuhara in the World Championships and Yamaguchi in the Superseries Finals. The two retrieving players have cracked the code to outmuscle Sindhu and the ability to cover every corner of the court is what sets them apart from the rest.
"They all confidently play deep high serve which many shuttlers cannot even try hitting. It completely takes the pace off the game and makes you wait for the shuttle to land. They won't give you the space to hit flat shots but they'll slow down the tempo," reasons Kumar.
Sindhu's shot selection in the deciding game against Okuhara had left many scratching their heads in disbelief. And it wasn't different against Yamaguchi on Sunday. Both the Japanese shuttlers have done amazingly well to cut down on Sindhu's smashes on both the occasions, cornering the Indian whose downward strokes were too predictable for the opponent.
"If Sindhu enters the third game, she has to be a bit more judicious while selecting shots. They (Japanese) prolong the rallies. They don't even have the game what Sindhu has. They are short and rely on running, retrieving on a good length and counter attack," Kumar added.
It was just astonishing to watch Yamaguchi cover every inch of the court and adopt a similar ploy like Okuhara at the Worlds in Glasgow. The forehand drives and net exchanges had left both Sindhu and Gopichand bewildered as the Japanese capitalised.
"I could tell that Sindhu was getting a little bit slower but I had enough energy and had practised a lot for her," Yamaguchi went on to say after the match. "I'd trained on my speed to move a lot quickly because I knew my opponent was tall."
Sindhu was unable to read Yamaguchi's length after outplaying her so easily with the quick-fire jump smashes early on. Many had lauded Okuhara and now Yamaguchi will garner accolades for finding out the chinks in Sindhu's armour.
"Yamaguchi is a runner (players with high fitness levels who avoid playing risky shots and hold back a little). She can drain you out and Sindhu needs to make some changes in her tactics. Prolonging rallies is what Japanese are best at. That's the only strategy she (Yamaguchi) had and it worked. A little bit fitness is lacked when she (Sindhu) played against runners," explained Bhat.
Despite enduring three consecutive losses in major finals, one can take nothing away from Sindhu who is still a "work in progress" according to coaches and current players. However, there are a few areas where India's top women's shuttler and Gopichand should work on, keeping the cramped 2018 schedule in mind. "She needs to play with a bit of deception. Not with the full pace but clever shots considering her height," opined Kumar.
Sindhu wasn't in her best physical shape in Dubai but there was a lot to learn from Yamaguchi who had herself lost four finals this year — French, Denmark, Australia and Asia Championships — before finally winning the China Superseries Premier and now the Superseries Finals. "Yamaguchi also lost three finals this year from a winning position. So, it's just a matter of time before Sindhu manages to find a way out," said Popat.
"She has played a few tight matches now and it's time for her to develop a few extra strokes, that would come in handy. For example, at the Olympics, she had this cross court smash conversion which was very good," said Popat.
With age on her side, the pace at which Sindhu is making progress every year is a testament to her fitness. More importantly, she ends the calendar year with 44 wins in 57 matches, which is the most by an Indian in the Superseries era.
Just a bit of polishing and the gold medal will come home.
Sports
The soft-spoken Indian ace was not known for her aggression till five years back and it was chief national coach Pullela Gopichand, who had transformed her into an aggressive player ahead of the Rio Games.
Sports
The world number seven Indian will next play Hong Kong's world number 34 Cheung Ngan Yi in the group stage.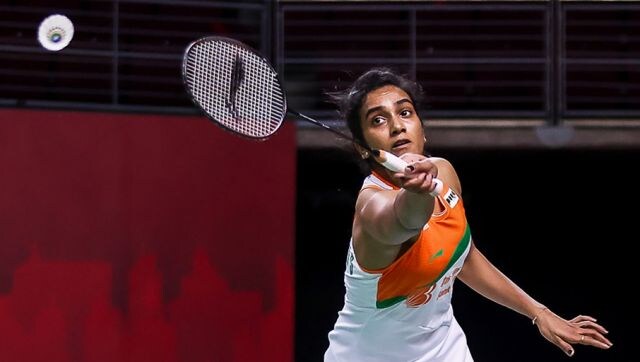 Sports
Sindhu added she used the break to learn more and focus on her technique and skills.