Vijay Goel at Rio Olympics 2016: Sir, please pack your bags and return home!
Much as we would like to give the Indian minister of state for youth and sports Vijay Goel benefit of doubt, the scenario is just too familiar to be overlooked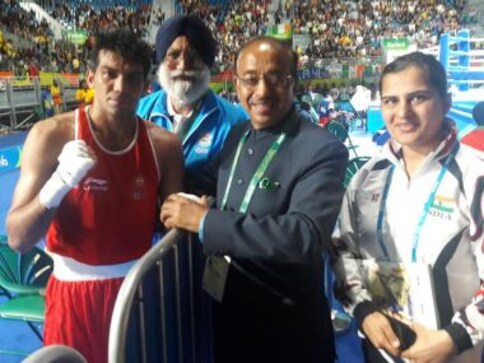 All of us have seen entourages for VIPs — self-styled and real. At airports, at get-togethers, official functions, seminars, concerts, these guys simply cannot come alone. They have to be surrounded by their lackeys because it makes them feel important.
Much as we would like to give the Indian minister of state for youth and sports Vijay Goel benefit of doubt, the scenario is just too familiar to be overlooked.
His descent from Olympus is most likely well-deserved and you and I both know that the Brazilian Olympics Organising Committee is pretty much preoccupied with the Games to go out of its way and target Goel unless he and his gang of hangers-on haven't sat up and asked for it. Has anyone realised how serious it is for the IOC to put something in writing to this effect and make a stink about it officially?
This is not something they would take lightly, because it suits them immensely to avoid hassles.
But our 'push and shove' ministers with their overblown sense of importance wouldn't understand that and Goel can now go all-out to trivialise the issue and pretend nothing happened.
To my knowledge, we have been following all rules & regulations. We are committed to the spirit of Olympics & back our Indian players. (1/2)

— Vijay Goel (@VijayGoelBJP) August 11, 2016
There seems to be some misunderstanding as we have followed all protocols as advised by the organizers. ( 2/2 )

— Vijay Goel (@VijayGoelBJP) August 11, 2016
But there is a letter and the Chef de Mission Rakesh Gupta has to answer committee continental manager Sarah Peterson who has warned the Indian minister to stop these antics.
How many of us can seriously believe that Peterson did this because she is racist or she doesn't like Goel or it was just a bad hair day and she was in a foul mood so she said, "Hmmmmm, let's fix this Indian minister because his country has won 26 medals and it's time to cut him to size"?.
Whether we are being stopped at traffic lights because some political twit is passing by or a minister attends a wedding with six stengun-toting cowboys and we are all pushed out of the way (though nothing beats their arrogance and belligerence at airports), why should we even be surprised that the minister and his cohorts tried to bully their way into non-accredited areas by hissing, "Meenishter, meenishter" as they are so often inclined to do.
I fully agree that under normal circumstances we should still hold our horses on a verdict till we get the chef de mission to respond. For the record. But it is not a one-off act of misconduct. There are reports that he has been doing this time and again, and has already been warned by the IOC. That's why we either have to accept that the IOC is prejudiced and was stalking our beloved minister, or that Goel was being a natural-born Indian politician, who when he hears thunder, thinks it is applause.
It is very possible that Goel, in his egotistic fugue, believed fervently that the IOC would be overawed by his presence and its officials would snivel and grovel to move people out of the way to accommodate him, after all, he is a minister from India.
Consequently, Sir, even if you are, by some ultra-slim chance, as pure as the driven snow and a victim of this malicious conspiracy to embarrass you by the Olympics committee I'd take your five-ring private circus, go to your room and quietly pack your bags and get the hell out of Dodge.
You can stop in London and shop, which you will do having earned a break, but leave Rio, they don't want you there.
Don't hang around, please.
And let the Central government take note. There is no gold medal for making an Olympian idiot of yourself. The moment I read that Indian athletes travelled economy class to Rio and officials travelled business class, I knew that something like this would occur. As for my friend Shobhaa De, that's a tweet you should send out.
How can they do well when those rosette-wearing clowns are bloated with misplaced conceit?
Sports
Puig, who became the first Puerto Rican to win an Olympic gold five years ago, made the announcement in a post on social media.
India
India's UN mission should back up statements on religiophobia with concrete action on anti-Hindu, anti-Buddhist hate speech.