The World Cup is where the stars come together and what they do with clubs counts for nil if they flop at the biggest stage of them all. While new stars are unearthed and those with potential finally shine — there are some who come into the tournament as top players and go back home faded, their star-power slightly eroded.
World Cup 2014 ended with Germany lifting their fourth title — and here's the Worst XI of the tournament:
Igor Akinfeev: Two errors, two goals - against South Korea and Algeria. For a tournament which has hardly seen any errors from goalies, Akinfeev is probably the only keeper who made two glaring errors resulting in his team losing out on a spot in the last 16. Iker Casillas was also bad, but not solely responsible for the goals Spain conceded. With Russia, it has to be said that Akinfeev was responsible for the goals.
Dani Alves: Considered the best attacking right-back, Alves had an okay start before a terrible game against Chile in the last 16. He was then dumped for Colombia and Germany — and Maicon did a better job defensively. Alves's notorious habit of going forward and leaving spaces did him.
Pepe: A ridiculous red card when his team really needed to get stuck-in against Germany in Portugal's 0-4 loss. Stupid.
David Luiz: Too emotional, too excited, too all-over the place. After scoring the freekick he had a chance to lead Brazil to a historic win, instead looked like an orphan without Thiago Silva to control his exuberance. Captain of Brazil's 1-7 loss.
Marcelo/Benoit Assou-Ekotto: Got to be close between a man whose lack of positional sense is only matched by the lack of professionalism of Assou-Ekoto who headbutted teammate Benjamin Moukandjo. It was Moukandjo's fault if we're to go by Ekotto's explanation, but being the senior player, he should've understood.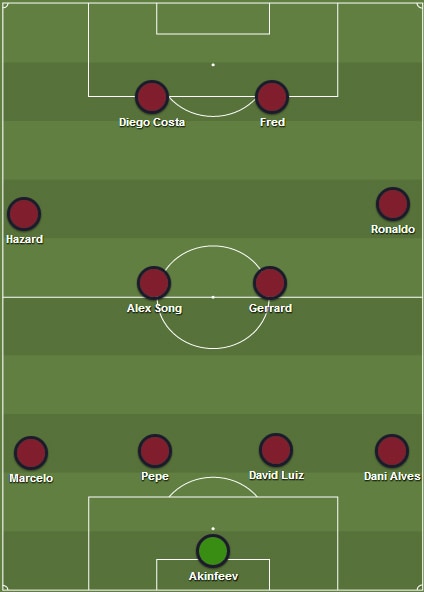 Alex Song: Attacked Croatia's Mario Mandzukic from behind in what looked like a very botched murder attempt. Red carded. Does he really play for Barcelona?
Steven Gerrard: England have to let him go. Lots of class but has lost competitive streak for national side at least. Finally released from the burden of having to play next to Frank Lampard, he still couldn't lead a young talented English side out of a tricky group. Very little individual contribution and made the two errors that led to Luis Suarez' double in England's loss to Uruguay.
Cristiano Ronaldo: He didn't have the team around him, but we expected more from the reigning world player of the year. Got a goal and an assist but both turned out to be meaningless. Most disappointing was his reaction to not getting the ball -- and the rumours of him bullying his teammates and not listening to Paulo Bento don't reflect well. Suddenly Jose Mourinho's words of Ronaldo being player who feels he knows everything ring true.
Eden Hazard: Just gave that one moment of genius to set up Divock Origi's winner against Russia but you just want more from a player who is one of the world's most exciting young talents. Just take a look at James Rodriguez. Hazard is regarded more highly but managed almost nothing... in fact, fell victim to a slow lumbering approach from Belgium.
Fred: The worst Fred of them all. Used his mustache to score once and dived for a penalty — apart from that, was virtually invisible in all the matches and was booed the most. Had a terrible tournament.
Diego Costa: Tournament's happening in Brazil and he decides to play for Spain. Learns that there are no shortcuts to international success. Got dropped for the match against Australia for the man who should have played throughout -- David Villa.
Substitutes: Iker Casillas, Antonio Valencia, Benou Assou-Ekoto, Luis Suarez, Sergio Ramos, Gerard Pique, Mario Balotelli, Kevin Prince Boateng, Wilson Palacios, Paulinho, Edinson Cavani, Andres Iniesta.
Updated Date: Jul 16, 2014 16:32 PM