Cristiano Ronaldo bust in Madeira is so grotesque that social media wonders if a Lionel Messi fan designed it
Bust of Cristiano Ronaldo unveiled at Madeira Airport looks like it was made by a Lionel Messi fan!
Tennis great Roger Federer was once gifted a 800-kg cow named Desiree by the organisers of the Swiss Open tennis tournament in honour of his Wimbledon win earlier that year.
Even though it left the usually articulate and composed tennis legend partially speechless and completely awkward, we bet Cristiano Ronaldo wouldn't mind being given a cow as a gift honouring him right now.
The Portuguese footballer, who captained Portugal to victory in the 2016 European Championships, was recently feted by his hometown Madeira. The country's government renamed their airport 'Aeroporto Internacional da Madeira', Cristiano Ronaldo' after their most famous son. But what grabbed eyeballs was the rather unflattering bust of Ronaldo unveiled at the ceremony. In fact, as many a news outlet and the good folks on social media pointed out, the bust looks nothing like the Real Madrid forward! Instead of the handsome face with impeccable hair and a self-assured smile the sculptor Emanuel Santos, who says he made the statue in 15 days, squished the bronze Ronaldo's eyes together and gave him a creepy-looking leer.
The ceremony was made even more bizarre when a man dressed up as Batman turned up and watched over the proceedings, as The Independent pointed out.
Ronaldo, though, seemed unfazed by all the attention the bust seemed to be getting. In a ceremony attended by some 5,000 screaming fans, the Portuguese PM and the country's President, Ronaldo said: "To see this airport bear my name is a very special thing. Everyone knows I am proud of my roots."
"I thank a lot the president of the regional government, who had the courage and strength to do this. My friend Miguel Albuquerque, I never asked for this, but I am very happy and honoured," he added.
This is not the first time a Ronaldo statue has attracted attention for all the wrong reasons. Another statue of the footballer, also in Madeira, was mocked over how… errr…generous it was in certain areas.
It must be noted that the original statue was vandalised by Lionel Messi fans.
What's the possibility that the sculptor of the airport bust, Santos, IS also a Messi fan?
When a Lionel Messi fan is commissioned to sculpt a bust of Cristiano Ronaldo pic.twitter.com/DtSkvcXB02

— Football Rascal (@FootballRascal) March 29, 2017
Here are some of the best tweets mocking the new Ronaldo statue:
To the makers of the sculpture - #YouHadOneJob #RonaldoBust pic.twitter.com/oooRxDuI4t — Fahad Shahud (@fahadism) March 30, 2017
when you order online vs when it arrives #RonaldoBust pic.twitter.com/ypitWeon62 — Keith (@ShrillockHolmes) March 29, 2017
I honestly cannot get over how much Ronaldo's statue looks like Niall Quinn 😂😂😂😂😂😂😂😂 pic.twitter.com/C84G7CAWIi — Sway (@Swayam_93) March 29, 2017
Wondering how happy & satisfied Messi fans would be after seeing #RonaldoBust pic.twitter.com/RZJKbIzvNm — Fahad Shahud (@fahadism) March 30, 2017
RT @nocutcard_: Ronaldo statute look like 2 Face from Batman pic.twitter.com/hNFkdrX7dk — Trey (@ILL_Wil_) March 29, 2017
PITCH: Sitcom in which the Hideous Ronaldo statue and Bonkers Lucy statue are roommates and get in wacky situations pic.twitter.com/3R4sOaCSG8 — Slade Sohmer (@Slade) March 29, 2017
Memorable day for Cristiano, for Madeira, and for the blind sculptor who gave life to #Frankenstaldo.#RonaldoBust #RonaldoStatue #Ronaldo pic.twitter.com/hTmvABBeFS — Prof. Bananas (@gandamaluko) March 30, 2017
Don't know what the fuss is all about with the new @Cristiano Ronaldo statue 👀 pic.twitter.com/KIe5UwrTl4 — Martendo Wii (@martinaldo10) March 29, 2017
New Ronaldo statue, there pic.twitter.com/DDdtY30vE6 — The Anfield Wrap (@TheAnfieldWrap) March 29, 2017
Sports
Sancho has struggled as his role has been constantly changed and Solskjaer's lack of clarity has also badly impacted the performance of the United team.
Sports
Solskjaer caused a storm when he started with Ronaldo on the bench for United's 1-1 draw against Everton in the last match before the international break.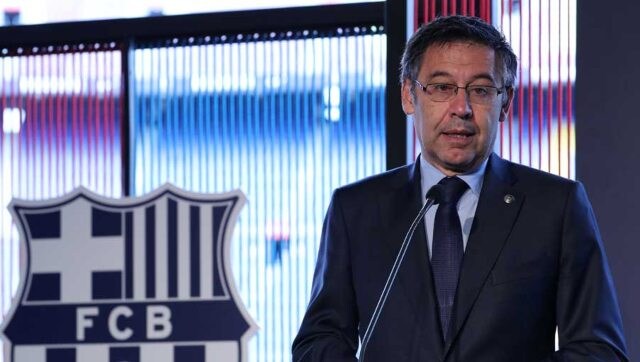 Sports
Josep Bartomeu said that most of the club's financial woes had been caused by the impact of the pandemic, which closed down Camp Nou for more than a year and reduced other sources of revenue.