Claudio Ranieri sacking: From Jose Mourinho to Eddie Jones, here's how sports persons reacted
Many from the sporting world came ahead to voice their opinion after Leicester City manager Claudio Ranieri was sacked on Thursday.
London: Leicester's Thai owners sacked Claudio Ranieri less than a year after he masterminded their Premier League title triumph. Here is some of the reaction to the Italian's dismissal.
Jose Mourinho
The Manchester United manager posted a message of support on his Instagram account and arrived at Friday's press conference wearing the initials 'CR' on his shirt. "Champion of England and FIFA manager of the year. Sacked. That's the new football. Keep smiling amico. Nobody can delete the history you wrote," Mourinho said on Instagram. "I think it's Claudio's fault because if last season instead of being champion he finished 12th it would be amazing and he would still be in a job because Leicester play not to be relegated. He's paying for his success, it's his fault!" Mourinho told reporters. "Probably the season started the typical selfishness of others, people thinking about new contracts, leaving, more money, forgetting who helped them to reach a certain level."
John Terry "Absolutely gutted for Claudio. A great man, manager and friend," Terry, who played under Ranieri at Chelsea, wrote on Instagram.
Antonio Conte
Chelsea chief Conte, a compatriot and close friend of Ranieri, said: "I'm very, very sad. He's a really good man. For sure I'll call him."
Jurgen Klopp
"For me there have been a few strange decisions in 16/17: Brexit, Trump, Ranieri," said the Liverpool manager. "Do I have to understand it all the time - obviously not. I have no idea why Leicester did this. He is a really special person in this business, a really nice guy. I met him before when he visited me at Dortmund and we had a nice talk. He is a wonderful person."
Eddie Jones
"It's quite an amazing story, isn't it? What were they – 5,000/1 to win the Premiership (Premier League)?" England rugby team's Australian coach Eddie Jones told reporters at England's Bagshot training base. "You do that, you coach them to a win and next season you struggle and you get sacked. I feel sorry for the guy. I think everything in life is (now) short-term. Everyone's got a mobile phone, they want to know the information about everything today, at that moment."
Steve Bruce
"The lunatics are running the asylum," said Aston Villa boss. "It's a harsh and brutal world we work in today. A manager's lifespan is probably now about a year. It's baffling, and morally wrong."
Luciano Spalletti
"It's scandalous, unacceptable," said AS Roma coach and fellow Italian Spalletti. "He has to be congratulated. He was the one who created this chemistry in the team and the locker room that made it possible to win the championship. And when you win an English championship against City, United and Chelsea, if you have a little dignity, you even accept to be relegated without touching anything. It should be such a joy to have won that the following year you can accept to be relegated. There is no recognition. But it's like that in football. I already know from experience."
Steve Claridge
"Must be a better way of dealing with this than the term "sacking", move upstairs, bring someone in to "help", sacking does him a disservice!," former Leicester City striker Claridge wrote on Twitter.
Rio Ferdinand
"Just seen Ranieri news. Shocked after last night display! Wins the league & still not afforded the time to fight for safety. Unreal scenes!" wrote former England and Manchester United defender Ferdinand on Twitter.
Just seen Ranieri news. Shocked after last night display! Wins the league & still not afforded the time to fight for safety. Unreal scenes!

— Rio Ferdinand (@rioferdy5) February 23, 2017
Peter Shilton Former England and Leicester goalkeeper Shilton, who won the Second Division title with Leicester in the 1970s, praised the decision as "brave". "Going down would be a disaster for Leicester and I suppose the board have made a very brave decision. Some people have mixed views, but relegation is on the horizon," he told Radio 4. "If they stay in the Premier League then they've made the right decision."
Rudi Garcia
"His statue isn't yet finished when (he's) ousted from his position as coach," said Marseille coach Garcia who succeeded Ranieri at AS Roma, adding that the Italian's sacking was "a crazy thing, people have short memories".  
 Gary Lineker
"After all that Claudio Ranieri has done for Leicester City, to sack him now is inexplicable, unforgivable and gut-wrenchingly sad," former England and Leicester player Lineker wrote on Twitter.  
After all that Claudio Ranieri has done for Leicester City, to sack him now is inexplicable, unforgivable and gut-wrenchingly sad. — Gary Lineker (@GaryLineker) February 23, 2017
"I shed a tear last night - I shed a tear for Claudio, I shed a tear for football and I shed a tear for my club," Lineker, now a television commentator, told BBC radio.
"It is inexplicable to me, it's inexplicable to a lot of football fans who love the game and I suppose you can explain it in terms of a panic decision and for me a wrong decision and it is very sad."
Sports
Having moved to the top of the group with victories over AC Milan and Porto, the six-time European Cup winners head to Madrid to face the Spanish champions Atletico.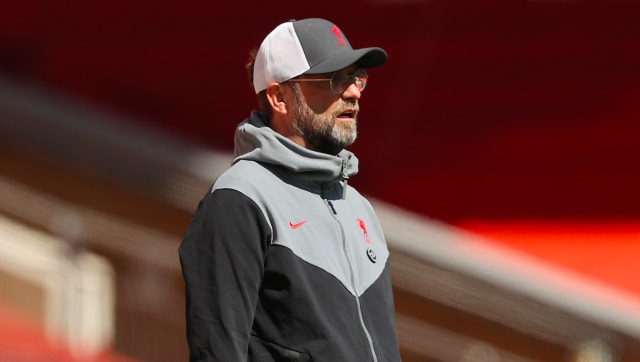 Sports
Liverpool's gifted front three of Mohamed Salah, Sadio Mane and Roberto Firmino are all scoring freely for the unbeaten Reds, who are just one point behind leaders Chelsea.
Sports
For the first time in his career, Salah has scored in eight successive top-flight matches and Liverpool boss Klopp has no doubts he is now better than even Lionel Messi and Cristiano Ronaldo.