Chinese Grand Prix: From the Mercedes-Ferrari rivalry to Max Verstappen's incredible racing
Sebastian Vettel and Lewis Hamilton are now both tied in the World Drivers' Championship. Although the race statistics show absolute dominance by Hamilton, the story of the race was rather different.
Here a few talking points from the Chinese Grand Prix, where Lewis Hamilton emerged as the winner, followed by Sebastian Vettel and Max Verstappen in second and third place respectively.
The weather and the overtaking
The mixed weather conditions offered us quite the spectacle. The drying track ensured that tyre strategy played a big role, and timing was everything. There were a slew of pit stops in the opening laps as drivers scrambled to understand the track conditions, which adequately mixed up the order. Ultimately, only 15 cars finished the race — the lowest number ever on this circuit—a number that's telling of the havoc caused by the weather. Seems Bernie Ecclestone was right all along — the secret formula for making the sport more exciting is not technological advances, but having water on track.
A point of concern for all of us in this new era of Formula 1 is the overtaking. Australia saw dismal amounts of overtaking, but we all heaved a sigh of relief when China had some excellent wheel-to-wheel action up and down the order. The overall quantity of overtakes may be lesser than last season, but the quality of racing required to pull each move off is far higher.
Ferrari vs Mercedes
Most of us have been licking our lips in anticipation of a Ferrari vs Mercedes battle, and China did not disappoint. Although the race statistics show absolute dominance by Hamilton with a Grand Slam of sorts (pole position, race win and fastest lap, plus the fact that he led from start to finish), the story of the race was rather different.
Vettel and Hamilton are now both tied in the World Drivers' Championship (most people in the paddock don't remember the last time that happened) and Mercedes is a solitary point ahead of Ferrari in the Constructors' battle. It is evident that both cars are fairly evenly matched on pace, and the question of which triumphs over the other is hence decided by strategy. Vettel could have had a fighting chance at victory if his race was not compromised by stopping under the Virtual Safety Car — as a Safety Car period following immediately. It's similar to the question of whether Hamilton would have won in Australia if not for Mercedes' sub-optimal pit stop planning.
Credit to Ferrari for not employing team orders on Vettel and Kimi Raikkonen and letting the two slug it out on track. While this decision did not ultimately have a bearing on the race standings, is this a risk that the team will be willing to take as the season progresses?
Red Bull Racing make the most of their chance
That's the thing about Red Bull Racing — give the team a sliver of a chance and they will make it theirs. While the cars are still horribly off the pace (the leading RBR car as 45 seconds off the race winner), clever strategy and good driving saw the team bring their cars home in P3 and P4. While Verstappen hogged all the limelight thanks to his unbelievable P16 to third position drive, Daniel Ricciardo drove an equally solid race. The race ended on a high thanks to the intra-RBR battle with Ricciardo chasing down Verstappen. As teammates go, I'd believe that these two are the most evenly matched and I'm eager to see which way their rivalry goes — through the season, and then through their careers.
What makes Red Bull Racing's case stronger is the fact that they have two equally able drivers, capable of pushing hard, pulling off moves and winning races. This is something that could prove to be a worry for Ferrari and Mercedes as the season progresses, as currently only one of their drivers is seemingly on the pace.
The Legend of Max Verstappen
What a guy, and what a race he drove. After a troublesome qualifying that saw him down in P16, Verstappen brought the roof down with his insane first lap where he overtook nine cars. Yes, nine cars in one lap in a time when overtaking is apparently difficult — I'll let that sink in for you. For all his efforts, Verstappen was deservedly voted Driver of the Day yet again. And even better, he is now P3 in the World Drivers' Championship.
A pair of struggling Finns
Even as their teammates enjoyed champagne on the podium, both Raikkonen and Valteri Bottas had a sub-optimal afternoon, finishing P5 and P6. As it becomes increasingly evident that the Constructor's championship is going to be a hard battle, Ferrari and Mercedes will be looking to their respective Finnish drivers to deliver performances that the cars are capable of. Bottas no doubt has a lot of pressure on him, as Mercedes has only given him four races to prove his mettle — and two out of those races are over without him making an impression, or even coming close to Hamilton. Raikkonen, who seems to be a shadow of his erstwhile self, needs to notch up the big drives to give Ferrari confidence that he isn't a 'has-been' in the closing chapter of his career.
Midfield mania
It was the Toro Rosso car that came out on top in China with Carlos Sainz bringing his car home in P7. This means that the team is now fourth in the Constructor's battle — or No 1 in the midfield battle. We must give credit to Sainz for his plucky tyre strategy that saw him start on slicks (while every other driver started on intermediates). While the wager did not pay off immediately, the final outcome would have ensured a raging party in the Toro Rosso garage. Unfortunately, the other Toro Rosso of Danii Kvyat was less lucky, retiring thanks to a hydraulic failure.
Force India recorded their second double-points finish in a row, with Sergio Perez and Esteban Ocon finishing P9 and P10 respectively. While the team is no doubt consistent, they will have to up their pace and get more out of their Mercedes engine in the races to come to hang onto the overall fourth place they bagged last season.
The not-so-lucky ones
China was not kind to the two rookies on the grid, Lance Stroll and Antonio Giovinazzi. Both retired — Stoll was unlucky as he got nicked into the gravel by Perez, while Giovinazzi (who seemed to have learned little from his error on Saturday) made a similar mistake to plunge into the barriers. McLaren, poor McLaren had a sad race in China with neither car making it to the end. Fernando Alonso (who also failed to finish in Australia) maintained his cheeky PR statements by declaring that he drove "like an animal" during qualifying — and despite Honda's woes, had an "incredible race" on Sunday. We hope the right people are listening to poor Fernando.
With the Bahrain Grand Prix only a week after China, we are looking forward to seeing how the third chapter of the Mercedes vs Ferrari battle plays out. We also hope
Ricciardo makes it to the podium, we are eager to see his new party trick for the season.
Watch our detailed analysis of the Chinese Grand Prix on Firstpost Pole Position
Sports
Roared on by a crowd of more than 140,000, Hamilton attempted to overtake Verstappen on Copse corner on the first lap instead sending the Red Bull careening off the track and into the barrier.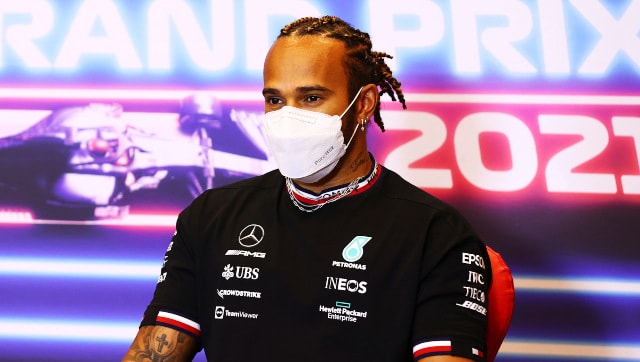 Sports
Verstappen accused seven-time world champion Hamilton of being "dangerous, disrespectful and unsportsmanlike" following their collision at Silverstone on Sunday.
Sports
The Italian marque returned to the sport after a 30-year absence in 2018, with Swiss outfit Sauber rebranded Alfa Romeo in 2019.