Chelsea's Thibaut Courtois files for libel and defamation against former Belgium manager Marc Wilmots
Courtois announced that he would be taking action along with his father after comments made by Wilmots in an interview with a French television channel.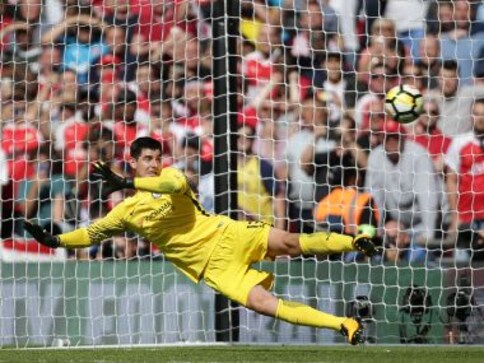 Brussels: Chelsea and Belgium goalkeeper Thibaut Courtois is to take action against his former international manager Marc Wilmots for libel and defamation following comments that appeared to blame him and his father for his country's elimination from Euro 2016.
Courtois announced via his Facebook page on Tuesday night that he would be taking action along with his father after comments made by Wilmots in an interview with French television channel beIN Sports.
"Mr M. Wilmots — not for the first time — reiterates publicly and intentionally accusations against my honour and my reputation as well as my father," Courtois, 25, wrote.
"We decided together to file an official complaint accompanied by criminal indemnification proceedings for libel and defamation."
Asked about his supposedly difficult relationship with Courtois, a result of the 3-1 defeat against Wales in the Euro 2016 quarter-finals, Wilmots said: "I just have a problem when I... name my team at 6 pm and at 6:15 pm it is all over social media."
He added: "That means a player has sold the national team, and that is serious."
Wilmots claimed that he had proof from "several French journalists" that Courtois' father Thierry was to blame for leaking the line-up ahead of the match in Lille in July 2016.
"That means that you don't respect your country. I find that a shame because I have to wait until an hour before kick-off to find out the opposition line-up."
Wilmots, who had been appointed Belgium coach in 2012, was heavily criticised by Belgian media after the defeat to Wales and was sacked two weeks later despite having two years left on his contract.
He went on to have a spell in charge of the Ivory Coast in 2017, while Spaniard Roberto Martinez succeeded him as coach of Belgium.
Sports
After Newcastle United's sale to a Saudi-backed consortium, here's a look at other clubs who enjoyed a meteoric rise after takeovers by rich owners:
Sports
The focus will fall on United manager Ole Gunnar Solskjaer after his side failed to win for the third consecutive Premier League game.
Sports
Liverpool are looking into the claim, the BBC and Sky Sports said, after the Premier League rivals shared the points following a breathless second half that saw City twice come from behind.