Beijing: Ivory Coast international and former Newcastle midfielder Cheick Tiote died while training for his Chinese club, Beijing Enterprises on Monday. Tiote spent seven years at English club Newcastle United from 2010 to 2017. Tiote's only goal for the Magpies came in a thrilling 4-4 draw against Arsenal when he equalised in the 87th minute through a 25-yard volley. However, Tiote isn't the first football player to die on the field. Here's a look at five football players who died during their footballing career:
File Photo of Marc-Vivien Foe. AFP
Cameroon midfielder Foe collapsed after a heart attack during a Confederations Cup semi-final against Colombia in Lyon, France. The former Manchester City, West Ham and Lyon player was carried from the pitch as medical staff tried to revive him with mouth-to-mouth resuscitation and oxygen. After trying to restart his heart for 45 minutes without success he was declared dead, aged just 28. His death prompted improvements in both the testing of footballers for heart problems and the treatment they can receive during matches, including training club medical teams in CPR and using defibrillators.
Antonio Puerta, August 2007
Spain international Puerta, 22, collapsed while playing for Sevilla in a La Liga match against Getafe and died three days later from multiple organ failure stemming from prolonged cardiac arrest. It was three months after he had helped Sevilla to win the UEFA Cup. Sergio Ramos has a tattoo tribute to Puerta and wore a T-shirt dedicated to him as Spain won the 2010 World Cup. "Antonio has always been with me. The next game, I went out on the field with his shirt and for a long time after that, I wore one that was dedicated to him," said Ramos.
Daniel Jarque, August 2009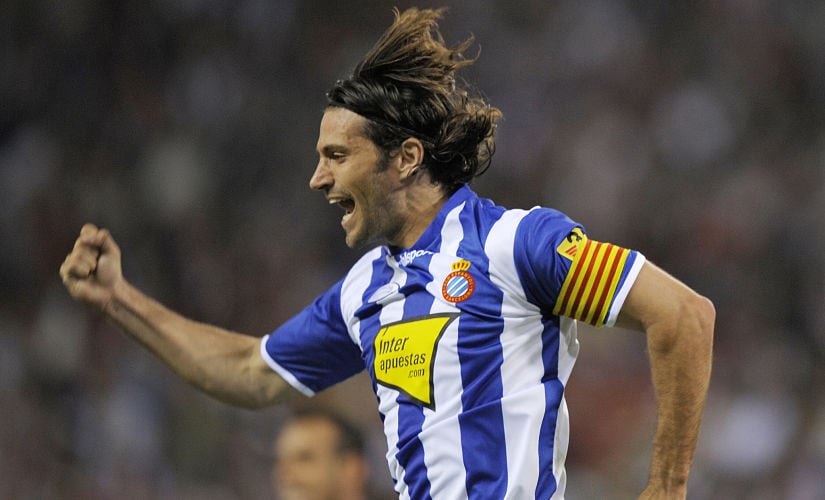 File photo of Daniel Jarque. AFP
The 26-year-old had been appointed Espanyol captain a month before he died of a heart attack in his hotel room during a pre-season trip to Coverciano in Italy. During the 2010 World Cup final Jarque's close friend Andres Iniesta, who played with him for the Spain U21 side, celebrated his extra-time winning goal against the Netherlands by racing to the touchline and revealing a T-shirt with the words "Dani Jarque siempre con nosotros" (Dani Jarque always with us).
Phil O'Donnell, December 2007 
The Motherwell captain died of heart failure towards the end of his side's 5-3 Scottish Premier League win over Dundee United in December 2007. The 35-year-old midfielder collapsed just as he was about to be substituted and was treated for around five minutes on the field before being taken to a waiting ambulance. O'Donnell played for Scotland, Celtic and Sheffield Wednesday during his career and his death caused widespread grief in Scottish football, causing a number of fixtures to be postponed. "He was a man among boys in every sense, in his attitude, his professionalism and integrity and sincerity," his manager Mark McGhee said.
File photo of Cheick Tiote. AFP
The 30-year-old Ivory Coast international "suddenly fainted" during a regular training session on Monday and was taken to hospital where he died, his Chinese club Beijing Enterprises said. Tiote's Ivorian teammate Gervinho, who plays for Hebei China Fortune, described Tiote as a "warrior" and "champion" on Twitter. "May your soul rest in peace," he said. Alan Pardew, who managed Tiote at Newcastle United, said: "Cheick was a wonderful presence around the dressing room and his performances on the field often defied belief. I loved him. He's everything that you want in a Newcastle player."
Updated Date: Jun 06, 2017 14:14 PM