Champions League: Borussia Dortmund further victimised by Uefa's need to make statement against attacks
Uefa alone know the reasons that prompted them to reschedule the match just 24 hours after three explosions targetting Dortmund's bus, leading to one of their players with a serious injury.
Sokratis Papastathopoulos is a hardened footballer, not known to hold back on his tackles. But on Thursday, even he was moved to tears while acknowledging the fans at the end of the first leg of Borussia Dortmund's quarter-final Champions League clash against Monaco.
It had been that kind of two days for everyone involved with the football club.
Uefa alone know the reasons that prompted them to reschedule a football match just 24 hours after it needed to be postponed due to three explosions targeting a team's bus, leading to one of their players sustaining a serious injury. Maybe this was the European football body's idea of making a statement about not bowing down to terror. Or maybe it was about portraying normalcy.
However, what Uefa forgot, or just plainly overlooked, was that Dortmund players were not just being asked to set aside trauma and 'do their jobs', they were being asked to do it in a high pressure situation that comes along with European football. Like a stadium with 81,000 people watching them, a majority of them rooting them to win. Not to mention millions others who were sitting in front of their TVs. Expectant.
Athletes are often perceived to live in a bubble of their own, insulated from the realities of life. But when their lives have come under threat just a day ago, you cannot expect a footballer, irrespective of how lucrative a pay cheque he gets, to just get on with it and play football.
Not surprisingly, after the game many of the players admitted that football had been the last thing on their mind even minutes before kick-off.
Dortmund's second half substitute, Nuri Sahin, summed up the night with this: "It's hard to find the right words to describe tonight. I don't wish anyone a feeling like this. I don't know if people will understand this, but until I got on to the pitch in the second half, I didn't think about football. I know football is very important, and we love football. And we earn a lot of money and have a privileged life, but we're human beings. There's so much more than football in this world. Last night, we felt it."
Sahin was not alone. Everyone from Papastathopoulos to manager Thomas Tuchel spoke about their helplessness at having to play on the night and not getting enough time to process the information.
Watch Nuri Sahin's emotional interview:
Nuri Sahin (@nurisahin): – It's hard to find the right words.@JanAageFjortoft pic.twitter.com/KTMPF3PTNI

— Viasat Fotball (@ViasatFotball) April 12, 2017
Just how much the Dortmund players were affected by incidents the previous day was evident in the first half, where they were over-run and overpowered. After a sedate 10 minutes during which both teams seemed perfectly content just sizing each other up, the first chance of the match came to Aubameyang, who on being released by a clever throughball, shot over the bar. That was to be one of the only rare sniffs Dortmund got of the rival goal in that half.
On the other end of the pitch, Monaco earned themselves a penalty when Sokratis brought down Kylian Mbappe in the box. Luckily for the hosts, Fabinho dragged his penalty wide. Minutes later, their luck turned. A Thomas Lemar cross from the left into the box in the 19th minute hit the absolutely-offside Mbappe's thigh before rolling into the net! The linesman doesn't spot it and Monaco were on their way. Their second goal followed 16 minutes later, again after build-up play on the same flank, although this time in slightly bizarre circumstances. With Marc Bartra needing surgery on his wrist due to injuries sustained from the blasts, Sven Bender was drafted into the three-man defence. Bender, who last played in December, headed the ball into his own goal without any pressure on him before seeming to imply a rival player had pushed him even though replays showed there was no one even in touching distance.
Dortmund's players clearly seemed preoccupied. It is not difficult to guess why. But the Bundesliga outfit's manager Tuchel tried to remedy the situation with a double substitution at half-time, which also necessitated a change in formation. Bender was replaced by Sahin while Christian Pulisic replaced Marcel Schmelzer. The three-man defence became a four-man defence with Pulisic occupying the right-back role. It was this change that spurred the home side's revival.
The Dortmund players mounted wave after wave of attacks that were being thwarted only by last-ditch defending in the box. Pulisic was instrumental in exploiting the right flank where most of their attacks emanated from. Monaco seemed to have been pinned while the Dortmund faithful found their sonorous voice. Their persistence paid off in the 57th minute. Left back Raphael Guerreiro's cross fell slightly behind Aubameyang, who flicked the ball behind him for Shinji Kagawa. The Japan international coolly rounded Monaco's Danijel Subasic, before passing to Ousmane Dembele, who slotted it home.
There was more drama in store for the night. Lukasz Piszczek attempted a weak pass to Sokratis, giving Mbappe an opportunity to sneak in. He duly obliged before running towards the Dortmund goal and slotting it calmly into the goal. How this match would have ended had the Dortmund players not been affected by the incidents of a day ago remains anyone's guess.
Just when it looked that the tie was out of the hosts' reach, Kagawa found the ball in the box, did a neat turn and scored to make it 3-2 on the night.
It was a night which showed the class that the Borussia players have. It came a day after their fans had shown oodles of class themselves by inviting stranded Monaco fans into their homes. In the same spirit, many Monaco fans had turned up for the match wearing Dortmund jerseys.
However, how good the Dortmund footballers are or the spirit of both sets of fans on display was beside the point on Wednesday night. They should never have been playing.
In their bid to send out the message that they won't cower before terror, Uefa forgot that it was only making matters worse for the victims of the attack.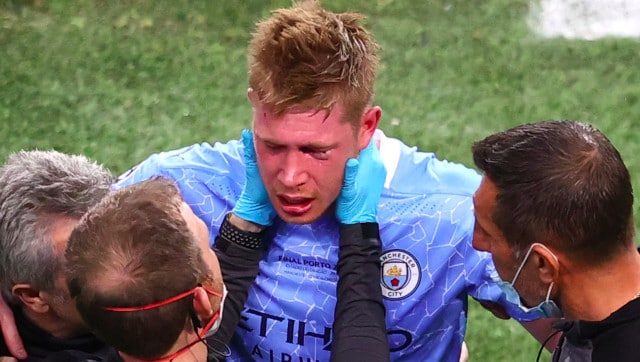 Sports
"Kevin De Bruyne has joined the group and that's fantastic news. He looks ready, he looks fresh, and just to see him walking into the dining room was a real highlight of the day," Martinez told reporters at Belgium's team base near Brussels.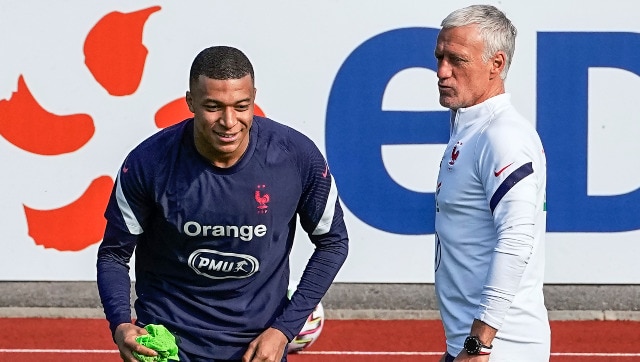 Sports
The feud started on Tuesday after France's 3-0 victory over Bulgaria in a friendly when Giroud suggested he wasn't getting the service he deserved — deemed by some a swipe at Mbappe.
Sports
After 10 seasons in the Champions League, City remain without the one trophy they most desire.