Champions League: Atletico Madrid's combination of physicality and finesse gives them edge over Leicester
Leicester City couldn't manage a single shot on target. or create anything of note against Atlettico Madrid. Yet, it took a dubious penalty call for them to fall to defeat.
Before the game, Diego Simeone had welcomed the idea that his Atletico Madrid may have provided the underdog road map for other clubs, like Leicester City, to follow. A road map for clubs who challenged the status quo and opened other paths. "Football is wonderful, because no one is right," he said, "There is no absolute truth. Maybe other teams have looked at us and thought that."
But there is no exact equivalent here. They are not the same. Atletico are the third-most successful club in the history of Spanish football. But that is a little like being the third-most famous Khan of the Mongol horde (Well done you, but no one will ever stop talking about Genghis and Kublai). Little Leicester had three league cups and the solitary title success. Atletico's trophy numbers — 24 (10 leagues, 10 cups and three European titles). But, Atletico had done a Leicester before Leicester, and then more.
At the end of the night when Leicester were mostly slugging, they emerged with the faintest glimmer of hope. They have been here before, needing to overturn a first-leg deficit against a Spanish team that made them run for their lives. But this is not before, and exact equivalents do not exist.
England's last team in the European competition couldn't manage a single shot on target — or create anything of note really — and it was difficult, of course. All the statistics prove that Leicester were second best, and yet, it took a dubious penalty call for them to fall to defeat.
There are lots of problems for the second leg now. The first is, that Leicester won't have Robert Huth — suspended because of a yellow carried over from the previous round and one last night. Huth's absence will leave an even bigger hole in a defence without Wes Morgan. The second and, by far the bigger is that Leicester don't have an away goal.
To put it in context: if Atletico score one, Leicester will need three. And that doesn't happen often. Las Palmas managed it in the Copa Del Rey, and Real Madrid and Villareal did it in the league, but nobody else has this season. This, and the fact that Atletico are knock out football experts, make Leicester overwhelming underdogs. The way they like it, of course.
At the King Power, they will have to play with more adventure. The statistics show that besides outpassing and out thinking them, Atletico also out ran their opponents by a considerable distance. It was high energy, relentless pressure, typical of a Simeone team, and Leicester had none.
And yet, at Calderon, it was a satisfying night's work for Craig Shakespeare's team (somehow, saying that will always leave a bitter taste in the mouth) and they know they could've come off worse.
It took a dubious penalty call for Atletico's goal, and Leicester have right to feel aggrieved. Marc Albrighton's contact on Antoine Griezemann was clearly outside the box, and his momentum made sure he fell inside, which was perhaps his intention all along. These are the small areas where Leicester's inexperience comes to play.
Atletico are one of Europe's most street-wise teams, and are often called an 'English style club'. It is a comparison that only works to a point. To their physicality, they add finesse. They dive beautifully. They get their blocks in. They protest loudly. And they left no stone unturned trying to swing the officials their way. Simeone implored the referee to give Jamie Vardy a yellow (which would have seen him miss the second leg), and later in a bizarre moment, his bench conspired to get Leicester's sports scientist Tom Joel sent off for trying to hydrate Albrighton.
The bigger problem was that Leicester looked a bit lost creatively up front, a wrong they will need to correct before the second leg. Riyad Mahrez and Vardy were both out of their depth last night, operating on the peripheries, and for any chance of progress they will need to get more involved upfront. Hooving the ball only works to a point, and it doesn't work at all if the opposition has Juanfran and Diego Godin — two men who thrive on them.
The problem with adventure though, is it will play right into Atletico's hands. Atletico, after all, are the team that like to do the harrowing, pressing and defending, preferring that their opponents keep the ball for aesthetic purposes. Leicester going up means their opponents are free to counter attack. And they love that the most.
Atletico are not Barcelona or Bayern or Real, they will not pummel you for six before half-time. But there is no team in world football right now that is better at managing a game, feeling and thinking their way out of it, probing your system for its flaws, finding out what you hate doing, and then making you do it over and over again. That is how Atletico kill you.
Even against Leicester, they played like only they do. It was like the Foxes were facing themselves from last season, only better and more panache.
Leicester are the most English of all the English teams, but alas they seem to have brought a katana to this knife fight. The King Power will host their final stand, a tribute almost to the great times they had at the top of the game. It will be a great story: the greatest underdog team in the history of sport, hosting the most tenacious underdogs ever. And then it will end.
Those with eternal hope will say, it can be done. A Shakespeare from a bygone time said nothing comes of nothing. And so Leicester will throw the kitchen sink at Atletico. And they should. If nothing, it will make for wonderful viewing.
Sports
No fee has been disclosed but British media reported value the deal at £34 million ($47 million) rising to £48 million with add-ons.
Sports
The initial document was signed by both parties in the presence of Banerjee in September 2020, that paved the way for a dramatic entry of East Bengal into ISL.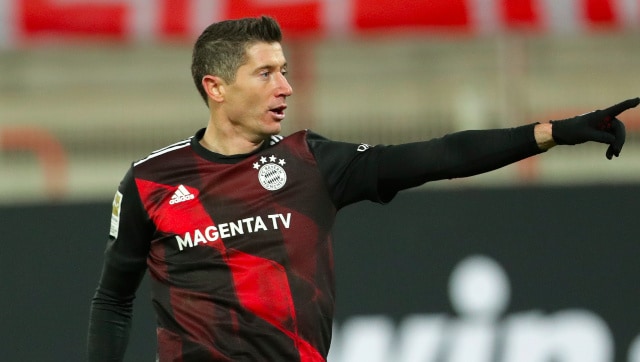 Sports
The 32-year-old Pole was once again the runaway winner of the title awarded by the football magazine Kicker, following a vote by journalists.