Belgian Grand Prix: From Lewis Hamilton's dominant win to Force India drivers' woes, talking points from Spa
Lewis Hamilton is now only seven points adrift from Sebastian Vettel in the Drivers' Championship and could take the lead if he wins next weekend's Italian Grand Prix.
The 2017 Belgian Grand Prix was a bit of a mixed bag. For the avid followers, the race was a good one — two of the fastest drivers, also the championship contenders, were chasing each other for victory in the fastest two cars on the grid. In fact, to make their battle interesting, their teams employed different tyre strategies in the last stint to try giving one driver an advantage over the other. Also, a Red Bull Racing car driven by arguably the sport's happiest driver sneaked in on the podium (thanks to the safety car) beating a Ferrari and a Mercedes en route.
But for the younger and newer fans, there was possibly lack of action on-track, unless you consider the drama that the pink Force India drivers provided. Maybe this is something that Formula 1's new management would be definitely looking into. At one of the sport's most iconic and challenging race venues, how can Formula 1 deliver memorable races than snore-fests? But then again, the more you try and control the sport, the more you might end up tilting towards entertainment.
Lewis Hamilton joined a list of illustrious German drivers, Michael Schumacher and Nico Rosberg, who have won their 200th Formula 1 race. On this weekend where he scored his career's 58th victory, he also equaled Schumacher's record of 68 pole positions. The next target for Hamilton would be chasing down Schumacher's overall victory record of 91, while of course trying to chase his fourth Drivers' Championship title — a number that would equal him with the other legends, Alain Prost and Sebastian Vettel.
It has been 25 years since Michael Schumacher's first Formula 1 victory, which was incidentally at Spa. To commemorate this moment, his son, Mick, did a demonstration in his 1994 race-winning Benetton car.
The win in Belgium was Hamilton's third victory at the Spa-Francorchamps and he won the race in typical fashion. After clinching pole position, he fended off both of Vettel's challenges for the lead — at the start and then at the restart behind the safety car, by using his Mercedes engine's power modes to the optimum in the braking zone of the long and historic Kemmel Straight. Hamilton is now only seven points adrift from Vettel in the Drivers' Championship and could take the lead if he wins next weekend's Italian Grand Prix.
The result of the Belgian Grand Prix might also earn Hamilton a wingman for his Drivers' Championship challenge. Valtteri Bottas, the other Mercedes driver, could only manage a fifth-place finish, behind podium-finisher Daniel Ricciardo and compatriot and Ferrari rival, Kimi Raikkonen. Bottas is now 41 points behind Vettel, which means that the possibility of the Mercedes management asking him to play wingman to Hamilton is only higher. Hamilton's gesture of giving back third place to Bottas in Hungary might just make it easier for Bottas to agree.
Mercedes and Bottas struggled for race pace, an issue that the team will definitely look into before next weekend. Also, for the old-timers, Bottas had his 'Ricardo Zonta moment' (also on the Kemmel Straight) when he had Ricciardo on his left and Raikkonen on his right, and used his tow to slingshot past him and demote him from third to fifth in a matter of a few metres.
Vettel heads to Ferrari's home race at Monza with a narrow seven-point lead. After clinching P2 in qualifying and in the race, could the current championship leader have done better? During the summer break, the paddock expectations were that Mercedes would reign supreme at Spa since it is a power circuit, but that pleasantly wasn't the case to be. Ferrari's upgrades from the summer seemed to have worked well and they managed to beat at least one Mercedes in qualifying and the race, thereby limiting the damage to Vettel's championship lead.
Hamilton claimed post race that his Mercedes wasn't the faster car on the circuit and that he fended off Vettel's challenges to win the race. The Briton's statement might not entirely be false given that there were moments where the Ferrari-Vettel combination looked faster.
The other combination that actually looked faster and should've hopefully finished on the podium was that of Ferrari-Raikkonen. After topping practice sessions and almost out-qualifying Vettel, a silly mistake on his final qualifying attempt saw Raikkonen lose out on P2. In the race, failing to pay heed to a yellow flag, Raikkonen was handed a 10-second stop-go penalty that saw the Iceman lose 30 seconds of race time and a possible shot at the third step of the podium.
Raikkonen argued with his team over the radio that the penalty wasn't justified and he didn't think what he did was unsafe. We hope that Raikkonen has learned his lesson because ignoring yellow flags is unsafe and dangerous!
If there's one driver who makes the most of half a chance, it has to be Ricciardo. The Australian made the most of the restart after the safety car period to pounce on Bottas and clinch third place on a circuit, where in the event of a normal race, the Red Bull Racing car was definitely wasn't aiming for the podium. Ricciardo's unlucky teammate, Max Verstappen, saw more bad luck come his way as his car failed on lap 8 handing him his sixth retirement in 12 races this season.
Over the summer and post his failure at the Belgian Grand Prix, the Red Bull Racing prodigy fired warning shots to the team management by pointing out that 6/12 retirements can't only be apportioned to bad luck and that he might be forced to look elsewhere if his mechanical issues persisted. However, the earliest Verstappen could jump ship might be only in 2019.
The pink Force India cars touched each other at just about the same spot on the circuit, twice! Strangely enough, both times, the driver committing the error was Force India veteran and Ferrari-hopeful, Sergio Perez. The first instance was on the opening lap which saw neither pick up significant damage, but the second time around, Esteban Ocon lost parts of his front wing while Perez had to limp back to the pit lane with a punctured right rear tyre, prompting the FIA to call out the safety car.
Is Perez feeling threatened by Ocon's talent, as the youngster has matched him for pace at every race this season? Or is Perez upset that with Ferrari confirming Vettel and Raikkonen for 2018, and Mercedes expected to confirm Hamilton-Bottas, his Formula 1 career could end up stagnating?
Force India, who comfortably sit in the Constructors' Championship table in fourth place (103 points) and could have scored double points at Spa, confirmed post race that going forward, their drivers wouldn't be free to race each other — an unfortunate ruling for the fans. Hopefully the Indian-owned racing team can learn a thing or two from the power unit suppliers, Mercedes.
Benefiting from Force India's mess was Renault's Nico Hulkenberg, who finished sixth and earned the 'best-of-the-rest' tag at Spa. He was followed by Haas' Romain Grosjean, Williams' Felippe Massa, Force India's Ocon and Toro Rosso's Carlos Sainz in the top 10. It was a bitter-sweet weekend for McLaren's home boy, Stoffel Vandoorne. In the lead up to the race, he was handed a contract extension for 2018, but for the race, he earned a 65-place grid penalty for changing components on his Honda power unit. He eventually finished a distant 14th.
Finally, it would be incomplete to conclude the Belgian Grand Prix report without mentioning Fernando Alonso. On Saturday, Honda confirmed post-qualifying that their power unit failed to deploy expected power after Alonso tackled Pouhon in full-throttle — an act that confused its sensors. Alonso admitted that the power unit was actually too quick for the Honda-powered Mclaren! In the race, a classical opening lap saw Alonso climb up to P7 before falling prey to the faster cars. This was followed by some exasperated and humourous radio messages before Alonso eventually retired from the race.
With the Ferrari door firmly shut for next year and Mercedes' about to shut, where could Alonso head in 2018? We will share our detailed views on Firstpost in the days to come. In the meanwhile, here's counting down to Monza.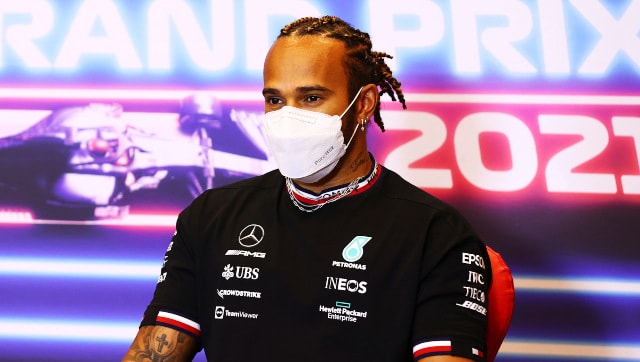 Sports
Verstappen accused seven-time world champion Hamilton of being "dangerous, disrespectful and unsportsmanlike" following their collision at Silverstone on Sunday.
Sports
The Italian marque returned to the sport after a 30-year absence in 2018, with Swiss outfit Sauber rebranded Alfa Romeo in 2019.
Sports
Max Verstappen has won the past three races in his Red Bull and has a 32-point advantage over Lewis Hamilton in the driver's championship.