Badminton Asia Championship: Saina Nehwal's loss to Sayaka Sato shows she is still not fully fit
Saina Nehwal's performances, since her return to the courts from reconstructive knee surgery, have failed to measure up to her high standards.
In spite of PV Sindhu's string of sizzling performances in the recent months, since her silver-medal winning performance at the 2016 Rio Olympics, Saina Nehwal is still widely considered the pre-eminent female Indian badminton player.
Even a narrow straight games loss to her taller, younger compatriot at the India Open a month back has not changed the average Indian badminton lover's perception of Saina.
Nevertheless, the 27-year-old Hissar-born, Bangalore-domiciled Saina's performances, since her return to the courts from reconstructive knee surgery, have failed to measure up to her high standards.
In half-a-dozen outings since the China Open last November, she has won just the second-rung Malaysia Masters Grand Prix Gold tournament, failing to make a mark in the Superseries Premier and Superseries tournaments in which most of the world's top players take part.
Saina's latest opening-round loss, at the Badminton Asia Championships in Wuhan, China, on Wednesday, to Japan's Sayaka Sato has further strengthened the impression that the eighth-ranked player in the Badminton World Federation (BWF) standings has some way to go before she can become the world-beater she was, before incurring the debilitating right knee injury at the Rio Games.
Stamina was the sole reason why the number seven seeded Indian was beaten 19-21, 21-16, 21-18 by the 25-year-old Japanese left-hander, with whom she had a 6-1 winning head-to-head record, going into the match.
Saina's sole loss to Sato had come six years back, in January 2011, at the Korea Open, but thereafter she had always managed to outlast her 16th ranked rival, beating her in three games on each of the last three occasions they had crossed swords.
Coach Vimal Kumar confirmed the suspicion about her reduced staying power, saying that, even at the Malaysia Super Series earlier this month, Saina had admitted to running out of breath in the decider of her long-drawn 56-minute battle against another Japanese, Akane Yamaguchi.
In a way, it was sweet revenge for Sato, who had been bested in her previous three encounters with Saina by a player boasting superior physical fitness.
There were no such problems, however, for Saina's fellow-countrywoman Sindhu, seeded fourth in the tournament in which all the world's top ten badminton stars, barring Spanish world and Olympic champion Carolina Marin (being ineligible, as she is not Asian), are participating.
Sindhu breezed confidently through the opening game of her lung-opener against Indonesia's 26th ranked Dinar Dyah Ayustine, before labouring in the second, to notch a 21-8, 21-18 triumph.
Sindhu should be equally comfortable while making it through her next outing against Japan's 20-year-old Aya Ohori but will have her hands full while taking on another 20-year-old, He Bingjiao, of the host nation, in the quarter-finals. The
The eighth-seeded Chinese southpaw is expected to make the last-eight grade by settling the pretensions of Thai teenager Pornpawee Chochuwong, who had ended runner-up to Saina in the last Malaysia Masters in Sarawak.
Most of the top ten men's singles stars, with the exception of Danes Jan O Jorgensen and Viktor Axelsen (who, like Marin, are not eligible to play, as they are not Asian), are in the fray at the Badminton Asia Championships.
Malaysia's world number one, Lee Chong Wei, has been rightly given pride of place, ahead of two-time reigning world champion, Chen Long, of the host nation. Korea's Son Wan Ho and five times world champion Lin Dan of China, get the next two seedings, with the legendary Super Dan set to clash with arch-rival Lee at the semi-final stage in the top half of the draw.
As for the Indian challenge in the men's singles, Ajay Jayaram, who has powered his way to number 13 in the BWF rankings on the back of several stellar performances in recent tournaments, added another noteworthy scalp to his bulging satchel.
The 29-year-old eliminated the fifth-seeded Chinese, Tian Houwei, in front of the latter's home crowd, by a 21-18, 18-21, 21-19 verdict in a 70-minute battle royal on the main show court.
Jayaram next runs into Chinese Taipei's Hsu Jen Hao, who sidelined the impressive Chinese Hu Yun, in the opening round, by a facile 21-13, 21-14 margin. Should the Chennai-born Indian shed his exhaustion after that epic opening round, and also jettison his tag of inconsistency, he could lower the colours of Hsu, and earn a quarter-final meeting with top-seeded Lee Chong Wei, against whom he trails 0-7 in career meetings.
Jayaram's compatriot, Haseena Sunilkumar Prannoy, was, however, not quite as fortunate in the closing reaches of his clash with the number eight seed from Hong Kong, Ng Ka Long Angus, and was beaten narrowly at 16-21, 21-13, 19-21, in a rousing encounter that lasted a minute over the hour mark.
There really was nothing to choose between the two players in their very first meeting, and the normally rock-steady Prannoy was unlucky to lose the final two points through unforced errors.
In the paired events, there was no joy for India, as each of their top twosomes in the men's, women's and mixed doubles made exits in their opening round matches, albeit after showing some sterling resistance. Several other Indian combinations had lost in the preliminary rounds, held on Tuesday; and the country had a solitary pair in each of the three doubles events.
The top Indian men's doubles combination of Manu Attri and Sumeet Reddy were ousted 21-9, 21-18 by the number five seeded Chinese pairing of veteran Fu Haifeng and Zhang Nan. Outmanoeuvred and smashed off their feet in the opening game, Attri and Reddy fought gallantly in the second, but were always a step or two behind the redoubtable Chinese pair, and forced to play catch-up.
In the women's doubles, it was clear that Ashwini Ponnappa and N Sikki Reddy, who have paired up after the virtual retirement of Jwala Gutta, still have to master the finer nuances of being a crack combination.
They almost took the opening stanza against Koreans Chae Yoo Jung and Kim So Yeong, but then faded slowly to a 20-22, 16-21 loss. Had they won, they would have clashed next with the top-seeded Japanese pairing of Ayaka Takahashi and Misaki Matsutomo.
The best Indian performance in the three paired events was produced by Pranaav Jerry Chopra and the left-handed Sikki Reddy, who stretched the top seeded Chinese pair of Zheng Siwei and Chen Qingchen before capitulating at 15-21, 21-14, 16-21.
There is uncompromising Chinese dominance in this particular event, with three of the top four seeded pairs having the advantage of playing in front of their home crowds, and in the absence of Indonesians Tontowi Ahmed and Lilyana Natsir, sidelined by injury.
The only pair who appear capable of challenging the Chinese hegemony is the young Thai twosome of Dechapol Puavaranukroh and Sapsiree Taerattanachai, who have been seeded number eight, and are slated to run into the top seeds, Zheng and Chen, at the last-eight stage.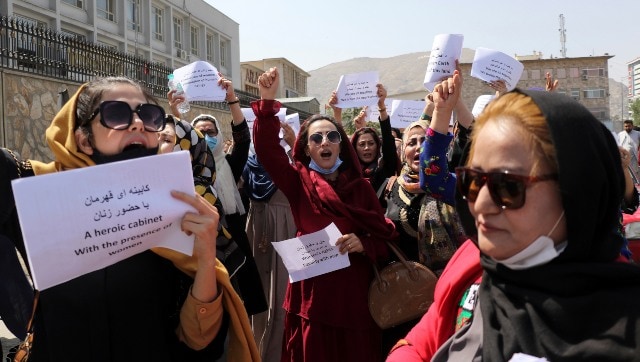 World
Recent controversial comments by Taliban leaders, like that of Hashimi, have exposed the Taliban's true nature as it ignores women, who make up half of the population of the war-torn country
Sports
The likes of VVS Laxman, Saina Nehwal, Mirabai Chanu and many other prominent sportspersons also took to Twitter to share their wishes with the PM.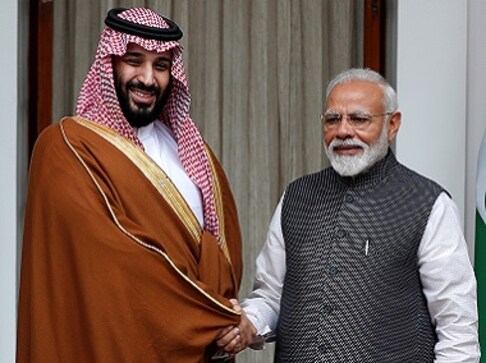 World
India's ties with Saudi Arabia, one of the world's leading oil producers and host to nearly three million Indians, have generally been on an upswing