Melbourne: Ageless Venus Williams powered into an amazing 37th career Grand Slam quarter-final on Sunday to set up an Australian Open showdown with dogged Russian Anastasia Pavlyuchenkova.
The American, 36, needed all her big-match experience to dismantle determined German qualifier Mona Barthel on Rod Laver Arena 6-3, 7-5.
Williams' victory puts her into a ninth quarter-final at Melbourne Park in a tournament she is yet to win during a storied career that has earned her seven Grand Slam titles, though none since Wimbledon 2008.
Next up is Pavlyuchenkova, who upset Svetlana Kuznetsova 6-3, 6-3, ending the fellow Russian's distant dream of a third Grand Slam title.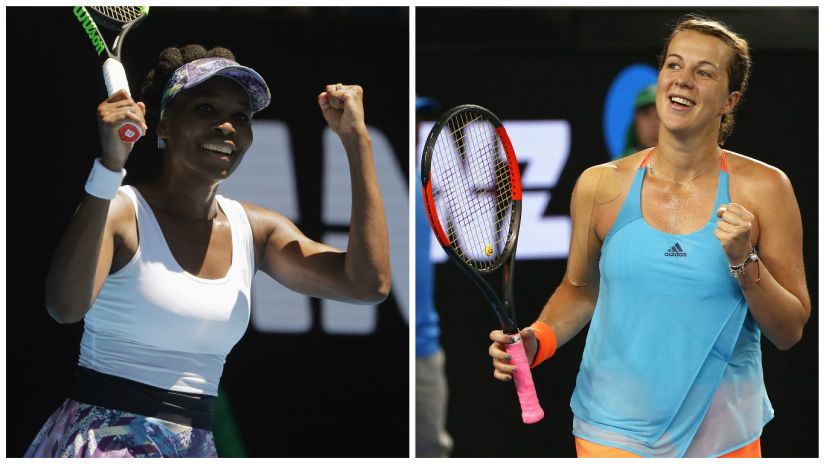 "It's what you do all the practising for in the off-season. It's wonderful to be in a position to go even further," said Williams.
"She played well, there were so many balls coming back. It's wonderful to get to a quarter-final against a player who was on fire."
Williams and Barthel had met two times before, with the American winning both of them in two sets.
But despite her lowly 118 ranking, Barthel was never going to be a walkover.
She has three career singles titles to her name and is on the comeback trail after suffering chronic fatigue illness last year, which forced her to miss four months of the season.
Seeded 13, Williams used her wealth of experience to pounce early and storm to a 3-0 lead. She gave a service game away before reasserting her dominance with another break back.
Undeterred, Barthel, gunning for her first ever Grand Slam quarter-final, kept coming back, winning a titanic seventh game that included six deuces to keep her hopes alive.
Williams, with the bright sun appearing to cause her problems, particularly on serve, hit more unforced errors in the set but a superior number of winners made the difference as she finally nailed it in 42 minutes.
It was a much closer affair in the second set with neither player buckling until a patient Williams, the oldest player in the women's draw, seized her opportunity in game 11.
She worked three break points, converting with a sizzling forehand down the line.
The composed veteran, whose sister Serena faces Barbora Strycova for a place in the quarter-finals on Monday, then served out the set in 54 minutes to complete a testing win, ending Barthel's six-match streak after she came through qualifying.
Pavlyuchenkova ready with new mindset
Anastasia Pavlyuchenkova credited experience and a new-found mental toughness for helping her break an Australian Open jinx and move into the quarter-finals for the first time.
Her 6-3, 6-3 win over fellow Russian Svetlana Kuznetsova put the 25-year-old into the last eight at Melbourne Park for the first time in nine attempts.
Despite being the 2006 girls champion in Melbourne, Pavlyuchenkova had always struggled to gain traction during the main draw, with Australia the only Slam where the quarters had eluded her -- until now.
"It's super-exciting. I was always wondering why I could never have a good start here in Australia after good pre-season, good off-season, and a lot of practising," she said.
"But now it seems like I found a way, and I'm super-excited to still be in the second week here."
Next up is Venus, and the Russian is itching to keep going and make her first ever Grand Slam semi-final.
"Definitely. I want to do my first semi-finals of a Grand Slam or maybe a final, I would love to," said the Moscow-based player.
"That's why I have been working so hard for this moment now."
Pavlyuchenkova has been competing at Grand Slams for a decade without managing to step beyond the quarters, with her career littered with first and second round exits.
But she said being older and more experienced, she was ready for a new chapter.
"Like mentally I'm just taking it differently. I'm more serious, I would say," she said.
"Of course I'm working hard, but I have been working hard before. I guess I just feel more ready now mentally. I'm trying to enjoy and believe in myself more than before.
"And I think just tennis-wise, I think I'm playing better tennis now than I was before, even though I know everyone was telling me, 'Oh yeah, you're capable of doing this and that'. But it's just words.
"Of course I had potential, but I just feel like now I believe in myself more."
She had met Kuznetsova seven times before, with the Russian elder, seeded eight in Melbourne, winning five of them, including in this month's Sydney International.
But Pavlyuchenkova was always in charge.
Seeded 24, she jumped out of the blocks and dominated early from the baseline, winning 12 of 14 points to race into a 3-0 lead with just eight minutes on the clock.
Kuznetsova was lethargic, struggling in the blazing sun after needing more than three-and-a-half hours to get past Jelena Jankovic in the previous round.
She finally got on the scoreboard as she began to find her first-serve range, but Pavlyuchenkova kept pounding her with big-hitting ground strokes to break again for 5-1.
Kuznetsova stayed in the hunt, clawing back a break, but Pavlyuchenkova was getting 75 percent of her first serves in and was too physical.
She grabbed another early break in the second set, which became a dogfight, before sending the 31-year-old out of her 17th Australian Open in just 68 minutes.
Defeat was bitter for Kuznetsova, who was targeting her first Grand Slam quarter-final since the French Open in 2014 and her first major title since Roland Garros in 2009.
Updated Date: Jan 22, 2017 16:01:46 IST