A week back, if you had asked any tennis fan to pick potential semi-finalists in the men's draw, two of the four names would have been one of the top two – defending champion Novak Djokovic and World No 1 Andy Murray. The other two would be expected to be from the top-10 players, if not the immediate next highest seeds.
But then exactly a week back, Djokovic was shockingly upset in only the second round by wildcard Denis Istomin. This was followed by Murray being felled in the fourth round by World No 50 Mischa Zverev. All of a sudden, the men's draw opened up invitingly – and the Grand Slam veterans Roger Federer and Rafael Nadal made the most of it.
Federer, who was in Murray's quarter, made light work of Zverev unlike the Scot, and reached his 41st Grand Slam semi-final. Nadal overcame the third and highest remaining seed Milos Raonic with clinical efficiency and made it to the last four. Djokovic's absence was utilised by 15th seed, the prodigious Grigor Dimitrov, who halted the fairytale run of Denis Istomin. The only card in the deck who studiously stuck to the plan was fourth seed and former champion Stan Wawrinka.
There you have it then, the last four of the first major of the year:
The 17th seed and four-time former champion, 35-year-old Federer
The 15th seed and second-time Slam semi-finalist, 25-year-old Dimitrov
The ninth seed and 2009 champion, 30-year-old Nadal
The fourth seed and 2014 champion, 31-year-old Wawrinka
A week changes a lot. The next two days will change even more.
On Thursday, 26 January, the first semi-final will be an all-Swiss affair – Federer will play long-time friend and recent rival Wawrinka. On Friday, 27 January, it will be a battle between youth and experience when Nadal takes on Dimitrov.
Here's a closer look at the surprising match-ups.
Stan Wawrinka (4) vs Roger vs Federer (17)
Head-to-head: Federer leads 18-3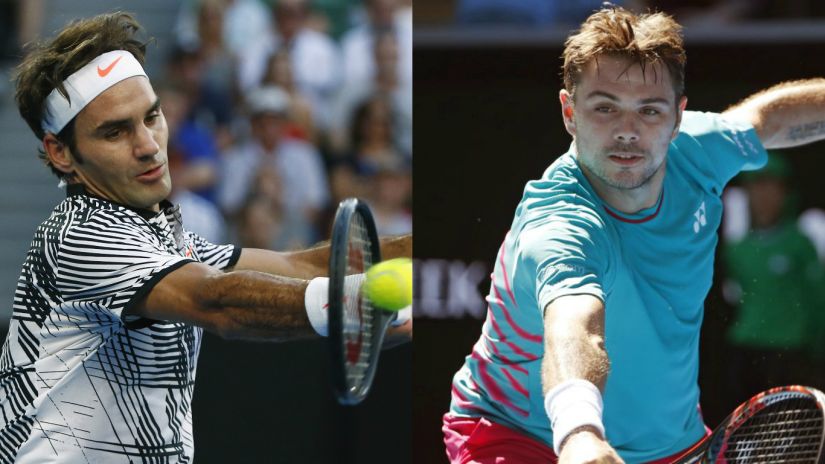 Don't go by that head-to-head record, Wawrinka will be post-layoff Federer's biggest obstacle yet. Yes, he made light work of top-10 players Tomas Berdych and Kei Nishikori and Murray-slayer Zverev, but Wawrinka won't be a Swiss roll-walk like the other two.
It took Federer just 92 minutes to beat Zverev 6-1, 7-5, 6-2 and set up a last-four clash with his compatriot, who was equally comprehensive in his quarter-final against Jo-Wilfried Tsonga with a 7-6(2), 6-4, 6-3 win spanning two hours, 15 minutes. It is the world number four's eighth Grand Slam semi-final appearance, to Federer's whopping 41st. In fact, the 35-year-old Federer is the oldest semi-finalist in Melbourne since Arthur Ashe in 1978, and the oldest at any Grand Slam since Jimmy Connors, 39, at the 1991 US Open.
Wawrinka has won three Grand Slams in the last three years, including the most recent US Open. He is also the highest-ranked seed, a former champion and has steadily improved his game over the past 10 days at Melbourne Park, after an initial run of tie-breaks, five and four-setters. He is an established big match player, having won every Slam final he has played, and probably knows his teammate Federer's game better than most competitors.
Federer, on the other hand, has surprised most, even himself, in reaching the semi-final after missing the second half of the 2016 season following knee surgery. His ranking dropped to 17 and the only match practice he had before this tournament was the Hopman Cup exhibiton. He has shown shades of his vintage self in the first five matches, looked physically more comfortable with long-drawn games than his last outing at Wimbledon, and his hunger to succeed is evident to all. But even with a 2.0 approach, Federer has not been on the same competitive level as his compatriot in the recent past.
The two have met at Grand Slams before, Wawrinka overcame Federer on clay in the quarter-finals of the 2015 French Open, but their last major meeting, in the semi-finals of the 2015 US Open, saw Federer sail through.
But all these stats mean nothing when the two former champions play each other on Thursday, because a Slam-winning performance ultimately comes down to margins – the margin between in and out, the margin between break point and hold, the margin between a deft volley and the net, the margin between final and semis. This match won't be easy; the Swiss who reduces the margins and covers the gaps effectively will emerge as the winner. Federer has the experience of doing just that 17 times before in major finals and he certainly has the will to do it again. Wawrinka has done it thrice himself.
Grigor Dimitrov (15) vs Rafael Nadal (9)
Head-to-head: Nadal leads 7-1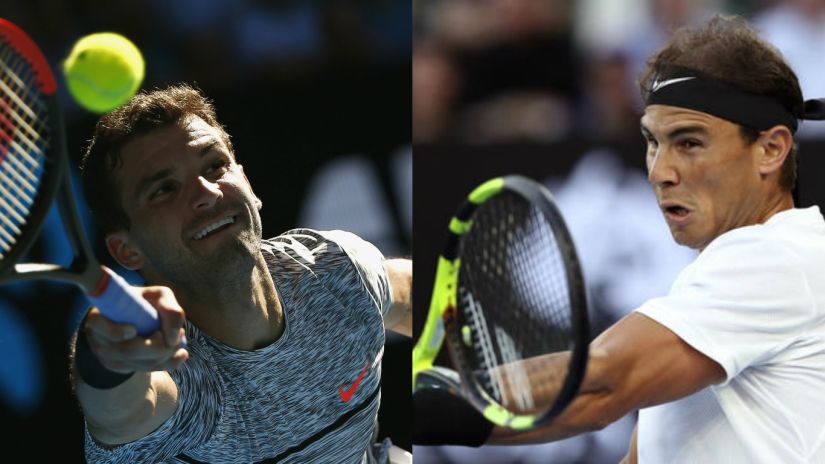 In case that head-to-head record wasn't enough, here's further number crunching.
This is Dimitrov's second major semi-final, while it's the 30-year-old Spaniard's fifth Australian Open and his 24th Grand Slam semi-final. Dimitrov has never gone past the semis at a major. Nadal is a 14-time champion.
But the Bulgarian isn't called 'Baby Fed' without reason. In the quarters on Wednesday, Dimitrov demolished 11th David Goffin 6-3, 6-2, 6-4 in a little over two hours.
With his stylish shot-making game, he can, on his day, paint a pretty picture with his racquet. Nadal, on the other hand, wields his racquet like a weapon, and it served him well in his quarters against Raonic, who was completely outplayed 6-4, 7-6(7), 6-4.
Dimitrov, who was expected to be the Nex Gen front-runner, went off course for a period of time. But he is steadily making his way back, now working with Murray's former coach Daniel Vallverdu. The impact of the coaching change is apparent, as he has followed a successful season-opening week at Brisabne with an even more impressive one at Melbourne.
Nadal, on the other hand, is resurgence redefined. He missed about six months of the 2016 season – one of his several injury layoffs. At the start of 2017 season, he said he doesn't remember the last time he wasn't in pain. Yet, here he is, running across the court like a warrior, overshadowing Alexander Zverev, overpowering Gael Monfils and outwitting Raonic. He looks fitter, fresher, hungrier and completely capable of winning his 15th Grand Slam, for the first time in over three years. Nadal has the services of a new coach as well, in the form of compatriot Carlos Moya, which may be another factor in this unprecedented rise.
But the Bulgarian might not be as easy as the injury-hit Canadian. In a contest between the old and new, power and precision, strength and style, it will ultimately come down to who can push that extra inch. Nadal has done that 14 times before in Slam championship matches, and he certainly can do it again.
Over to the Rod Laver Arena.
Updated Date: Jan 26, 2017 08:48:31 IST