As Rio 2016 fever builds up, here's a look back at India's greatest ever Olympic moments
India's individual Olympic moments will go down in history as an amazing feat considering the times they were achieved in. Here's a look at some of them.
India is sending 100 plus athletes to the Rio Olympics with the hopes of winning at least ten medals at this edition of the Games, that started on 5 August and will go on till 21 August.
The country has seen some incredible individual Olympic moments that will go down in history as amazing feats, considering the times that they were achieved in. Here is a look at some of the best of them:
Abhinav Bindra - Gold at the 2008 Beijing Olympics
India's crowning moment at the Olympics came in 2008, when Abhinav Bindra won the gold medal in the 10m Air Rifle event. Though it's a surprise that this was India's first individual Olympic gold medal, it will go down as one of the most memorable moments in our Olympic history. With virtually no help from his coaches and a tough field, Bindra managed to do what no Indian had done before. Eight years on, he still spearheads the Indian contingent at the Rio Olympics and remains a medal hope.
Sushil Kumar - Bronze at 2008 Beijing and Silver at 2012 London Olympics
Sushil Kumar holds the unique distinction of being the only Indian Olympian to succeed at two different editions of the Games. While he was a surprise bronze medalist at the Beijing Games, at the London Games, there was hope that he might actually go on to win the gold – but had to eventually settle for a silver medal.
He, however, is not competing at the Rio 2016 Games due to a change in official weight classes and injuries, which led to the Wrestling Federation of India (WFI) handing Narsingh Yadav a spot in place of the veteran. Following a lengthy period of court cases and controversy, the veteran wrestler had to bow out, albeit in a not-so graceful manner.
Vijay Kumar - Silver at the London Olympics
Vijay Kumar landed what was yet another shock victory at the London Olympics, with his silver medal in the 25m rapid pistol event. A Subedar Major in the Dogra Regiment of the Indian Army, Kumar was brought under the Olympic Gold Quest venture and was trained by Russian coach Pavel Smirnov. Kumar was unable to qualify for the Rio Games, and is a major medal hope gone amiss for this year's event. But the shooter has put his support behind the Indian contingent and said that the nation can expect up to four medals at Rio.
Rajyavardhan Singh Rathore - Silver at the 2004 Athens Olympics
Indian shooters have long been the best medal hope for the nation, but the man to pioneer this trend was none other than Rajyavardhan Singh Rathore. He won the only medal for India at the Athens Games, in the men's double trap shooting event, with a score 179 (135 in qualifying and 44 in the main event).
Rathore's medal was historic primarily because it was India's first silver medal in an individual competition at the Olympics. An incredible feat and a first for India at the Olympics.
Khashaba Jadhav - Bronze at thw 1952 Helsinki Olympics
The distinction of winning India's first individual medal in the Olympic Games, since gaining independence in 1947, goes to Khashaba Jadhav, who won a bronze medal in freestyle wrestling. Jadhav is the only Indian Olympian who has not been awarded with a Padma Award. A shame considering his status as the first Olympian of an independent nation.
Leander Paes - Bronze at the 1996 Atlanta Olympics
To be able to put a tennis great like Andre Agassi on the backfoot and almost snatch a win is by all means an incredulous enough feat, but the fact that Leander Paes managed to bag a bronze medal for individual tennis for India, speaks volumes of the service he has provided for the country and tennis. He competed in consecutive Olympic appearances from 1992 to 2012, and with his representation at the 2016 Rio Games, he becomes the first Indian and only tennis player to compete at seven Olympic Games.
MC Mary Kom - Bronze at London Olympics
Mary Kom edges out Vijender Singh for this spot purely because of the heart and determination she had shown, against all odds, to not only return to the prime level of boxing but to go on to win a medal for India at the Olympics. Her showing at London was expected yet satisfying as her hard-fought journey deserved recognition that was nothing short of an Olympic medal. This year, she will not be taking part at the Rio Olympics after ranking fourth in the Asian Qualifiers and just missing out on a continental quota.
Saina Nehwal - Bronze at the London Olympics
Saina Nehwal's crowning glory for India came at the London Games when she bagged a bronze medal. What a proud moment it must have been to be the first Indian badminton player ever to win an Olympic medal for the country, ahead of the likes of Prakash Padukone and Pullela Gopichand! At the Rio Olympics, she once again leads India's badminton hopes in the Rio Games and her recent showing at the Australian Super Series makes her a sure-shot medal contender.
Karnam Malleshwari - Bronze at the 2000 Sydney Olympics
Karnam Malleshwari's bronze medal takes precedence over Yogeshwar Dutt's London Games effort primarily because at the time of her achievement, weightlifting in India was on the rise and her win was the completion of a golden cycle for the sport in India. But drug scandals in the years after the win have made the sport of weightlifting a long shot, as far as achieving any medals in at the Games is concerned.
Gagan Narang - Bronze at the London Olympics
Perhaps the only athlete in the list who performed well below his target, Gagan Narang was destined for gold at the London Games but just did not live up to his potential. He had to end up settling for a bronze medal, at the 10m air rifle event, and now goes to the Rio Games hoping to avenge and better his medal tally. He was another Olympic Gold Quest athlete and is a medal hope at Rio, after winning a bronze at the 50m Rifle Prone event in US during qualification.
Special mention: Indian Hockey team - Eight gold medals
A special mention goes out the Men's Indian hockey team. To win a gold medal is a special achievement. But to win an unprecedented eight gold medals speaks volumes of the quality of the team of the yesteryears. It is a feat that will be very difficult to replicate and therefore India's eight gold medals in hockey deserve a special mention, at the very least. Even if it is in a list that talks about the country's individual medal winners!
While these athletes have done their country proud, we must take a step back and ponder over how a country of more than a billion people have only mustered a handful of Olympic medals amongst them. Perhaps a look at our neighbours China, and the bountiful of gold that they bring from the Olympics every four years, might spur a nationwide awakening for the need to produce world class sportsmen and to compete on a global level for glory.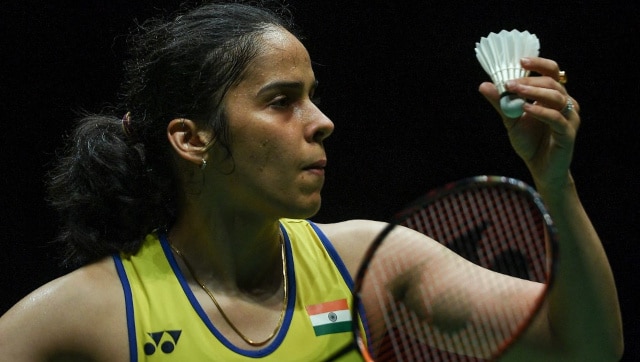 Sports
Saina Nehwal had questioned the timing of selection trials and slammed BAI for "putting" her out of CWG and Asiad
Sports
After shooting a world record score to clinch a gold medal at the Deaflympics, hearing-impaired shooter Dhanush Srikanth sets his sight at the 2024 Paris Olympics gold medal.