Arjun Maini interview: Indian racer on joining Haas F1 team, his first GP3 win and future aspirations
Arjun Maini in an exclusive interview talks about his maiden win, what it means for his future and if he will ever be teammates with his brother and budding racer, Kush.
'In the flow, riding the wave,' would be the best way to describe the last few days for Arjun Maini. After being announced as the Haas F1 team's development driver, there was immense positivity in the media and the paddock surrounding the young Bangalorean's talent and career prospects in the world of Formula 1. Maini did justice to this positive PR by clinching his maiden GP3 win in the season's first weekend itself. To be honest, we didn't expect his first win this soon in his seven-month-long campaign.
In between his busy racing weekend in Spain, where he hobnobbed with the who's who from the world of Formula 1 and the Haas F1 team, Maini took some time out to answer our questions regarding his maiden win, what this means for his future and if he will ever be teammates with his brother and budding racer, Kush.
Your first ever GP3 win, in your first racing weekend of 2017. How does it feel?
I am absolutely thrilled and emotional, the feeling is still sinking in. I am a proud Indian and to hear our national anthem on the podium and relayed on television across several countries in world will always remain a memory to cherish from this weekend.
Did you expect to win this early in the season?
The vision is always to win. But the focus has to be on the process. When you do everything right and at the right time with least mistakes you end up a winner. I always had the confidence that I could win and I am glad that the win came in the very first round. This has given a boost to my confidence for the remaining series.
Did you do anything different this weekend that helped you clinch your first win?
I had made a few mistakes in the race on Saturday (where he finished seventh) since we were unable to find the perfect balance (which is most crucial at the aero-demanding Circuit de Catalunya). I sat with the team to analyse my data and we made some changes to my car setup. We also made a list of do's and dont's for me to follow under different sets of circumstances — this helped me maintain my lead effectively.
Now that you have won, will this change or sharpen your approach in any way for the next few races? Does the win merit you much respect from fellow racers and the paddock?
A win always helps boost confidence and we now know what setup makes me comfortable, which will aid my future race preparation. And I believe that all of us as racers develop a respect for the winners and I do hope that I can win a few more.
Who are the key members of 'Team Arjun Maini' that you would like to thank for this win?
I want to thank my team, Jenzer Motorsport, for putting together a package that helped me win. Andreas Jenzer, Nicolas Calliol (engineer), Mike Reedy (driver coach), my mechanics, Dr Shree Advani (sports psychologist), Dr Vijay (fitness coach), Karun Chandhok and my parents.
I would like to thank Gene Haas and Guenther Steiner for putting their trust in me and having signed me as a Haas F1 development driver.
I would also like to thank my sponsors and supporters, Sanjay Sharma from JK Racing, who has supported me for several years, and TVS Racing, who have signed up to support me in my career as a single-seater racer.
Finally, I would like to thank all those who have helped me from a young age to become who I am today. This is only the start and I have a long way to go. I am determined to make it to Formula 1 and will do everything I can to help make my dream into reality.
From Force India's 'One from a Billion' to now Haas' development driver, you're one of the few junior drivers to have two Formula 1 teams expressing interest in your talent and career. How does it feel?
The feeling is very good as to go all the way up to being a Formula 1 driver, the first step is to have an association with a Formula 1 team.
Force India did an excellent job of hosting the "One from a Billion Hunt" across India and by awarding me a scholarship for a full year of karting in the UK. I am proud of winning this hunt and being recognized as the best in India. (Arjun was 13 years old when he won this competition.)
The step up now as a Haas Formula 1 development driver is much larger as you are graduating from an academy driver to a development driver. Except one weekend this year, the GP3 series is held on the same weekends as Formula 1 and hence the visibility is huge for us budding racers.
At the end of the day, you have to perform so that the right people in the paddock take notice.
From racing Rotax karts in India to now racing GP3 cars in Europe, how's the journey been? Any specific low and high point that you could share?
The journey has been fantastic. It originally took me all over Asia and then across venues in the UK and Europe. The perks of being a racing car driver is the opportunity to travel far and beyond.
My low point would be during my last karting race in the UK, as a Force India Academy driver. I was running a fever, 102 degrees I think, but still wanted to race. I missed qualifying and ended up starting from the back of the grid. Even though I finished higher than my starting position, this race showed me in poor light. But then, it made me wiser too.
My highest point has to be this weekend! It all started on Thursday with the announcement from Haas F1 team appointing me as their development driver. And this was followed by my maiden GP3 race win, of course. I had goosebumps seeing the Indian tricolor displayed on the podium just over me!
From European F3 to GP3 in 2016, can you explain this mid-season switch? What went wrong in European F3? Did it bother you especially given how important F3 is in a driver's career?
I actually drove F3 cars for one and a half years before thinking of the switch. My team and I believed that I had picked up key learnings from F3 and were okay with the thought of the switch. In F3, the team you are racing for plays an important role and while we had a strong car in Macau (in 2015) and a good package for 2016, not having a teammate did have an impact in our preparations.
Apart from this, we were the only team using a different engine. We actually spent a lot of time to understand our lack of pace and it helped that I shared such a good relationship with T Sport. We realized that it would be best for me to explore a different option and hence the decision to switch was made. GP3 is actually a step up from F3, so I am glad that I was competitive straight away.
Any specific reason for you to pick Jenzer Motorsport for your 2017 campaign and not the championship winning ART Grand Prix?
ART is a very professional team and every race driver would want to be in the ART GP3 team as they have been on top for many years. I tested with them but the maximum number of cars that a team can field is four and they had already decided their four drivers.
I had driven for Jenzer in 2016 and I found them highly dedicated and experienced. My engineer, Nicolas Calliol, in particular is extremely talented and together we have improved the car significantly. In fact, since Jenzer was not in the top four teams in GP3, we felt that if we could together improve the car enough and win, then it would be a much larger milestone achieved compared to winning in an ART car because everybody expects you to win.
How much does a typical GP3 campaign cost?
A typical GP3 is expensive but my burden has been greatly reduced thanks to my sponsors. I hope my maiden victory increases corporate interest in the sport in India. I would most certainly need their support at every step of the ladder till Formula 1.
What's your usual race weekend preparation like? Take us through your daily schedule starting Thursday and leading up to the Sunday of the race.
The Spanish GP weekend was busier than usual — thanks to the announcement, I spent a lot of time with the team and the press. As for track time, GP3 offers limited track time compared to other categories (Friday Free Practice — 40 mins) and one has to make the best use of the allocated time. An hour before the test, I do a 10-minute warm up route with my driver coach to make sure my reflexes remain sharp. On the Saturday, I often indulge in a power nap to keep myself energized through the day — in fact, our Saturdays end up being really long. We have a two races on a weekend — the feature race on Saturday (40 mins) and the sprint race on Sunday (30 mins).
We also undertake a 'track walk' along with my engineer (Nicolas) and my driver coach (Mike) where we discuss ideal racing lines, kerbs and other technical aspects in great depth. These are notes that help me during qualifying and in the race. We then go through a briefing session where we go through the data from the sessions of that day and mark improvements.
In Spain, I also had fun participating in a simulator session with five other race drivers and one fan. It was a fun atmosphere and I am glad to see being efforts taken to market our sport to the younger generation.
Romain Grosjean's motive to join Haas was clear. Use the Haas-Ferrari connection and see if he can get himself into Ferrari. Any such dreams or aspirations for you? Will the Haas-Ferrari link help in your development phase too?
At the moment my complete focus is on the GP3 series; I need to make sure that I do a good job of the races. If I perform as per expectations, I am sure the opportunities will come.
Though you're a Haas-contracted racer, what team and driver have you grown up cheering for?
Ferrari with Sebastian Vettel is my recent favorite but Michael Schumacher is someone I respect a lot. A lot of my passion came from reading and seeing videos of Aryton Senna, who is one of the greatest drivers.
Which is your favourite racing circuit and why? Which circuit have you not raced on yet and would like to do so?
My favorite racing circuit becomes Barcelona now because I won here! However, I love to drive at Silverstone as well as street circuits like Macau and Pau.
I am waiting for my chance to drive at Monaco, which I think is a very challenging circuit.
How important a role has your sports psychologist (Dr Shree Advani) played in your journey? You are one of few Indian athletes to have understood the need for and effectively engaged with a psychologist early in your career.
Shree has played an immense role in my career for several years now. My father coached me when I was young, but as I grew older, he knew that he had to withdraw and he helped build a team of professionals that helped my development further. The mind is a very important aspect of sport and can literally make or break one's career. I have to commend Shree for toughening me up mentally.
This GP3 win came to me after a two-year break but I never lost faith in my abilities. I knew that I had to focus on the process and wait for the results to come. I wouldn't have matured to this level without the 'mind coaching' of Shree and I would definitely like to acknowledge the strong positive influence that he has had on me.
Similarly, I would like to highly the contribution of Dr S Vijay, my fitness trainer. He's instrumental in working with me for several years to help build my cardio as well as strength in a uniform manner — important for one pursuing a career in motorsport. Generally speaking, as Indians, we aren't good athletes and hence it means that I've to work that bit harder to remain race fit through the season.
Finally, your brother Kush is a good racer too. Head-to-head, who do you think will come out on top?
Kush and I enjoy competing. I think he has more experience in Karting and I have the upper hand in Racing, for the moment. Kush is a very fast driver for his age and very talented. We have engaged in several simulator racing sessions each other on different tracks. Since we have a three-year age gap, it's unlikely that we would race in the same championship unless both of us make it to Formula 1.
The hallmark of an international athlete is to be sharp on the field of play and off it. Maini's handling of this interview session indicates that his media training has been as spot on as his race training. Let's hope Arjun's exuberance and enthusiasm rubs onto Indian fans and corporates — support from both would be crucial in his journey toward Formula 1. Godspeed, Arjun!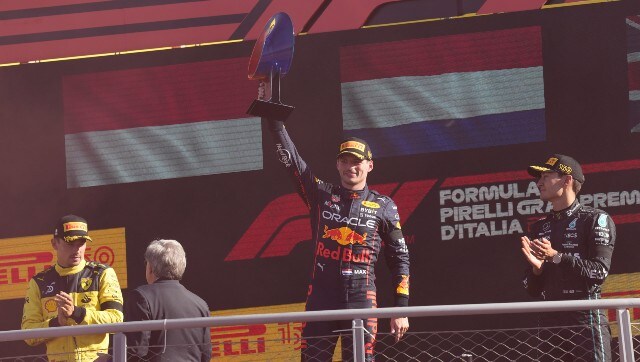 Sports
Max Verstappen opened up a 116-point lead in the drivers' standings over Charles Leclerc following his victory at the Italian Grand Prix.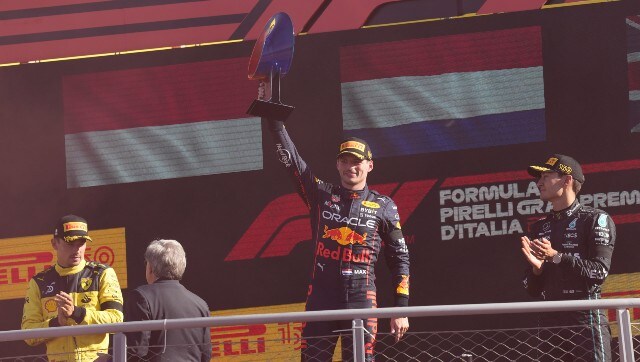 Sports
A race win in Singapore could secure the title for Max Verstappen but it will depend on the results of his nearest rivals.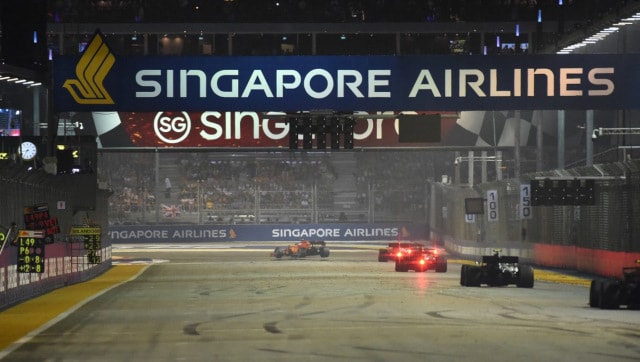 Sports
Away from the track, Singapore GP will see performances by Westlife, Black Eyed Peas and Suede, plus American rapper Fatman Scoop and Dutch DJ Oliver Heldens.