Archery World Cup Stage II: All eyes on Deepika Kumari after Indian archers have dismal outing on Day 1
India dished out a disappointing performance as both the men's and women's compound teams lost in the semi-finals of the Archery World Cup Stage II on Thursday
Antalya, Turkey: India dished out a disappointing performance as both the men's and women's compound teams lost in the semi-finals of the Archery World Cup Stage II on Thursday.
Fresh from their historic gold medal in World Cup Stage I in Shanghai, the men's compound team lost to second-seeded Danish team 234-236 in a tight battle.
Locked 117-all at the midway stage, the women's team faltered under pressure to lose to top seed Denmark 230-233.
The men's and women's teams will now battle for bronze medals against France and Italy respectively on 10 June.
There was heartbreak in store in the recurve section as well where the men's team made a first-round exit going down to lower ranked Germany 0-6, while the women's side lost 0-6 to Russia in the quarter-finals.
Led by World No 1 Stephan Hansen, the Danish team of Andreas Darum, Martin Damsbo began with a bang with six 10's including four X (closest to centre) for a perfect 60 in the first end, that proved decisive in the men's compound semifinal.
The sixth-seeded trio of Abhishek Verma, Chinna Raju Srither and Gurwinder Singh had no answer to the Danish team's superlative show as they started off with a 58.
Indians matched their Danish opponents in the remaining three ends but it was not enough as the two-point lead in the first end clinched the issue.
All eyes will now be on top seed Deepika Kumari in the women's individual section where she and unheralded Monika Saren will be seen in action on Friday as two other Indians, Preeti and Ankita Bhagat, made round two exits.
Having got byes in the first two rounds, top seed Deepika will begin her campaign against 32nd ranked Veronika Marchenko of Ukraine.
Monika, who is seeded 31, got a first round bye and went on to beat 34th seed Anastasia Pavlova of Ukraine 7-3. She will face a tough challenge from second seed Peng Chia-Mao of Chinese Taipei in round three.
45th seed Preeti started with promise defeating Astrid Daxbock (68) of Iceland 6-0 but went down to 20th seed Ana Umer of Slovenia by an identical margin.
Seeded 49, Ankita defeated Karakoz Askarova (64) of Kazakhstan 6-0 before losing to 16th seed Lin Shih-Chia of Chinese Taipei 3-7.
Olympian Atanu Das and Dhaniram Basumatary, who was the best Indian in yesterday's qualification, remained the country's two flag-bearers in the men's recurve section as Indrachand Swami and Viswash made second round exits.
Seventh seed Dhaniram, who got a bye into round three, will face 26th seed Arsalan Baldanov of Russia.
Beginning his campaign from round two, 13th seed Das defeated Miguel Pifarre Trujillo of Spain 7-3 and will face Muhammad Akmal Nor Hasrin of Malaysia on Friday.
Swami began with a 6-0 win over Levon Poghosyan of Armenia before going down to Onur Tezel of Turkey 4-6.
In the men's compound individual section, Verma beat 55th seed Gudmundur Orn Gudjonsson of Iceland 146-126.
Verma will face teammate Srither in the second round clash on Friday.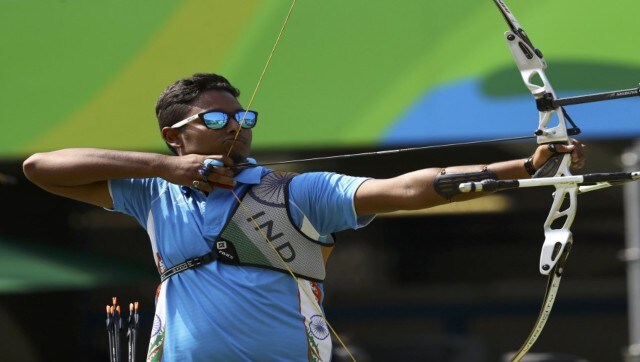 Sports
Training resumed gradually from August with men's and women's recurve archers returning to the Pune's Army Sports Institute (ASI) on 25 August.
Sports
The Indian recurve mixed duo will take on top-seeded Korean pair of Ku Bonchan and Choi Misun in Sunday's gold medal clash.
Sports
Das lost a one-sided bronze playoff to reigning Olympic champion Mete Gazoz of Turkey 6-0 (27-29, 26-27, 28-30). He doubled up as Deepika's coach when the world number two lost in the shoot-off to Olympic team bronze-medallist Michelle Kroppen.