Anju Bobby George, 'robbed' of Athens Olympics medal by drug cheats, begins bid to claim it
Anju Bobby George said: 'We need justice. Those three cheats stole our glory. They have been ahead of us throughout our careers, but now we know it was through performance enhancing drugs.'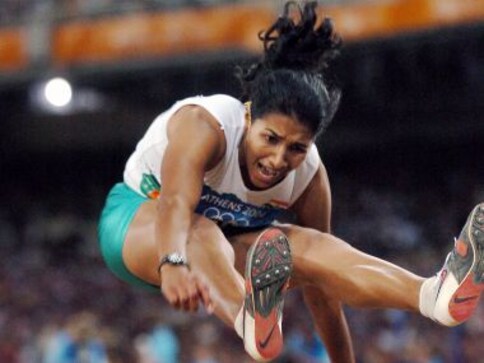 Over 12 years after the Athens Olympics, Anju Bobby George and two other athletes — Australia's Bronwyn Thompson and Britain's Jade Johnson — have made a bid to claim the long jump medals the trio believes were "stolen" from them by dope cheats.
All three athletes are hoping to enlist the support of their national Olympic bodies to put up a united front in front of International Olympic Committee (IOC) and are bidding to get justice. Anju said that she had already secured the backing of the sports ministry, Athletics Federation of India (AFI) and Indian Olympic Association.
Even though the medallists in the women's long jump event at Athens — Tatyana Lebedeva (gold), Irina Simagina (silver) and Tatyana Kotova (bronze) — passed the dope tests at the time, they have subsequently failed tests in other competitions. That, and the revelations of state sponsored doping coming out of Russia in recent months, have led Anju, Thompson and Johnson to believe that foul play was afoot during the 2004 Games.
"All three of us and our national associations are going to appeal our case to the IOC. We need justice. We plan to stand together and raise our voices," Anju told Firstpost on Tuesday.
"Those three cheats stole our glory. They have been ahead of us throughout our careers, but now we know it was through performance enhancing drugs. We also know now that what was going on in Russia was state-sponsored."
Anju refused to reveal the exact plan of action the three countries had fearing that it would compromise their chances.
Lebedeva, who is a senator in Russia, had her 2008 Bejing Olympics silver medals for long jump and triple jump stripped off in January this year as her samples taken during the competition tested positive for the steroid turinabol in a reanalysis. She retired from competition in 2013 and famously accused the World Anti-Doping Agency (Wada) of being a tool of "the Anglo-Saxon lobby" and trying to manipulate the Olympics. Meleshina was reportedly given a two-year ban in April 2012 for steroids.
Meanwhile, Kotova was stripped off her 2005 World Athletics Final gold medal due to doping in 2014, with Anju's silver for the Monte Carlo event being upgraded to gold.
Inhaling mystery substances
However, according to a source, a part of the trio's case depends on witnesses who saw certain "questionable" incidents on the day of the competition. Anju revealed that she had a suspicions over the Russian trio from the day of the event in Athens. "I saw one of them inhaling something and the other drank some liquid from an ampoule (vial). The security at the venue was really tight, so at that time I didn't think it was possible that they could have brought any prohibited substance at the venue," Anju said.
Lebedeva jumped 7.07m while Simagina and Kotova jumped 7.05m to make it to the podium. While Thompson jumped 6.96m to finish fourth, Anju was sixth with a best effort of 6.83m. Interestingly, USA's Marion Jones had finished ahead of Anju with a jump of 6.85m, but was stripped of her place in December 2007 due to doping offences.
Unfortunately, the samples have been destroyed with IOC mandate allowing for them to be stored for only 10 years for the purpose of retesting.
However, Anju says she is convinced that the trio has a case.
"We have been gathering details that support our cause for many months now. In few days, there will be a meeting of Athletics Australia, where they will hear Thompson's case," she said.
Rajyavardhan Singh Rathore's silver in shooting is India's only medal at Athens. However, with Anju and the two athletes vowing to see this fight to its logical conclusion, there is a possibility that that number could double.
Sports
Russia is pushing for all restrictions to be lifted, arguing that the Olympics should not be politicised.
World
Russian athletes have been at risk of being banned — though ultimately competed — at each Olympics since the steroid-tainted 2014 Sochi Winter Games. This time it is Russia waging war on Ukraine. Earlier it was Russian state-backed doping and then authorities trying to cover it up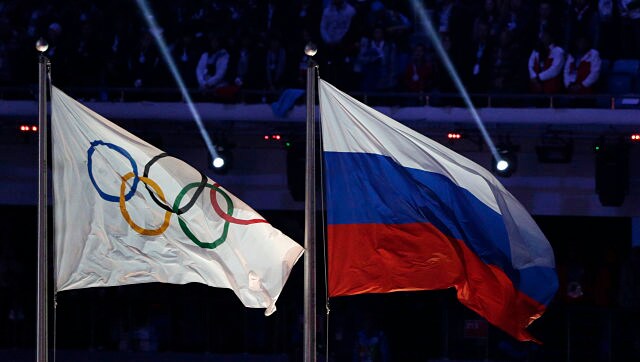 Sports
While most international federations followed the IOC's recommendation in February to ban Russian and Belarusian athletes after Moscow's invasion of Ukraine, the question is already being asked over their participation at the Paris Olympics