'Will take forward my husband's efforts': Slain Meghalaya NCP leader Jonathone Sangma's wife to contest polls
Krenilla Marak, the wife of Nationalist Congress Party (NCP) candidate Jonathone N Sangma, who was killed in an IED blast last Sunday, said she will contest Meghalaya election from the Williamnagar constituency.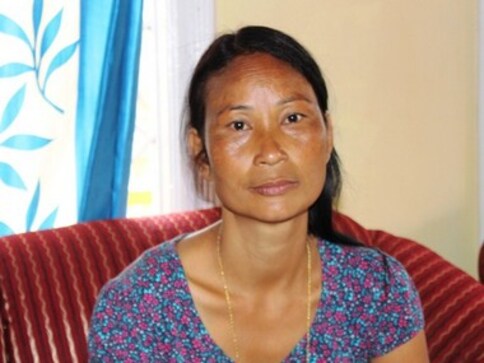 Shillong: Krenilla Marak, the wife of Nationalist Congress Party (NCP) candidate Jonathone N Sangma, who was killed in an IED blast last Sunday, said she will contest Meghalaya election from the Williamnagar constituency.
"I will contest the election to take forward my husband's efforts towards the well-being of the people of Williamnagar," the 38-year-old mother of five told Firstpost last week, adding, "Party leaders came to my house to express their willingness to allot me a ticket."
Meghalaya chief electoral officer Frederick R Kharkongor told Firstpost the election date for Williamnagar constituency has not yet been set, but will be announced soon. According to Kharkongor, polling in Willianmanar constituency will be held within 45 days. "Krenilla's nomination will be filed after a week," said NCP state president Saleng A Sangma.
While the scenic beauty across the Shillong-Williamnagar highway is incomparable, the road also leaves nervous commuters who are aware of the region's history of prolonged violence by the Garo National Liberation Army (GNLA), a militant outfit fighting for 'Garoland', which is suspected to have planned Jonathone's killing.
Posters threatening the electorate with death if they voted for NCP candidate in the 27 February Assembly election were put up across Williamnagar a couple of days before the attack. The GNLA, which is active in state's South and East Garo Hills districts, was campaigning against Jonathone.
Meghalaya Police, however, raised their vigilance and zeroed in on GNLA cadres on Saturday morning, and killed GNLA chief Sohan D Shira in an encounter near Williamnagar. The news brought happiness not only to Jonathone's family, but the entire Williamnagar town, which wore a near-festive look. Residents flocked to the market to celebrate the news of the militant's death.
Richard Shira, a resident of Rengregre, said, "I will drive to Tura and celebrate the militant's death with my friends. I am very happy that Sohan's killing came at a time when Garo Hills needed it the most."
Expressing his joy over Meghalaya Police's achievement, Benjamin Marak, an eyewitness to Jonathone's killing (he was in one of the four vehicles when suspected GNLA cadres attacked his convoy), said, "Jonathone died in front of my eyes. Today, I feel he has got justice, and the best part about it is justice was delivered quickly." Meanwhile, the NCP has demanded a probe by the National Investigation Agency (NIA) into the killing of Jonathone.
From homemaker to caretaker of husband's legacy
Jonathone's supporters have been gathering at his home near the market in Williamnagar's Nokgilawe town. The walls are covered with posters of the late NCP candidate vowing to eradicate poverty, bring employment and preserve the Garo culture.
Dressed in a Dakmanda, a traditional Garo outfit, Krenilla said she is hoping to start her election campaign in a day or two. Jonathone and Krenilla's eldest son, Peter, who is studying to be an engineer in Bengaluru, said he will actively participate in his mother's campaign."I want to help my mother win the polls by every possible means. I will accompany her to every campaign. I want to be her strength," the youngster said.
Peter said, "My father had (received) threats. He had also filed an FIR stating the same at Williamnagar police station two weeks before this (18 Feb) attack. Though we had seen those posters wherein militants threatened voters with death if they voted (for) my father, I had never imagined that we would lose him."
"We were a small happy family until last Sunday," said Krenilla, explaining that Jonathone had not told her about the threats he had been receiving since 2013. "I am very emotional at this moment. I want to carry forward my husband's unfinished work."
Jonathone was the runner-up from Williamnagar constituency as an Independent in 2013 Assembly polls. Krenilla said she has absolutely no experience in electoral politics, and so, will take a while to figure things out. "My husband never discussed politics with me. I was always busy handling the house and the kids. So it will take some time to understand the aspirations of my people," she said.
Reacting to GNLA chief's killing, Krenilla said, "I am very happy that Sohan is gone. Now, I can hope for peace in my region. This news is a huge relief to me."
Follow election result updates from Meghalaya LIVE
Explainers
Lab-grown diamonds are manufactured inside laboratories using cutting-edge technology. They have a similar physical appearance, chemical composition, and optical qualities as natural diamonds
World
New technologies are in the works, including hydrogen-powered aircraft, fully electric planes and synthetic jet fuel made from carbon extracted from the atmosphere
Explainers
The European Union has recently approved at least four insects for human consumption including mealworms and house crickets. Mealworms, which taste 'a lot like peanuts', offer the same amount of protein, vitamins, and minerals as fish or meat