Nitish Kumar ends alliance with Lalu Prasad: Sustaining Mahagathbandhan has never been easy
There have been many instances in the past which may have led up to this point of conflict between Kumar and Prasad.
Editor's note: This article was originally published on 28 June. It is being republished in light of Nitish Kumar's decision to step down as Bihar chief minister and dismantle the Mahagathbandhan, as it would be instructive to re-examine the factors that may have contributed to the fallout.
All is clearly not well in the Mahagathbandhan (grand alliance) in Bihar. Chief Minister Nitish Kumar and ally Rashtriya Janata Dal (RJD) chief Lalu Prasad — who were earlier bitter rivals — may pretend that everything is alright.
But Rajya Sabha MP and Janata Dal (United) — JD(U) — spokesperson KC Tyagi revealed how tense this alliance has actually become when he told News18, "The grand alliance cannot be saved…We were much more comfortable with the BJP."
There have been many instances in the past which may have led up to this point of conflict between Kumar and Prasad.
Presidential candidate
The latest point of conflict was the issue of support for the presidential candidate, an issue which substantially deteriorated the already tense ties between the two leaders.
While Kumar supported NDA's presidential candidate Ram Nath Kovind, Prasad — along with many other leaders from the Opposition — supported Meira Kumar.
Prasad even said that Kumar's decision to support Kovind was a "historical mistake".
News18 also reported that a close aide of Kumar said that "the CM wanted to send a clear message to those whose deeds are causing a stink" by supporting Kovind.
I-T raids on Lalu Prasad's properties
Kumar had reacted cautiously to the income tax department's raids to probe into the alleged benami deals worth Rs 1,000 crore involving Prasad and others.
"As per the media reports we have got to know that raids have been carried out at 22 places... But we don't know where those raids are taking place and what is the purpose behind them," Kumar had told reporters in a reply to a question.
In fact, according to NDTV, BJP leader Sushil Modi had claimed that people from JD(U) had helped expose the alleged corruption by Prasad and his family in this case.
The Shahabuddin angle
Jailed mafia don Mohammad Shahabuddin has been a thorn in RJD-JD(U) ties for a long time now. While Kumar was earlier reported to have been disappointed over Prasad's silence over Shahabuddin's jibes against him, JD(U) reacted strongly after the don's alleged conversation with Prasad was aired by a news channel.
"Bihar government will investigate purported conversation between Lalu and Shahabuddin aired by a media house. But let's be clear that our government did not transfer the superintendent of police whose name is taken in the audio and it proves that our government never compromised on law and order," News18 had quoted JD(U) spokesperson Neeraj Kumar as saying.
On the other hand, RJD had defended Shahabuddin and had said it will not expel him.
Tejaswi Yadav's barbs
On Monday, Prasad's son and Deputy Chief Minister Tejaswi Prasad Yadav, in a veiled attack, criticised Kumar for indulging in "political opportunism" and even implied that Congress vice-president Rahul Gandhi indulged in "part-time politics".
"With our opportunistic behaviour or political manipulations, we may score a few goals and make or break governments, but history, unlike television anchors, shall bear witness to the fact that when people needed us to strengthen the cause of progressive and people-centered politics, we decided to look the other way," DNA quoted him as saying.
Demonetisation
Kumar had earlier said that he was "in favour of the decision to demonetise Rs 1,000 and Rs 500 notes which will help end '2 number ka dhanda' (illegal business)." But he did criticise the Centre for not making proper arrangements leading to inconvenience to the common man.
On the other hand, Prasad was particularly bitter when criticising the currency ban and had suggested that "PM (Modi) should chose his favourite 'chauraha' (roundabout) where people could punish him for leading the country to a chaotic condition in the name of demonetisation to fight black money."
Surgical strikes
Kumar had hailed the Centre's decision to go for surgical strikes on terrorist launch pads in Pakistan-occupied Kashmir in the wake of Uri terror attack in September last year and said the entire country is united in the fight against the menace perpetrated from across the border.
Prasad, on the other hand, had hailed the army for its 'successful' surgical strikes in Pakistan-occupied Kashmir (PoK) but mocked the NDA-led Central government for "trying to take credit" for it.
With inputs from agencies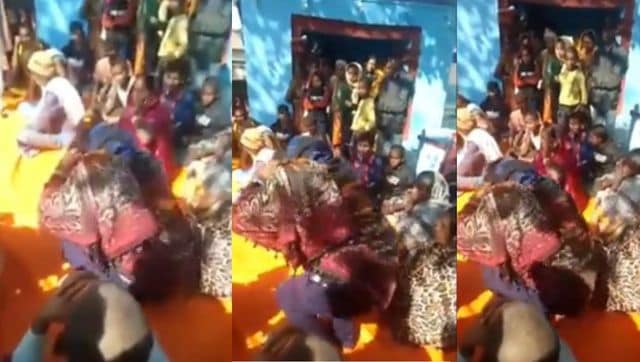 India
The accused owns a poultry farm in Kannauj village in Bihar. The family of the girl alleged that the man lured the minor to his farm on the pretext of giving her chocolates and raped her
India
The matter had come to light when many gunny sacks full of the stolen spare parts were recovered from a scrap godown at Muzaffarpur during a joint search operation
India
As per information, the people were having a funeral feast on the roadside when the car drove into the crowd.The injured were rushed to a nearby hospital