Uttarakhand Election 2017: With campaigning in last phase, a Modi-Harish Rawat face off is on the cards
A face-off between PM Modi and Harish Rawat is on the cards for the Uttarakhand election. Modi's rallies in different regions only strengthens this theory.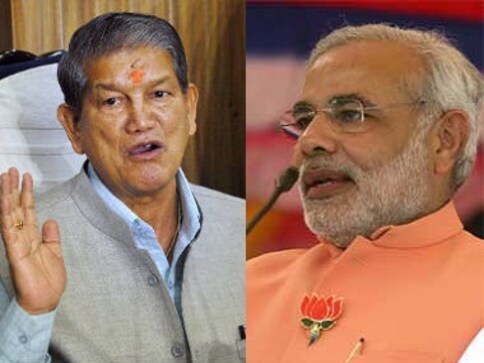 With the election campaigning in its last phase ahead of the Uttarakhand Assembly election, it seems that a direct face-off between Prime Minister Narendra Modi and state Chief Minister Harish Rawat is on the cards. Modi's decision to hold four rallies in different regions across the state only strengthens this theory.
While the BJP is banking on Modi yet again to turn the electoral wind in its favour, Congress is counting on Rawat, who has emerged as a one-man army in the party's quest to come back to power.
Barb-clad poll promises were the highlight of the penultimate day of their respective campaigns. While Modi tried to sway electorates in two political centres of Uttarakhand – Srinagar in Garhwal and Pithoragarh in Kumaon – Congress were busy trying to appease voters in the foothills and in Haridwar – the centre of plain-oriented politics – through scion Rahul Gandhi's road show.
Modi has tried to draw the battle lines along a development vs corruption debate in his four rallies so far. Targeting Congress on the corruption issue, he asked the people of the state to use this election as an opportunity to go for development of the state, by voting for BJP.
"The time for those who looted the country for 70 years must come to an end. I promise those who looted the country will have to pay back now. I will not rest and won't let the looters rest either," Modi said.
In Pithoragarh, he attacked the Congress, blaming it for turning the "dev-bhoomi" of Uttarakhand into a "loot-bhoomi". He requested the people to vote out the tainted government.
Replying to Modi, at the foothills in Haridwar, Gandhi said, "Modiji has no right to talk about corruption. All same tainted leaders who were earlier with us are now with BJP. We had thrown out trash from Uttarakhand but he lifted it and put it in his party."
Gandhi was pointing to the defectors who had rebelled against the Rawat government during the crisis last year, who had later joined the BJP.
The BJP is facing infighting in many constituencies due to these turncoats and many of them are contesting from constituencies in Haridwar, where Gandhi carried out a 75km road show. Rawat is contesting from two seats, including one from Kichcha in Haridwar.
In his 'vijay sankalp' rally at Rudrapur, Modi blamed Congress for Uttarakhand's poor condition and compared the state with two other states that came into being at the same time – Jharkhand and Chhattisgarh – saying that the latter two are far ahead in terms of development.
Referring to his demonetisation move, he said that corruption and black money are hand in gloves in the state. He added, "Uttarakhand has attained the age of 16 and the next five years are very important."
Taking pot-shots at Modi, Gandhi asked why the prime minister was unwilling to unearth 94 percent of black money stacked in Swiss Banks, real estate and bullion.
"Un choron ka naam aapne Rajya Sabha aur Lok Sabha mein kyon nahin liya," he said. While Modi has been portraying his demonetisation move as pro-poor, Gandhi has been touting it as a favour to the corporate world:
"The demonetisation decision was aimed at waiving off six lakh crores worth of loans of the corporate world," Gandhi said.
He quipped, "Mitron mera nam Modi hai, mujhe aapki jeb mein paise pasand nahin (Friends, my name is Modi and I don't like you having money in your pockets)."
On Modi's pledge of promoting the state's tourism, herbal wealth and yoga, and the promise to explore more avenues to stop the mass exodus from the villages in the hills, Gandhi said, "Modi promised to provide two crores jobs each year, but could manage a mere one lakh plus."
"Despite all the talks about 'Make in India', most products are still made in china," Gandhi added.
While attacking Rawat for his alleged corruption and negligence, Modi ridiculed his shift from the plains of Haridwar to contest the election from Dharchula in Pithoragarh.
By repeatedly mentioning demonetisation, OROP and the surgical strike, and highlighting basic issues of migration and unemployment in the state, Modi aimed to wash away Rawat's image of a 'vikas purush' in the state – which he was credited with for rebuilding Kedarnath after a natural disaster.
also read
India
Congress leader Rahul Gandhi on Thursday said that Muslim League is a completely secular party and there is nothing non-secular about the outfit, drawing a sharp condemnation from the BJP
Politics
Rahul Gandhi claimed, 'What is happening to the Muslim community in India today, happened to the Dalit community in 1980s'
Politics
Rahul Gandhi has once again come under fire for his remarks during an overseas trip. This time he is in the US. Addressing a gathering in San Francisco, the Congress leader said that all minority communities 'feel attacked' in India; the BJP has accused him of 'insulting the country'