UP Election 2017: What's keeping Narendra Modi from waiving farmers' loans, asks Akhilesh
Taking on Prime Minister Narendra Modi over his poll promises, Uttar Pradesh Chief Minister Akhilesh Yadav on asked why he was waiting for the results of the state Assembly election to waive farmers' loans.
Lucknow: Taking on Prime Minister Narendra Modi over his poll promises, Chief Minister Akhilesh Yadav on asked why he was waiting for the results of the Uttar Pradesh election to waive farmers' loans.
"Why Modi is waiting for the UP poll outcome to waive farmers' loans. He is the PM and he can do it anytime. Farmers of Maharashtra, Madhya Pradesh, Chhattisgarh and other states are also waiting for this (waiver)," he said.
Addressing a press conference hours before the fifth phase polling, he said Modi should tell people the works he has done during his nearly three-year tenure as the prime minister.
"How much has farmers' income increased after Modi's promise to double it?" he asked.
Akhilesh also refuted Modi's charge that no work has been carried out by the Samajwadi Party government in the state and rubbished charges of discrimination in implementation of various schemes.
He also hit back at Modi, asking, "What discrimination has my government done in implementing welfare measures for the masses?"
Asking the people of the state to analyse which party did what for them before making any decision on whom to vote for, Akhilesh said, "My government has a lot of achievements and a number of schemes to its credit and people trust SP, which did not discriminate while implementing schemes."
"We want to tell to the PM and the BJP leaders that a number of rallies have been addressed by them. The people of UP want to know when will you do 'kaam ki baat' (talk about your achievements). I tell about my work to people and expect same from the PM," he said.
"Wherever the PM goes he should inform people about the works the Centre has done. The people of state should know what the Centre has done for them. Demonetisation was aimed at curbing corruption, terrorism and black money but in the state where elections are not going on, people are facing a lot of hardships even now," he said.
Akhilesh once again challenged Modi for a debate on development and said, "His charge of discrimination did not have any ground. We provided electricity on all festivals. Varanasi (represented by Modi in Parliament) is also getting 24-hour power supply."
He said the government at the Centre stood "thoroughly exposed" on its work and they (BJP leaders) are now deliberately raking up "irrelevant issues and questions during polls".
Asked about SP patron Mulayam Singh Yadav's "disinterest" in campaigning for party candidates, Akhilesh said he would reply to this question after 11 March when the poll results are out.
On the use of "donkey" and other such words during campaign, he said, "This is not the language of Lucknow. We are just replying to issues raised by those who come from Delhi."
He expressed confidence that the SP-Congress alliance will notch up over 300 of the 403 Assembly seats.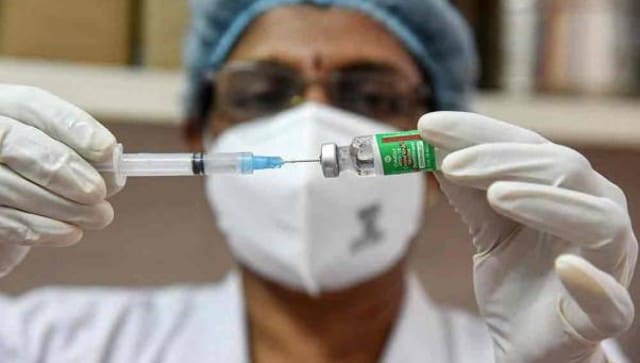 India
Health Minister Mansukh Mandaviya said this is the fastest pace at which one crore doses have been administered.
India
States are being asked to maintain a buffer stock for drugs used in management of COVID-19, mucormycosis, MIS-C at the district level
India
Pak ISI-trained terror module busted with 6 arrests, festivals were likely target: Find Latest Terror Attack News updates at Firstpost.com