UP Election 2017: Demonetisation truth trapped between anecdotal and real
Anecdotal is a funny word, at least is has assumed a funny connotation after demonetisation.
Anecdotal is a funny word, at least is has assumed a funny connotation after demonetisation. Cash is not available at many ATMs even in Delhi. People still hop from one bank branch to another, join queues blindly without knowing whether cash is coming out of the machines and return with sour faces, spewing expletives under their breath. Still there are many who would call the stories of inconvenience to people due to demonetisation 'anecdotal'.
Before we go further, here's a personal account. It's 8 pm. At the hotel in the Kanpur Cantonment area one suddenly remembers that one has run out of cash. On long road trips debit cards don't help much – you have to pay in cash for breakfast and lunch at roadside dhabas, get water bottles, buy something to munch to kill time, have a tea and at the toll gates among other things. One rushes out in search of ATMs.
The closest one outside the hotel has no cash. The second one a kilometer away is dry too. Panic sets in when it is the same story ATM after ATM. Panic sets in when one says 'your card is blocked'.
In desperation, one rushes to the nearest liquor shop (because such shops have high volume transactions and it is expected that they would be having swipe machines). The idea was – well, it's cheating – to ask the liquor seller to swipe for Rs 4,000, keep his small cut and pay back the rest of the money in cash. He doesn't have a swipe machine.
One was lucky to find an ATM with cash in a remote corner and the block message was not a problem. What if one had failed? Sure, the inconvenience was great. This is the case with a lot others in urban and semi-urban centres across Uttar Pradesh. In Agra, business around tourism has been hit due to low cash availability. And it is not anecdotal.
But speak to people in urban or semi-urban areas, they appear to have taken the post-demonetisation problems in their stride. In Meerut, Muzaffarnagar or Mathura they won't complain of having to wait for long at cash counters in bank or ATMs. The original fight against black money narrative of Prime Minister Narendra Modi still appears to hold strong. The lack of anger is difficult to understand. If it is there it is not visible. Maybe that is the reason non-BJP parties won't harp on it too much at the ground level. The BJP would be wary of going too far with it too. The real impact could be much deeper than it anticipates.
Rahul Gandhi, Akhilesh and Mayawati have been harping on the troubles due to demonetisation – how many times have you heard "logon ko line main khada kar diya (you have made people stand in line)" from them? But they would stop at uttering these at rallies, not beyond. The BJP leaders, including Narendra Modi, would keep emphasising the black money theme in their rallies. The fact is they are actually addressing an audience beyond the state. By default, a victory or loss here would be projected as a referendum on demonetisation though it might not be so. By extension, it would be a referendum on the credibility of Narendra Modi as a decision-maker.
The funny part is both supporters and opponents of demonetisation would like to see it in polarised terms: it's either real or anecdotal despite evidence available. It is along the lines the political parties see or would rather like to see it during campaigning. These quotes from Congress vice president Rahul Gandhi and BJP president Amit Shah in the last couple of days make it clear.
Here's Rahul Gandhi in an interview to The Hindu: "…the reality of it (demonetisation) is that you have bludgeoned the economy, you have destroyed livelihoods and you are in some world where you think this is a great economic step that you have taken…It's (demonetisation) going to hurt the BJP very badly. It's a devastating step for anybody who is part of the legitimate cash economy…"
And here's Amit Shah in an interview with The Economic Times: "Zaroor hona chahiye (That should certainly be the case). We want opposition to make it (demonetisation) an issue for referendum. We have no objection to it. They should go and ask for votes against demonetisation." To this he added at a rally Raniganj in UP: "BJP will be happy to accept the challenge."
The BJP would like to believe that the inconvenience due to demonetisation is more hype than real. The Congress would like to stress the opposite. But why are they reluctant to make it a full-fledged election issue? The answer is both are confused. Both are trapped between the real and the anecdotal.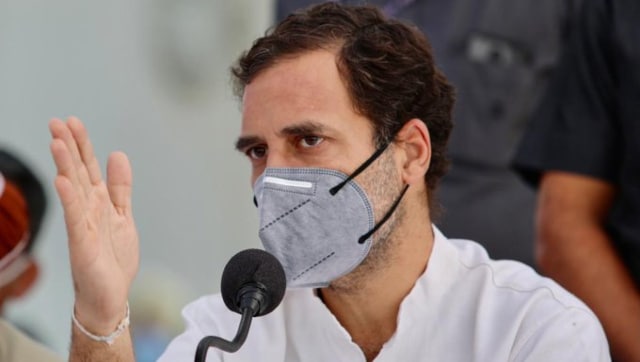 India
The Congress leader also targeted the government over Indian Army Chief General MM Naravane's "China was here to stay" remark in the context of stand-off in eastern Ladakh
India
No one among the cases reported this year have died so far.
India
The two parties has joined hands to fight the battle of the deprived, oppressed, backward, Dalits, women, farmers, youth and the weaker section, as per Samajwadi Party's Twitter handle