UP Election 2017: All is not well for BJP in Varanasi as locals notice credibility gap between promise and delivery
Discussions with a variety of people in Varanasi, some of them close to the BJP were dominated by self-goals committed by the party leadership ahead of the election.
The BJP's current electoral woes in Varanasi, a traditional bastion and Prime Minister Narendra Modi's own parliamentary constituency belies the recent buzz in media and political circles about a BJP surge in the ongoing Uttar Pradesh Assembly election. With the party struggling to win just a handful out of the eight assembly seats in Varanasi district, it is difficult to accept that the BJP was indeed soaring ahead across the state on the twin propellers of Hindu polarisation and Modi's personal appeal. As a matter of fact, this strange paradox of the BJP floundering where it should be sweeping underlines the complex calculus of these elections — where caste, community, candidate selection and a myriad local issues diffuse any overarching dominant theme.
A two-day trip to this ancient holy city bursting with over two thousand temples and a host of prominent as well as obscure akharas and mutts belonging to various Hindu sects revealed little sign of religious bigotry or communal prejudice in the majority community. There also appeared to be considerable disappointment if not disenchantment with the BJP and the prime minister for their failure, after coming to power at the Centre, to upgrade infrastructural facilities and resolve long standing grievances of people in Varanasi. Modi who had promised to transform the city into a global tourist haven comparable to Japan's ancient city, Kyoto, remains a larger than life figure. There is a growing credibility gap between promises made and their poor delivery.
Discussions with a variety of people in Varanasi, some of them close to the BJP were dominated by self-goals committed by the party leadership ahead of the election. For example, poor candidate selection, a bungled alliance with the Kurmi backward caste, antagonising local Mallah boatmen with ill-advised schemes on the river Ganga and of course demonetisation that hit both the trader community and those involved in the city's lifeline tourism industry.
The most glaring of these mistakes is considered to be the denial of a ticket to a local icon — Bengali Brahmin septuagenarian 'Dada' Shyamdeo Roy Chowdhury who has won seven times in a row for the party from the prestigious Varanasi South constituency that cradles a number of high profile temples and religious institutions. Dada is in a state of shock and still fuming despite being offered various sops by the BJP high command, "I am not a child who can be mollified by balloons and lollipops" he declared.
A professor at the Benares Hindu University said that arbitrary move to deny Roy Chowdhury a ticket would not only lose the BJP the Varanasi South seat but harm the party's prospects in several other seats in the city where many people particularly the highly influential Brahmin community as well as the Bengalis who have a sizeable presence. "An insult to Dada is an insult to all of us" asserted the professor.
Compounding the BJP's woes is its troubled alliance with the Apna Dal which had worked very well in 2014 to garner the Kurmi vote in Varanasi district and elsewhere. Today, the Dal is vertically split between Anupriya Patel who is a minister in the central cabinet and considered very close to the prime minister and her estranged mother Krishna Singh Patel who claims the legacy of her late Sone Lal Patel who founded the party. Local BJP leaders complained that Anupriya had become a prima donna refusing to campaign for the party.
Another backward caste — the Mallah boatmen — who ply boats on the Ganga are also upset with the BJP because new centrally sponsored schemes like the proposed construction of a jetty near Dashashwamedh Ghat for visitors to watch the daily evening puja threatens their livelihood since the traditional practice has been to witness the spectacular ritual from boats in the river. Another scheme that introduced E boats forcing boatmen to hire solar charged batteries to run their vessels had to be hastily abandoned after protests. In any case the Mallahs who belong to the Nishad caste have been upset about the Modi regime doing nothing to address their long standing demand to be included in the scheduled caste reserved category.
Demonetisation is another sore point in Varanasi particularly among the trading community that has been the bulwark of the RSS, previous Jana Sangh and then the BJP for many decades. A local businessman who was till recently a loyal BJP member angrily declared, "The party will pay a very heavy price for this in the polls".
Ironically, a Mallah boatman while rowing us to the ghats on the Ganga lamented, "Nothing has changed with demonetisation. The rich are still rich and the poor remain poor. We are the ones who lost because there were fewer tourists during the cash squeeze".
There is also a larger disquiet among residents of Varanasi at the rush to give a new face-lift to the ancient city in a bid to impress the prime minister. "Their intentions may be good but the way outsiders with no cultural sensitivity, let alone expertise, have been trying to interfere has been nothing less than a disaster," said Amitabh Bhattacharya, who comes from an illustrious family of Sanskrit scholars that migrated to Benares from Bengal more than 500 years ago. Bhattacharya who is involved in several cultural festivals and events in the city is frankly appalled at the consequences of what he regards as a mindless commercialisation of a city known for its refinement.
For instance, a move to change the traditional yellow bulbs lighting up the sandstone ghats into white incandescent led lights has sunk them into virtual darkness. "Suddenly the beautiful ghats that used to glitter at night are shrouded in a ghastly pallor as if Dracula was rising from the Ganga," exclaimed Bhattacharya. He is now scared that another new scheme of painting all the ghats in pink with plastic paint could choke the sandstone which requires to breathe, resulting in cracks. He felt that although many people in Varanasi had felt elated after the Prime Minister was elected from there, the realisation is slowly sinking it that this could be counterproductive.
Find latest and upcoming tech gadgets online on Tech2 Gadgets. Get technology news, gadgets reviews & ratings. Popular gadgets including laptop, tablet and mobile specifications, features, prices, comparison.
India
India has been ranked lower than its neighbours, including Pakistan (88), Nepal (73) and Bangladesh (75), in the global report released recently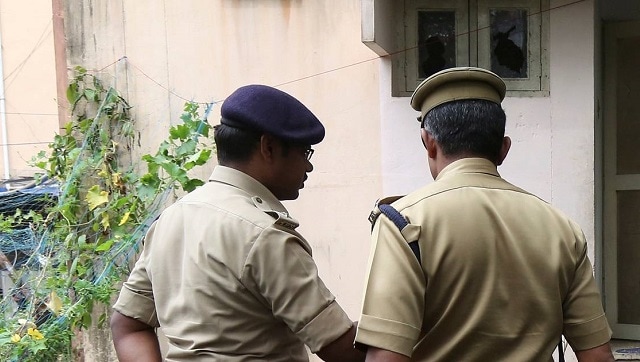 Politics
BJP MLA Lokendra Pratap Singh rejected allegations that his party's Yuva Morcha worker Shibbu Singh was detained for harassment, as claimed in some media reports.
India
Accusing the Yogi Adityanath government of trying to cover-up the crime with its affidavit in the SC, the Congress said the annexures in the affidavit were copied from the 'Black Lives movement in US'